Sechew Powell And Juan Urango Party At The Hard Rock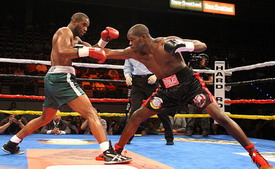 06.12.07 - By Wray Edwards, Photos © Wray Edwards/ESB at ringside - One must be diligent to cover all the Boxing action in Florida. That's a good thing. Last night, Wednesday 5th, 29 year old Light Middleweight Sechew Powell (22-1, 13 KO's) from Brooklyn NY, boxed 31 year old Terrance Cauthen (32-3, 9 KO's) from Trenton, NJ in an IBF title eliminator. Mr Cauthen was a pretty fair counter-puncher and kept Sechew real busy.

The Co-Feature event was a contest between Light Welterweight Juan Urango, 27 (19-1, 15 KO's) from Monteneria Colombia and Marty Robbins (not the singer), 38 (22-40-1, 12KO's) from Crossville, Tennessee. Marty was a tough dude who truly did the best he could. He looked vulnerable to Juan, but stepped up and did his darndest to hang in there. All of the fights, except one, were real crowd-pleasers. Speaking of being pleased…the round card advisors were…well…uh…delicioso..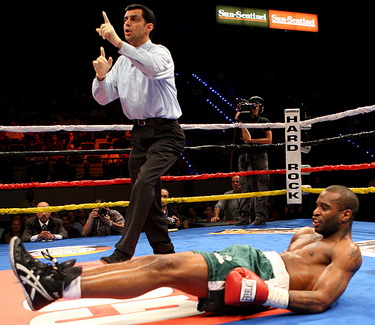 Here we see Mr. Cauthen trying to get a new perspective on Powell's boxing style.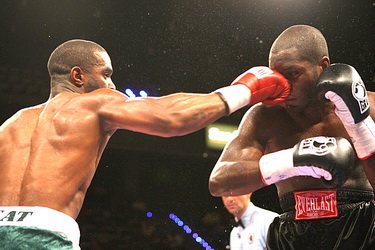 Having gotten up to continue, Terrance got busy trying his own style which enabled him to sting Powell enough to really get him fired up.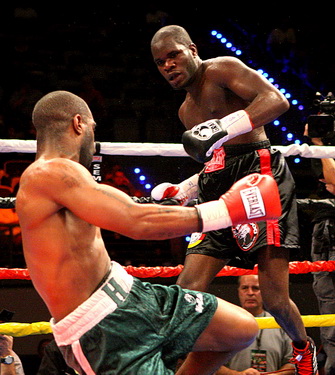 "Now, if you are going to poke me in the nose, I'm afraid it will be necessary to make you lie down again."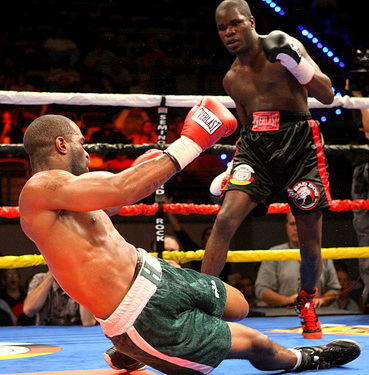 Going down?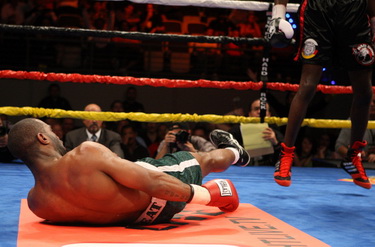 Back on the canvass again (to the tune of "Back In The Saddle Again). Right after this, Powell dithered and popped Cauthen so much that at 2:19 of the 4th Round the Ref stopped the fight before Terrance might not get up from the next one.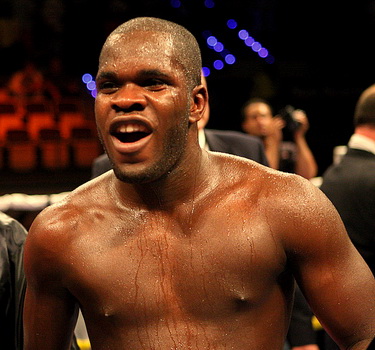 This pleased Sechew…




and Buddy…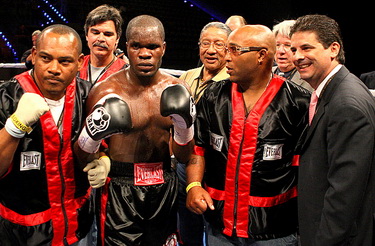 and Powell's whole camp. Sechew now has a pretty good case for more championship opportunities. Let's hope he gets the shots.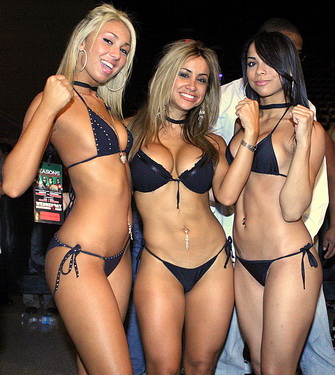 Speaking of being pleased…the whole arena approved of the diligent efforts of my very close friends.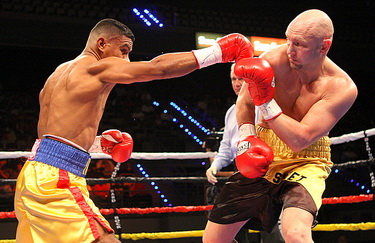 The co-main event with Jurango and Robbins was fast moving and fun to watch. Even though Robbins appeared smaller, he really stepped up and gave Juan some great action.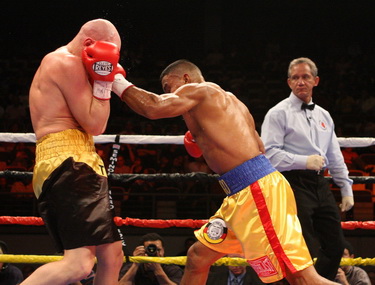 Jaun got back to him on that…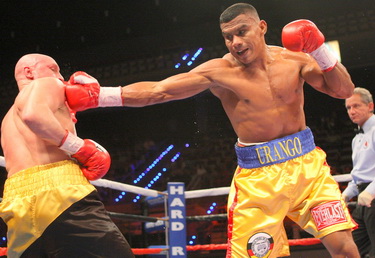 Time-after-time.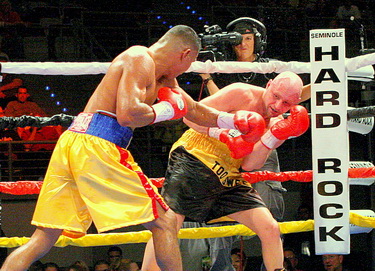 Robbin's serious problems started when he got caught in the corners.




This time was the last time as the Ref called a halt at 2:44 of the 5 th Round as Juan celebrates.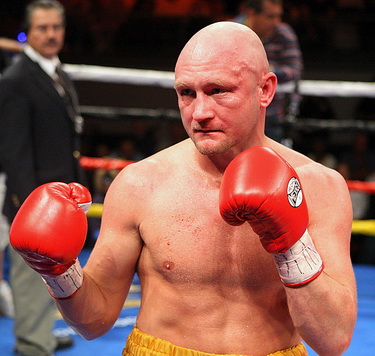 Marty was a proud, hard-working guy in the ring, and still had a professional's self-esteem, even in defeat, as he knew he had done his best. That's all any of us can do.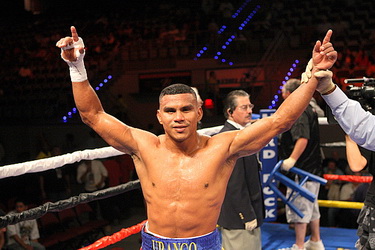 This pic speaks for itself.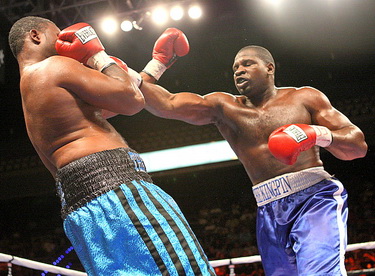 Heavyweight Kevin Johnson 28, (right) from Neptune, NJ, faced Jermell Barness, 32 from Rochester, NY in an Eight Round pot-boiler in which it was obvious that…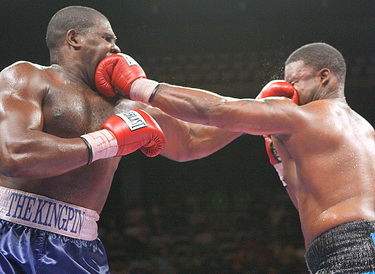 even though they both could punch a bit (even at the same time), Kevin could have notched it up a ton (which he did once) to finish off Jermell. Johnson coasted the last two rounds to a chorus of BOOS as he felt that he was the "winner" on points already.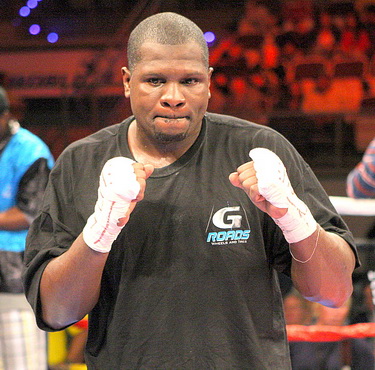 The Judges agreed with a UD for Johnson.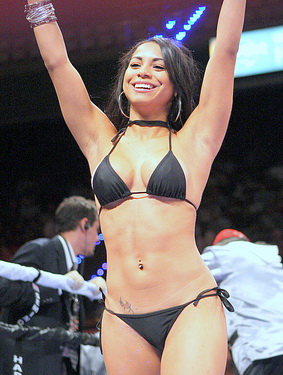 The booing stopped immediately when other circumstances prevailed.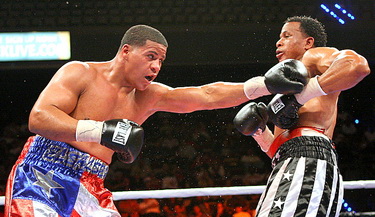 A Four Round Cruiserweight fight between De Leon Tinsley, 37 (right) and Alfredo Escalera Jr. was a good contact event. First Alfredo hit…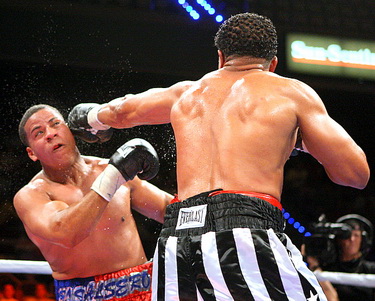 then De Leon showed his stuff.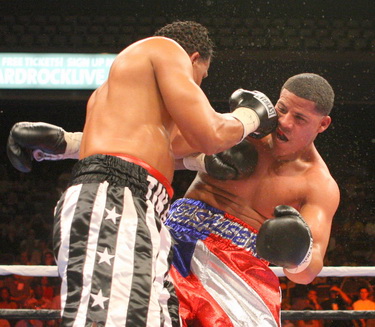 A lot of stuff.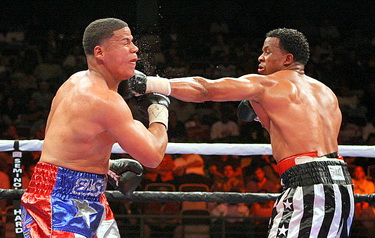 Bg left…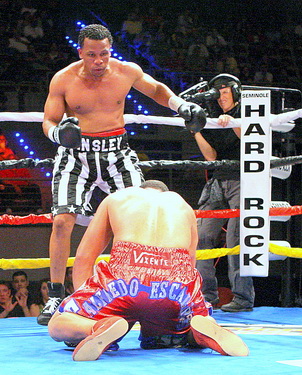 and down we go.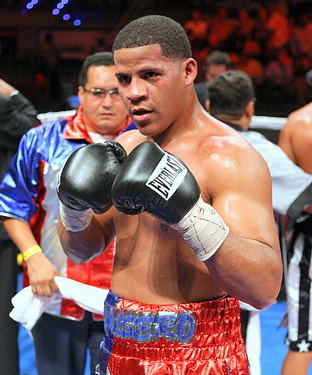 Alfredo though he did pretty well.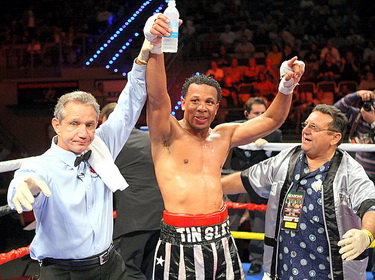 But not well enough as Tinsley swept the UD.




The Heavyweights were flocking to the ring as Wilmer Vasquez (left) from Aragua, Venezuela, thundered into the ring at 276 pounds to take on West Palm Beach Boxer Shawn Kocab, 224, from Billings, Montana.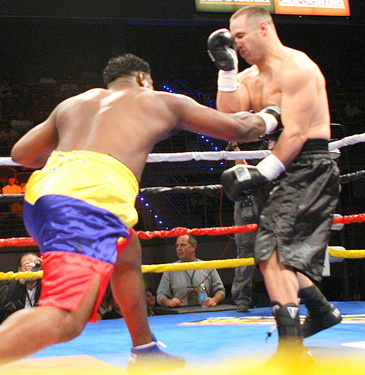 Wilmer worked the body.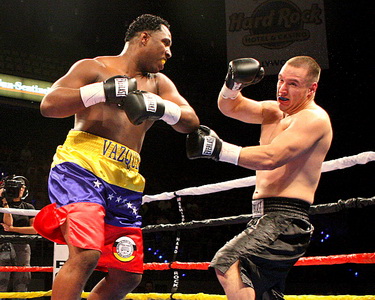 Shawn did not respond well to this.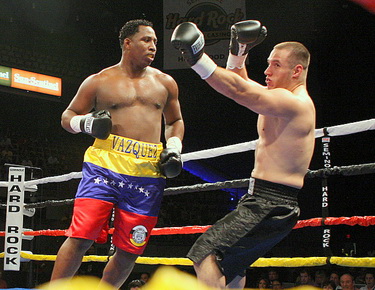 So Shawn jumps up to express his displeasure

Wilmer was not interested and got really belligerent.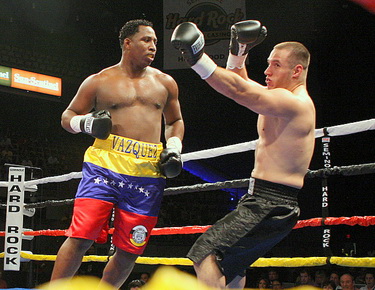 Shawn was taken aback by Wilmer's hostility.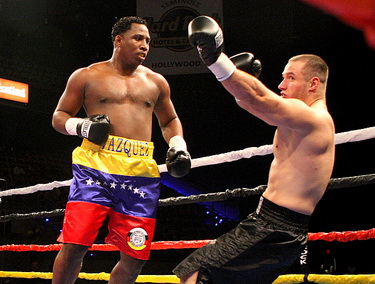 Way back…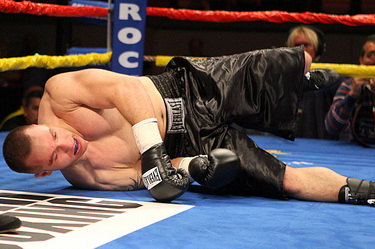 Crashing into the pad on the corner post and under the ropes.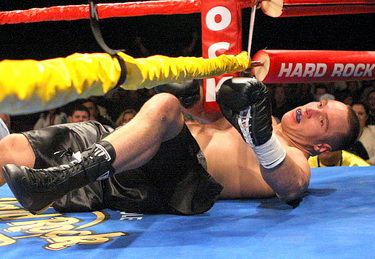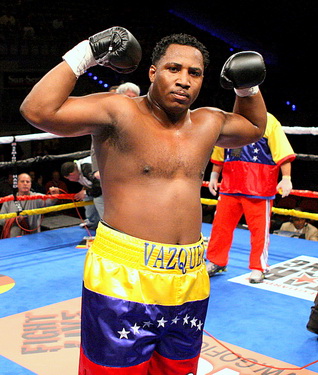 Point made, Mr. Vasquez celebrates his KD which took place at 2:52 of Round One. Kocab was extricated from under the ropes and checked out by the Doc.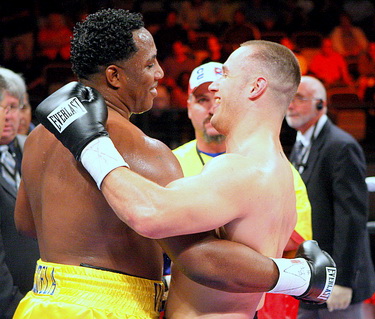 No hard feelings and both Boxer showed respect. They do love the sting of battle.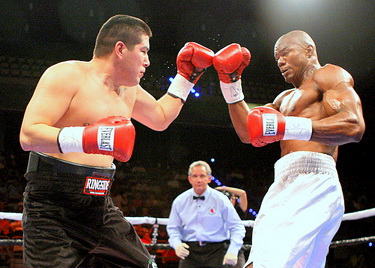 The Heavyweight stampede continued as Kasim Howard (right) from West Palm Beach warmed to the task of taking it to Leo Becier from Belcourt, North Dakota.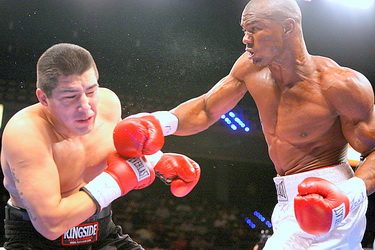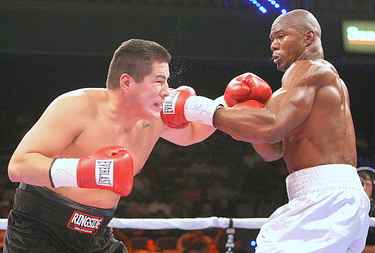 Kasim had a pretty good right and left and put them to work upstairs and…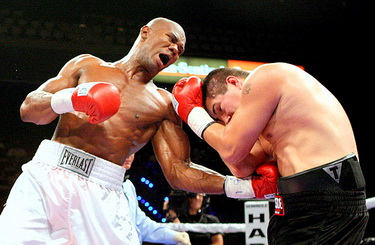 downstairs.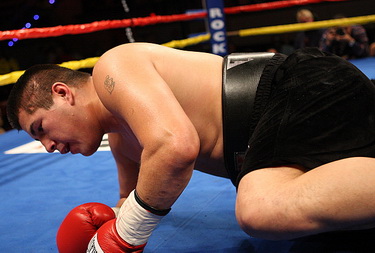 This was a bummer for Leo.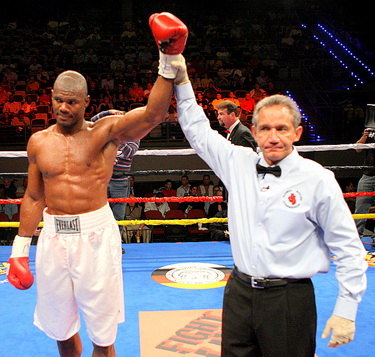 The fight went the distance even though Leo got really roughed up.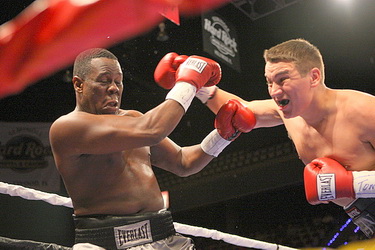 The first fight of the evening was a Heavyweight joust between Devin Vargas (right) from Toledo, Ohio and Earl Ladson from Winston-Salem, NC.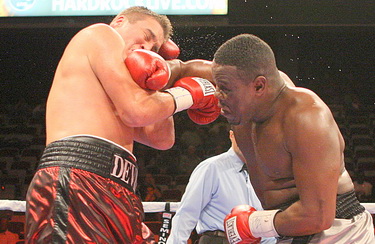 Ladson could bang as Devin discovered.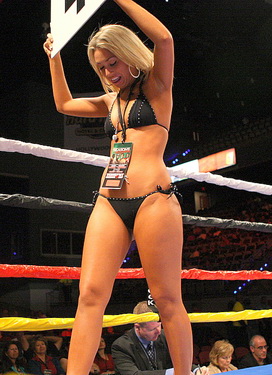 This person kept interrupting the match…but nobody complained.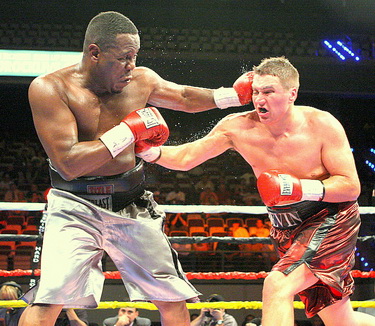 As soon as she left the ring Earl and Devin got right back to business.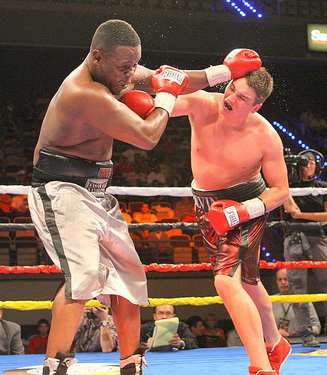 I got tired just watching these guys…well maybe it didn't help that my camera weighs FIVE POUNDS!!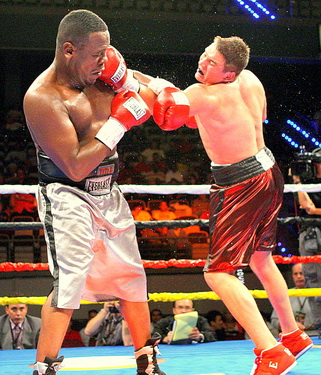 Devin made every conceivable contortion to deliver his punches.




"Five pounds" or not, I'm taking these pictures…no matter what.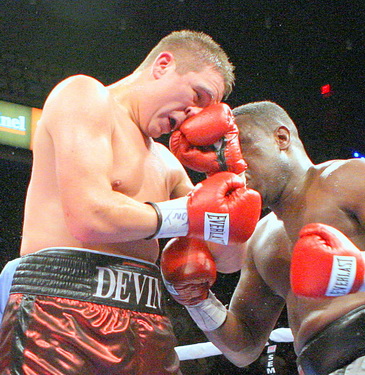 I guess Devin felt that Earl did not get the point. Here we see Devin demonstrating proper punching form by punching his own face. What was he thinking!!?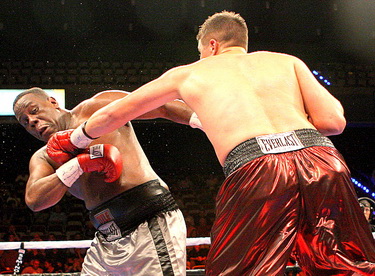 Nice Left!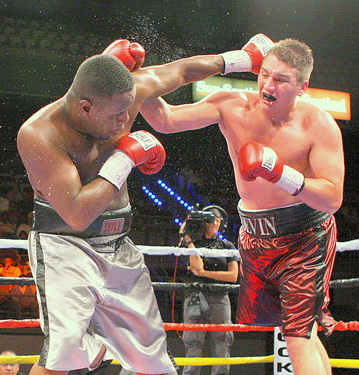 And the right.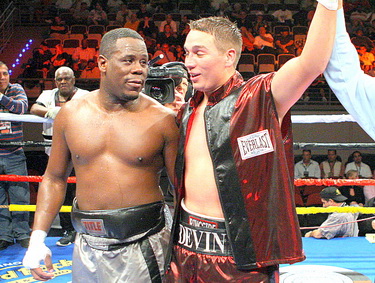 All this punching gave Vargas the victory which caused Ladson to go all dreamy-eyed. Better not go there.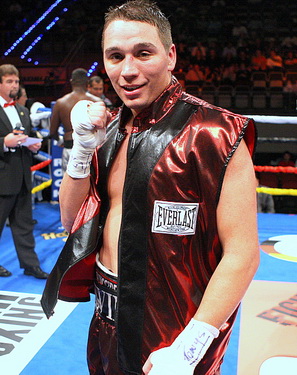 That's better.




Life is good!

Once again, the Seminole Hard Rock Live put on a great show. ESB would like to thank Redline Media and Seminole Warriors Boxing for giving ESB total access to the festivities. See you at the fights. Article posted on 07.12.2007
previous article: George, Perez Victorious In Newark NJ!