Two KO's In Less Than Two Minutes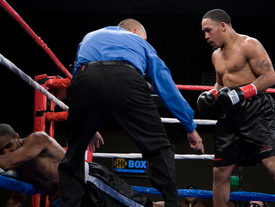 01.12.07 - Bill Calogero -TheDailySports.com, all photos by Dwight McCann: James Kirkland improves to 21-0 (18 KOs) with a first round KO over Allen Conyers in their scheduled ten-round Jr. Middleweight contest. It was the main event of ShowTime's ShoBox series, which they broadcast live from the Chumash Casino Resort in Santa Ynez, California. Gary Shaw Productions promoted Friday night's show.

Both fighters attacked each other from the beginning of the first round wildly. After thirty seconds had past, Allen Conyers landed a crushing right to the head of Kirkland sending him to the canvas. He was up and ready to go by the count of eight..

As soon as referee Ray Corona allowed the two combatants to continue, the war raged on. Conyers tried to finish Kirkland off by throwing wild punches from every angle, but James immediately turned the fight in his favor by landing solid right of his own sending Alien Conyers down. He was up and ready to continue, but still seemed to be in trouble. His legs were definitely not 100%.

As Conyers tried to battle through and survive the first round, Kirkland landed a devastating over-hand right that sent Conyers stumbling around the ring attempting to re-gain his balance. As Conyers was falling back, James Kirkland moved in and landed a solid left followed by a sledgehammer right to Allen's jaw, sending him crumbling to the canvas with less than ten seconds to go in the round.

Referee Ray Corona waived off the bout officially at 2:56 of the first round to give James Kirkland the TKO victory. James hit the canvas for the first time in his career. He was able to get off the floor and win impressively with a KO improving to 21-0 (18 KOs). Allen Conyers drops to 11-3 (9 KOs) and will have to see what the Bronx, NY product will do from here.

In another action-packed one round fight, Alfredo Angulo weathered an early storm issued by Archak Ter-Meliksetian and came back with a KO victory.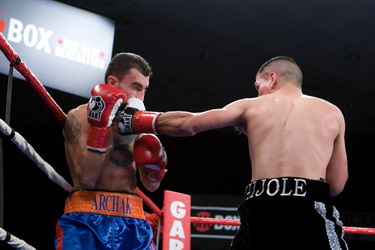 Archak Ter-Meliksetian came on strong, landing a barrage of punches, to the body and the head of Alfredo Angulo to start the first round. Angulo came back and landed not one, not two, but three left-right combinations flushly on the jaw of Ter-Meliksetian sending him down near the ropes.

As soon as Ter-Meliksetian was up and able to continue, Alfredo Angulo continued his attack finally landing another crushing left-right combination sending Archak down and out at 1:19 of the first round.

Alfredo Angulo improves to 11-0 (8 KOs), while Archak Ter-Meliksetian drops to 16-6 (13 KOs).

Although both fights ended quickly, both were action-packed. Both fights were very similar in the fact that either fighter in each contest could have come out as the victor.
In less than two full minutes of boxing, covering two bouts, we saw a lot of punches thrown and landed. It showed me one thing; all four of these fighters came to fight last night at the Chumash Casino Resort. Either fight could produce round of the year honors.

###

For full discussions on these fights and all the other top pro boxing news, don't miss this week's "Talkin Boxing With Billy C" radio program. Tune into TPSRADIO.net on Wednesdays from 6-8pm EST to listen live, or go to www.TalkinBoxing.com for all information on downloading the podcast of the show as well as ALL previous shows and a listing of all syndicated radio stations where you can hear the "Talkin Boxing With Billy C" radio show.

We want to welcome our NEWEST affiliate broadcast from the Rochester, NY area, WHTK, 1280 AM. Tune in on Saturday Mornings from 6:00-7:00 to hear a one-hour version of Wednesday's show.

Go to www.TalkinBoxing.com for all information on the "Talkin Boxing With Billy C" Radio Program. Article posted on 01.12.2007
previous article: Boxing Results: Lepai Wins OPBF Heavyweight Title - N. Briggs Down 7 Times In 5 Rounds! Ganoy Explosive Again