Vargas Mayorga Weigh-In Photos
Photos: Jorge Garcia/For SHOWTIME PPV - Both Fernando Vargas and Ricardo Mayorga weighed 164 pounds for their highly anticipated 12-round fight tomorrow/Friday night at STAPLES. After weighing in and posing, the fighters stepped on the stage for a not-so traditional face-off. They were separated only by a sheet of plexiglass, but that did not prevent their war of words from continuing..

On the day after Thanksgiving, Vargas and Mayorga clash in the main event of an eagerly awaited pay-per-view fight card at STAPLES Center that begins at 10 p.m. ET/7 p.m. PT and is being distributed by SHOWTIMEŽ PPV. The live card begins at 3:15 p.m. Doors open at 3. Tickets, priced at $300, $150, $100 and $50, are on sale online at ticketmaster.com, via Ticketmaster charge-by-phone lines at (213) 480-3232 or (714) 740-2000 and at all Ticketmaster ticket centers.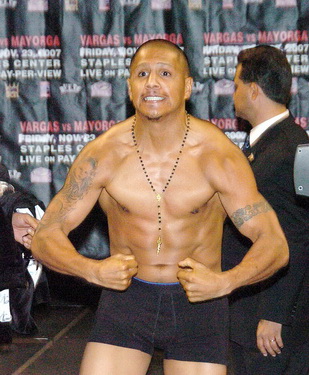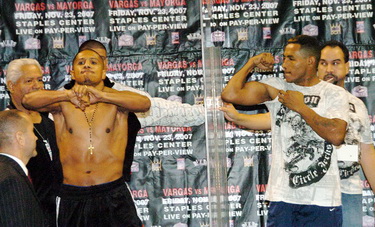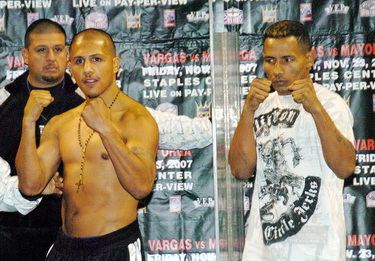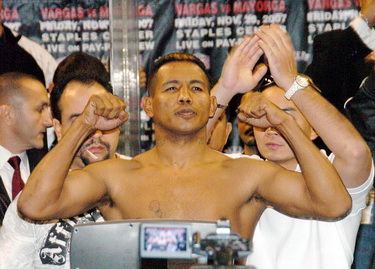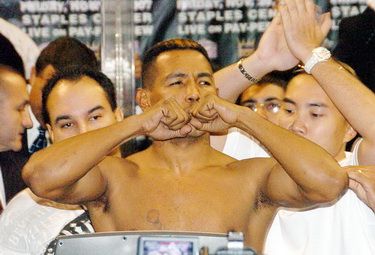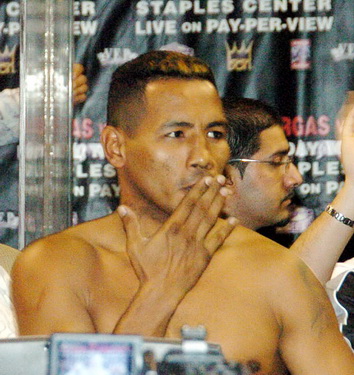 Article posted on 22.11.2007
previous article: Last PPV Of 2007: Edwin Valero and Jorge Linares To Defend Titles in Cancun Dec15
next article: 'Bombs Away': Fernando Vargas/Ricardo Mayorga Tonight!



If you detect any issues with the legality of this site, problems are always unintentional and will be corrected with notification.
The views and opinions of all writers expressed on Boxing247.com do not necessarily state or reflect those of the Management.
Copyright © 2001- 2015 Boxing247.com - Privacy Policy l Contact