Cintron-Feliciano Media Roundtable Quotes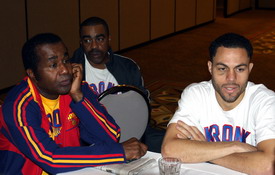 20.11.07 - Photos: Rick Guzman/For SHOWTIME PPV: Kermit Cintron (28-1, 26 KOs), of Reading, Penn., will make the second defense of his International Boxing Federation welterweight championship against Jesse Feliciano (15-5-3, 9 KOs), of Los Angeles, in one of the top fights this Friday at STAPLES Center on SHOWTIME PPV. Two time world champion Fernando Vargas (26-4, 22 KOs) and three-time world champion Ricardo Mayorga (27-6-1, 22 KOs) fight in what promises to be a street brawl in the main event of a highly anticipated pay-per-view telecast that begins at 10 p.m. ET/7 p.m. PT and is being distributed by SHOWTIME® PPV.

Also on the stellar card, former IBF 154-pound champion Roman "Made in Hell" Karmazin (35-2-1, 22 KOs), of St. Petersburg, Russia, now fighting out of Los Angeles, will take on former two-time World Boxing Association super welterweight champion Alejandro "Terra" Garcia (25-2, 24 KOs), of Tijuana, Mexico, for the WBA Intercontinental championship..

The day after Thanksgiving live event begins at 3:15 p.m. Doors open at 3.

Tickets, priced at $300, $150, $100 and $50 are on sale online at ticketmaster.com, via Ticketmaster charge-by-phone lines at (213) 480-3232 or (714) 740-2000 and at all Ticketmaster ticket centers. The main event is scheduled for 12 rounds at a catch weight of 166 pounds.

Cintron and Feliciano participated in a well attended media roundtable on Tuesday to discuss Friday's world title bout.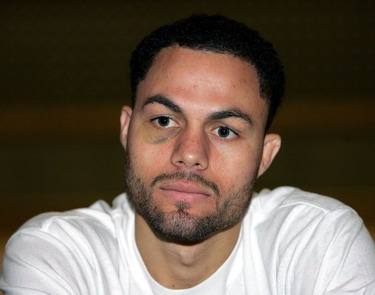 KERMIT CINTRON:

"Feliciano is a tough fighter that comes to win. He doesn't try to survive. It is a dangerous fight. He's going to come and try and take the title away from me. He's got heart, but in my opinion he can't punch. We will have to find out on Friday in the ring.

"To me, this is a dangerous fight. With his record this is an amazing opportunity for him. He is hungry and he is going to come to fight. He is thinking that this is his one chance to walk out of that ring a world champion.

"I am focused on this fight. Everyone is talking about me fighting (WBO welterweight champion Paul) Williams, but without wining this fight there is no future. I am just focused on a win.

"We are fighting Williams next, but it is contingent on this win. I took this fight this fight to stay sharp and to stay busy.

"(Manager-trainer) Emanuel (Steward) is what I needed in my career to become a champion. I didn't have him when I first fought (Antonio) Margarito, but when I fight him again I will have his help and I will win.

"I have been boxing more, using my jab more, and using my combinations more. My style is a lot smoother now. I'm not just looking to knock out my opponents.

"I have been sparring with Jermain Taylor and Jonathan Banks. I am always in the gym. I just gain more experience with them.

"The Margarito fight was the worst I've ever done. I was injured and was not ready. You better believe I will be ready the next time around.

"People are waiting for me to fight Margarito. That is a fight that I want, and that is what people think I need. I think to make people shut up I need to fight Margarito, and I need to win.

"When I win and I beat Margarito, people will stop talking then. The fight will happen soon enough, and I will win. Then people will shut up."

EMANUEL STEWARD (CINTRON'S MANAGER)

"I wasn't that impressed with Kermit before I started working with him. But we began training and I started noticing a lot of talent and boxing ability.

"We started developing his left hand, but I think his right hand is the strongest pound-for-pound I have ever seen. It is as strong as Vladimir Klitschko, which is amazing.

"I realized he has the ability to be an amazing fighter. In his only loss to Margarito he had a hand injury and was not training with me.

"I decided to get involved with him, he started going to the training camps with Vladimir, and he has developed into something special. He has become a complete fighter."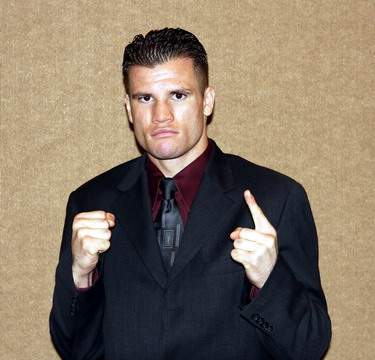 JESSE FELICIANO

"I've been taken lightly my whole career. They see me as some guy off the street. The USBA champ will show up on time and be ready to fight.

"Cintron is not unbeatable. He is a great athlete and a tough opponent. I think I have to stop him. I think they made a huge mistake in picking me as an opponent. I am starving for that IBF belt. I've been starving for a long time. I am hungry for this fight. I am hungry to be a champion.

"I don't know what backing up means. I press forward and put the pressure on my opponents.

"I like my chances to win this fight. I think I am getting overlooked and underestimated because I am the easy mark. They're trying to use me as a stepping stone, but that hasn't worked in the past. I've always been ignored and my opponents have paid the price.

"This is my chance to make a statement to everyone that I am here to stay. I will be losing something when I get in the ring. I'll lose my USBA belt, but that won't matter because I am going to get my hands on that IBF welterweight crown.

"I don't want this to be a boring fight. I am going to give the fans a great show. They're going to see a great fight. Cintron is not going to walk through me like everyone is saying.

"It's a world title fight so I'll be a little nervous the night before. I am going in the ring with a chip on my shoulder. No one thinks I can beat this guy but I am here to prove everyone wrong.

"After I heard the fight was postponed I took a week off to clear my mind to stay mentally sharp. It was a good time to just relax my body and not take any more hits. I was disappointed though because I was ready to go for Sept. 8." Article posted on 20.11.2007
previous article: Mayweather v Hatton: Both Camps Confident Of Victory