Jeff "Flash" Malcolm - Evergreen Road Warrior!
20.11.07 - BY TONY PRITCHARD - NOBBS: Australia's last century maker Jeffrey Alexander Malcolm was born in the Riverina, NSW, on May 9, 1956. Retired now for just five years, "Flash" was a defensive wizard who fought as a professional for 31 years, amassing a total of 138 bouts (100-27-11, with 36 KO's), winning countless titles and being rated in the top 5 by the WBA in his mid forties.. One of Australia's most accomplished pugilist's in his or any other time, he's still in good nick, working out at the Valley PCYC in Brisbane with long time friend Shane Knox, filling in his days on a construction site and working security at night. His familiar wit is still as quick as his fists once were and he is as sharp as ever when he talks boxing. A lifetime tea-totaler, he remembers each one of his fights and could probably tell you what shorts he and his opponent wore and what song they came in the ring too. He, along with former IBF 130 pound champion Lester Ellis, legendary promoter, the late Bill Mordey and ring announcer Ray Connelly, was inducted into the Australian National Boxing Hall of Fame at a gala night at the Melbourne Cricket Ground on October 13, where he joined previous inductees and former foes Hector Thompson and Barry Michael.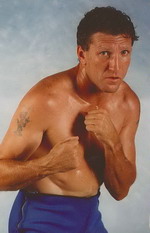 A cocky, southpaw road warrior, Malcolm has seen the best come and go over four decades – and he worked with many of them. For instance in 1979, he sparred Eusebio Pedroza, Panama's all time great WBA featherweight king in PNG. Pedroza, known as one of the dirtiest fighters in the trade was there to defend his title against local hero Johnny Aba which he did in 11 rounds. Malcolm outpointed world rated Filipino Celso Esmero over 10 rounds on the under card. Fast forward 26 years and he is in Perth, WA helping prepare WBA featherweight champ Chris John before his defense against Derek Gainer. Gainer is a lanky left hander. Malcolm got in and boxed John four rounds. He has experience that money couldn't buy. Jeff began boxing at age 11 having 7 amateur fights at the Griffith Police Boys. "It was fun. You'd go away to fight and get a free bus ride and a pie and drink at the end of the night. If you never got a fight,better, you had more time to run amuck" he fondly remembered. By the time he turned pro at the age of 15, "Flash" had gotten his grounding having "about sixty" tent fights.

He spent years growing up in Drummoyne, in the Balmain district of Sydney, being a long time Tigers supporter and was an accomplished junior rugby league player. In his first officially paid bout he outpointed John Cassidy on September 22 1971. His first trainer was the stylish Roy Carroll in Chippendale (though over the next few decades Jeff probably went through more "Coaches than Cobb & Co"). He credit's Bernie Hall for teaching him his amazing foot work. "Bernie was ahead of his time" he says. By the end of 1972, he'd had 16 pro fights, drawing twice and losing one against future Australian champ Brian Roberts, drawing with another outstanding talent and future champ Wally Carr, beating Steve Walker, losing and drawing with Rod Connors and beating Mick Mercedes and Keith Ball.

Another 14 fights in 1973, going unbeaten, he ended the year drawing with Neil Pattel, already an experienced campaigner who went on to be Australian title holder. 1974 saw him get right amongst it with the lightweight class, going 5-5, battling Michael Cassidy (L 10) Bily Moeller (L DQ & L 10 x 2), Danny Riley (W 8) Shocker Myles (KO 4),Merv Wockner, (L 10), Jim Metcalfe (W 8), Binky Rominiski (W 8) and Mick O' Brien (KO 5).

From 1974 – '77, Malcolm continued fighting the tough opponents and established himself one of the main contenders for national honors. He beat Billy Moeller, Matt Ropis, Joey Gibilisco, Andy Broome and Tony Aba in PNG. He won and lost against Mullholland, dropped decisions to Dave Richards, Kery Bell and two to Ross Eadie.

"The blokes I fought coming up, even in four rounders, like Wally Carr, Brian Roberts, they were brilliant fighters, if they were around today they'd be unbeatable here. I got a great grounding. Back then, you had to fight who you were told. If you knocked back a fight, they got someone else and you'd be scrapped. Fighters today are feminine, they want to see video's, go through the opponents records, before they accept a fight".

In February 1978, he challenged Hector Thompson for the National title in Orange. He lost a verdict though he still maintains he deserved the "W" , others disagree. Another win over Moeller was followed by a trip to Fiji, the first of several, where he dropped a "hometown" decision to that countries greatest ever fighter, Sakaraia Ve. That was followed by one of his best wins, against fellow prospect Barry Michael, the future IBF junior lightweight champion of the world. That fight was in Michael's hometown of Melbourne and Malcolm, the bigger man, won comfortably. In an interview for July's Fist, Barry called Jeff the best Aussie he ever fought. Malcolm's next contest was for the British Commonwealth junior welterweight title against the brilliant Lawrence "Baby Cassius" Austin, a cousin of Lionel Rose. Malcolm said that was one of his greatest wins. "Cass had everything. He just couldn't handle a southpaw". Austin had gone 2-1 with the great Thompson in C/Wealth title tilts. Malcolm then defended the title in a rematch with "Cass" at Griffith, where "The Flash" then called home. Another points win over 15. Malcolm loaned his opponent a pair of boots to wear that night. "Cass turned up and left his boots in Melbourne. I'd just changed sponsors (from Puma to Adidas) and had a brand new pair so I gave him the ones I wore in our first fight".

In his next start the Australian surrendered the title in Lagos, Nigeria to Obisia Nwampka on March3 '79, kissing good bye a proposed shot at Seansek Muangsarin's WBC title in Thailand. "He (Nwampka) was a good fighter. It was close, had it been in Australia I'd have got the decision, it was over there and he got it. He later challenged Saoul Mamby, going the distance". "Flash" soon re - established himself though with wins over Aba, Jimmy Brown, Frank Ropis and Esmero. He teamed up with Johnny Lewis (being one of Jeff Fenech's first heroes and a regular sparring mate of a young Marrickville Mauler). In 1980, he took his winning run to 10, closing the year with two points wins over the shock punching Fijian, Joe Nativa, firstly in Suva, then at Marrickville. His first bout of 1981 was a devastating one and a big learning experience. North Queensland's Dave Sarago stopped him in ten rounds as he was ended up leg weary, not preparing properly and dropping too much wait too close to the fight. It was his first stoppage loss. Shattered and embarrassed he didn't leave his house for a week. Over confidence was a big problem for him and it cost him. He avenged the loss three months later with a dominant points win over 12 at Gosford.

Four more wins in '81 was followed by a "loss" to local favorite Peter Berrigan at Cardiff, near Newcastle. A fight Malcolm dominated and one that a rematch was ordered eventually. His next assignment was on the infamous Opera House promotion, April 2, 1982. Malcolm soundly defeated the tragic Indonesian Thomas Americo, who'd just lost points over 15 to Sweet Saoul Mamby for the WBC 140 pound crown. Americo entered the ring number 2 WBC. In a recent interview Mamby described Americo as "the hardest (puncher) I ever fought. Harder than Duran". (Americo ended up being slain in a public attack in Dili in 2000). After another unsatisfactory ending in the return with Berrigan resulting in a draw in round six due to cuts, Malcolm went to Melbourne to beat Sydney's Tony Campbell and then Hawaii to out point Francesco Ranshescerache over 10.

1983 was a big year as Malcolm firmly established himself as world class! He knocked out Taulisi Ratu in Fiji then went into Don Kings training camp in Ohio. Rooming with Azumah Nelson, beating up every day Leroy Haley - a black American with the nick name of "Irish" who was then WBC 140 pound champ - and partying with Mitch Green, Michael Dokes and Tim Witherspoon, Malcolm was matched with Bobby Joe Young a Ohio puncher rated the hardest hitter in the welterweight class at the time, on the Michael Dokes – Gerrie Coetzee WBA heavyweight title card. Jeff knew what was happening. "Haley wouldn't fight me. If I wanted to win six rounds a day I'd win six. He was a punching bag for me. Tim Witherspoon would say to him at breakfast 'Hey Leroy, that white boy gonna beat you up again today'?. Bobby Joe had just signed with Don and I was used as his show case. I watched him knockout the Kronk's Darryl Chambers just before he fought me, on the Tommy Hearns - Murray Sutherland card and everyone predicted he'd beat me. I was confident, punchers are only good if they land. It was an easy fight. I knocked him down, kicked his ass. After the fight I said to (match maker) Bobby Goodman, 'hey Bobby, you got any more good fighters I can beat up?'." After the victory, "Flash" was ranked number 10 welterweight in the world by KO, which at the time, rivaled The Ring as the world's premier fight magazine. Bobby Joe, of course later became the only man to beat a (drug riddled) Aaron Pryor.

For the Young fight Malcolm was cornered by Buffalo Marin, Azumah Nelson's and later Julio Cesar Chavez' trainer. In the time at King's camp he also worked a lot with Tim Witherspoon's mentor Slim Jim Robinson (who he rates with George Benton as the best he's worked with). He probably never thought that it'd be eight years before he got a world title shot!

Instead of cashing in on his success he came back home. King offered him a bout with the fading Monroe Brooks. "I rang Bill Slayton in California to see how Brooks was going. He told me he was getting hurt in sparring , that he was not the same fighter. He had a good reputation and it would have guaranteed me a fight with Haley. But I wasn't confident of Haley fighting me".

Brooks was knocked out in his next fight by the very classy but light punching Vilomar Fernandez.

Jeff then joined up with Charlie Gergan in Sydney - Malcolm himself was training Lachie Willams, an Aussie rated Aboriginal junior welter from Grifffith - Gergan had made his mark training Tony Mundine late in Tony's career. At this time, on the strength of his win over Young, "Flash" received a number four rating at welterweight with the fledging IBF. Five wins in 1984, the standout victory being a decision over tough as old boots Australian 147 pound champ Russell Sands (son of Alfie) in a non title clash at Mt Pritchard in June (both weighed 148 lb). In August he stopped Peter Batty to claim the Australian junior welterweight title.

He then was talked into facing Pat Leglise for the "unification" of the Australian 140 pound belt. In a very forgettable performance, on July 19,1985 at the Horden Pavilion, a weight drained Malcolm was out boxed and out worked by the handy Leglise who looked to be developing into a world class performer, having drawn with Brian Janssen in 1983 in Brisbane. However Leglise's run came to a halt when Charlie "Choo Choo" Brown, ex IBF 135 pound champ knocked him out in his next outing. "Everybody said I was finished but the weight killed me. The effort I did going twelve rounds under those circumstances I knew I had plenty left. I bull shitted my way through the fight." said Malcolm. "After I lost to Leglise, Bill Mordey told me to retire. Bill Mordey was a great promoter but I was still world rated when he stopped promoting (in 2001)" .

A points win over Ronald Doo in August '85 was not followed until October 9, 1987, when he out pointed Fiji's Anthony Naidu. He still hung around the gyms, keeping active and in 1986 was asked by Mordey to go watch James "Quick" Tillis, who was in town to fight come backing "Aussie Joe" Bugner. When Tillis' sparring partner never arrived, Malcolm got in and moved around with the Oklahoma heavyweight who'd just gone the distance with Mike Tyson, being of course the first man to do so. As often the case when a lighter man spars a heavyweight, Malcolm had a field day. "I made him miss. After a few rounds he got dirty and pushed me off balance and hit with a right hand left hook. He then stopped and asked was I okay. I said 'yeah, Joe hits twice as hard as that' Didn't he get dirty. It was beautiful. The more he loaded up the more he missed. I asked him after if he missed Tulsa like he missed me".

In late 1987, Malcolm moved his family to the Tweed area on the NSW-Qld border. This is when I started working with him. He had two wins in '88 over Stewart Hartley at Tugun and Rod Price at The Coolonagatta Patch. In '89 he stopped Filipino Rey Angura and outpointed Mexican journeyman Roberto Garcia, who fought JC Chavez, both at The Patch, then stopped Dave Chaffey at Runaway Bay to claim the Queensland welter title. Once again, he packed his swag, this time heading West. He beat Brad Modgerige at Northbridge but was outpointed by Wilf Gentzen for the Australian title on March 23, 1990.

He returned to action in December, relocated to Hawaii, and KO'd Mexico's Enrique Garcia Mercado and scored a W10 over respectable Sam Ray Taylor. Malcolm then went to New Orleans and won the IBO Intercontinental title out classing former US amateur star Timmy Rabon over twelve. A knockout back in Brisbane over Barry Boland sealed a shot at the WBO world welterweight title held by the very classy American lefty Manning Galloway.

For the fight, Malcolm trained in Melbourne with Dana Goodsen, who he previously worked with in Hawaii. Training 17 rounds a day, on top of miles of road work, Malcolm was 144 ½ pounds two days before the fight! He officially weighed in at 145 ¼ and in front of his supporters at Jupiters Casino in Broadbeach, a lack luster local lost a convincing unanimous decision. His first shot a title after 20 years in the business, a fight he could easily have won, went by without a whimper.

"I over trained. I outsmarted myself. It was a very winnable fight for me. When I was in the US after I beat Tim Rabon, I spent six weeks sparring Pernell Whitaker. Lou Duva watched my fight with Sam Ray Taylor and saw me with Pernell, he said I would beat Galloway for sure. I came back home and got caught out".

Malcolm had a break, trained a few fighters such as Viv Schwalger, Lyall Appo and Rocky Mc Laren before returning in 1993, trained by Geoff Rowlands, stopping Tevita Vakalabure in 3 to win the WBF Intercontinental title. A KO 5 win over Alberto Ma Chong and Malcolm was readying himself for a shot at the vacant WBF world title. That plan almost came unstuck when he traveled to Fiji and was controversially stopped on a cut in Lautoka by unknown Sovita Tabarua. Filthy at the result, "Flash" stayed in Fiji and secured a tape of the bout. He sent it to the WBF in the US and lobbied for a return bout, claiming that the cut was caused by a head clash and not a punch. He was granted his wish with the rematch sanctioned for the WBF world welterweight title. Shortly before heading over, Malcolm linked with veteran Brisbane trainer Bernie Mc Fadden

On March 19 1994, in front of 4000 spectators at Nausari Rugby Oval just outside Suva, Jeff "Flash" Malcolm "climbed the mountain" to win a majority decision after 12 rounds. The fight was a see saw affair with the Aussie dazed and severely cut by a clash of heads in the fourth, before he broke Sovita's nose in the seventh and rallied strongly over the final stages. As the final card was being read a confident "Flash" turned to me (I worked the corner) and said "I'm champion of the world"! Maybe Pernell Whitaker would have disagreed but like him or not, there's no denying that at his best Jeff would have become a world champion of any organization. I still remember fondly being mobbed by the crowd as we headed back to the van to take us back to the capital. They accepted Malcolm as champion – as one of theirs, having fought there so often.

A quick defense (KO 3) against Filipino Tata Regatuna at Brisbane Festival Hall was followed by a trip to Cebu, in The Philippines where he was dropped and out muscled by former WBA 140 lb champ Morris East in an above weight non title 10 rounder. He returned to The Philippines in March '95 surrendering the title to William Magahin on points, being decked and badly shaken in the early rounds before coming back late.

Around this time Malcolm began working with Selwyn Currie an over weight junior middle who'd lost his first 8. He eventually got Sel down to featherweight where he won Australian and WBO Asia Pacific titles in '96 and '97, being rated 9 by the WBO. Staying in the gym, Jeff took a fight in New Zealand against Sean Sullivan, the WBA number 3. In the NZ version of the "under arm" Sullivan was gifted a 10 round decision in July '05. This writer has seen the tape and take my word, combine what Danny Green, Anthony Mundine and Shannan Taylor did to Sean and you have the beating "Flash" gave the tougher than teak Kiwi!

Malcolm then took on the training duties of Queenslander Darrell Hiles (Kostya Tszyu's first pro victim). On September 23, '95, Hiles won the vacant IBO "world" lightweight title by out pointing Hawaiian Roberto Granciosa in his home town of Toowoomba. In 1997, Granciosa fought Miguel Angel Gonzalez on the under card of the Holyfield - Tyson rematch.

Deciding he'd had enough, Malcolm retired before being offered a shot out of the blue at the PABA 147 lb title in Indonesia against Jufrison Pontoh, the number 8 WBA at the time. Accompanied by Bobby Wilson, he became champion by a devastating knockout in round 8. A beautifully executed left hand to the bread basket felled Pontoh for several minutes and he required an oxygen mask before coming good. It was August 1996 and unbelievably a 40 year old Jeff "Flash" Malcolm was back in the world ratings.

Over the next six years the ever green continued to pile up the victories, going 15-1-1, 9 KO's, adding the WBA Fedelatin title and got to as high as number 5 by the WBA. Better wins in this period, were over Dindo Canoy, Uzman Zakaria, Justice Ganiza and Brandon Wood. In 1998 it was thought he'd landed a shot at Ike Quartey's world title but nothing came of it. Always a gypsy, he moved to Les Wilson's stable and ended his career with trainer-conditioner Shane Plewes and finally Bobby Wilson. (On New Years Eve 1998, his second eldest son, Leon was tragically killed. Leon lived with his lovely mother Bessie in Wagga. It was his 16th birthday). Jeff continued on, and crept to the 100 mark stopping Sam Akuso in five rounds at Bundall on May 11 2002, two days after birthday number 46. His last fight was in Manila, a TKO by 3 against Fernando Segrado for the PABA title on June 15 2002.

Jeff and Bessie have four children, Lindy, Jeff junior, Leon (deceased) and Trevor.

Now married to Windiana, Malcolm looks after a few Indonesian fighters.

Considering fighters activity decreases with each generation, he will almost undoubtedly be the last Aussie to punch out a 100 wins.

*In 1997, then 18 year old son Jeff junior or "Sonny" as he is known, had two professional bouts, winning both impressively. Malcolm Senior is still hopeful Sonny will get back in the ring and believes is capable of at least wining an Australian title.

Article posted on 21.11.2007
previous article: Ricky Hatton Set For Grand Stage In Vegas – Lacy Set For Return To Ring
next article: Larry Holmes - A Top-Five Heavyweight Champion Of All-Time?