Marquez Scores Unanimous Decision Over Juarez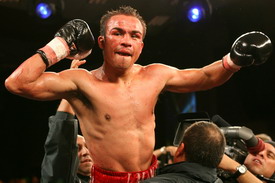 TUCSON, Ariz. (Nov. 3, 2007) – Photos by Tom Casino - Two world class boxers entered the ring as champions and left in the same fashion, Saturday, Nov. 3 on SHOWTIME CHAMPIONSHIP BOXING.

Juan Manuel Marquez (48-3-1, 35 KOs) of Mexico City, Mexico showed the boxing world why he is one of the most feared and respected boxers of his era by methodically breaking down Rocky Juarez (27-4, 19 KOs) of Houston, Texas over 12 rounds to score a unanimous decision.

The judges scored it overwhelmingly in Marquez' favor: 118-110, 117-111 and 120-108. With the victory, Marquez retained his WBC 130 pound title..

In the opening round, an accidental head butt opened a gash above Juarez' left eye, which made it difficult for Juarez to establish a rhythm.

Marquez, meanwhile, worked the body with sweeping left and right hooks that routinely found their marks.

All night long Marquez looked like the complete package landing practically any punch he wanted. When Juarez connected with brilliant combinations, Marquez would return with dynamite of his own.

"I had great preparation for this fight," Marquez said. "I have worked very hard for four months and now I want Manny Pacquiao, but he doesn't want to fight me."

"Marquez versus Pacquiao is the logical fight," said Oscar De La Hoya, Marquez' promoter. "If Pacquiao wants to be the world champion at 130, he needs to fight Marquez."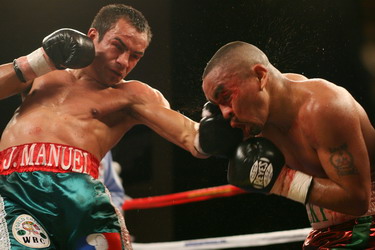 Despite having to fight with a nasty gash above his left eye for practically the entire battle, Juarez displayed tremendous guts and courage to stay in with the heavy-handed Marquez.

"All fight long, Marquez must have been saying to himself, 'Man this guy (Juarez) is tough. He will not go down,'" said Steve Albert, play-by-by analyst for SHOWTIME.

"This is the first fight that I got cut and had blurred vision because of it," Juarez said. "I knew from the second when we bumped heads that it was going to be bad.

"Never at one point did I want to stop the fight. The cut did affect me though because it throws off your game plan. You're worried about knocking heads again so it limits your strategy."

Throughout the fight Marquez picked his spots and rocked Juarez with overhand rights and kept him at bay with his accurate left jab.

Juarez was at his best when he pressured Marquez, but the champion, one of the best counter punchers in the business, was too skilled to fall for any of his traps.

In the co-feature, another tremendous warrior, Robert Guerrero (21-1-1, 14 KOs) of Gilroy, California, fought with a heavy heart Saturday, as he found out just weeks ago that his wife was diagnosed with leukemia.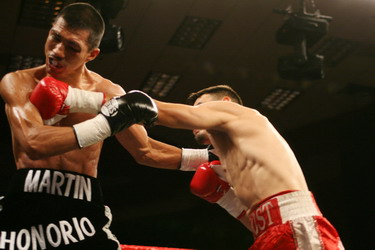 Guerrero, a southpaw, was able to stay mentally and emotionally sharp by dropping Martin Honorio (24-4-1, 12 KOs) of Mexico City, Mexico with a straight left at the :56 mark of the first round.
Referee Tony Weeks stopped the fight after Honorio got up from the canvas and couldn't maintain his balance. Guerrero retained his IBF featherweight crown via first round TKO (:56 mark).

"My wife told me I have to go out there and fight," said Guerrero, who arrived in Tucson Thursday night because he chose to be with his ailing wife while she underwent her first treatment of chemotherapy. "I am happy. I am coming home with the victory and that is what my wife wanted."

"He is a strong puncher," Honorio said. "He hit me hard, but I felt like I could continue."

"When I saw him go down I saw his eyes and he looked out of it," Guerrero said. "I knew if he got up I would put him down again."

Coming into the fight Guerrero knew Honorio liked to lean his head when he fired off jabs, making him susceptible to straight lefts.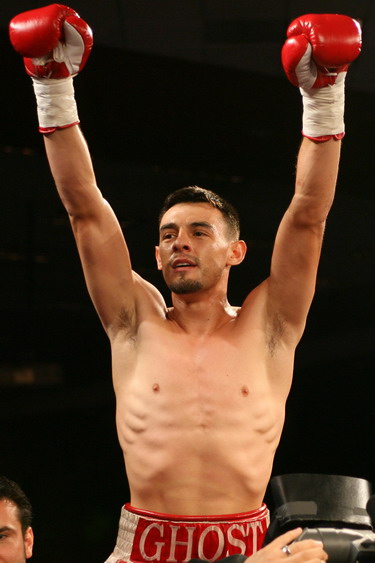 "He is a vulnerable fighter every time he goes forward with his head," Guerrero said. "We exploited that in the first round and ended it right there."

Catch an encore of Saturday's bloody and exciting championship boxing doubleheader on SHO Sports Presents on Tuesday, Nov. 6 at 10 p.m. ET/PT. SHO Sports Presents is a new series airing every weeknight at 10 p.m. ET/PT on SHO 2 featuring replays of the best SHOWTIME boxing and EliteXC mixed martial arts telecasts. (For complete schedule of SHO Sports Presents, please visit SHO.com/Schedule)

Other replays of Saturday's SHOWTIME CHAMPIONSHIP BOXING featherweight doubleheader will air as follows.

Monday, Nov. 5, at 8 p.m. ET/PT on SHO EXTREME;
Wednesday, Nov. 7 at 12 a.m. ET/PT on SHOWTIME;
Or anytime when available at SHOWTIME On Demand.

Albert and Al Bernstein called the action from ringside with Jim Gray reporting from the venue. The executive producer of SHOWTIME CHAMPIONSHIP BOXING is David Dinkins Jr., with Bob Dunphy directing.

For information on SHOWTIME Sports Programming, including exclusive behind-the-scenes video and photo galleries, complete telecast information and more, please go the new SHOWTIME Sports website at http://www.sho.com/sports.

About Showtime Championship Boxing:
In March 1986, SHOWTIME CHAMPIONSHIP BOXING was born when "Marvelous" Marvin Hagler defeated John "The Beast" Mugabi in a spectacular and unforgettable 11th-round knockout in Las Vegas. Since that time, the network has aired some of the most historic and significant events in the sport including both Evander Holyfield-Mike Tyson bouts.

Always at the forefront of boxing, SHOWTIME has set itself apart by telecasting the most meaningful and compelling match-ups in boxing on the first Saturday of every month. SHOWTIME is the first network to regularly deliver live boxing in High Definition. In addition, SHOWTIME continues to be a pioneer in sports television with a number of interactive features across multiple platforms making SHOWTIME CHAMPIONSHIP BOXING telecasts the most enjoyable, immersive viewing experience for the boxing audience.

For more information on SHOWTIME Sports Programming, including exclusive video, photos and more, please visit the SHOWTIME website at http://www.sho.com/sports. Article posted on 04.11.2007
previous article: Bob Mirovic Wins Aussie Heavyweight Title For Third Time!
next article: Pickering has set his sights on Martinze and Hunter