ShoBox: Chambers, Lopez Win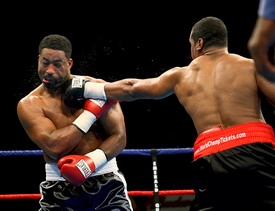 Photos: Jan Sanders / Goossen Tutor Promotions For Showtime - TACOMA, Wash. (Nov. 3, 2007) – Going into Friday's 100th telecast of ShoBox: The New Generation, there had been 22 boxers who'd appeared during the popular series' distinguished six-year history that went on to capture world titles. That's better than one every five shows. Two more victories and "Fast'' Eddie Chambers could become the 23rd.

The unbeaten Chambers (30-0, 16 KOs), of Philadelphia, registered a 12-round split decision over Calvin "The Boxing Banker'' Brock (31-2, 23 KOs), of Charlotte, N.C., in Friday's ShoBox main event. The victory earned Chambers the right to fight 2004 Olympic Games gold medalist Alexander Povetkin in the finals of the International Boxing Federation (IBF) heavyweight elimination tournament..

If triumphant against the undefeated Povetkin, Chambers will get a shot at IBF heavyweight champion Wladimir Klitschko.

In Friday's co-feature at Emerald Queen Casino, Jose Lopez (22-2, 1 ND, 13 KOs), of Riverside, Calif., won his sixth in a row with a unanimous eight-round decision over Tyrone Harris (21-4, 14 KOs) of Lansing, Mich.

The doubleheader, presented by Goossen Tutor Promotions and Main Events, aired live on SHOWTIME at 11 p.m. ET/PT (delayed on the west coast).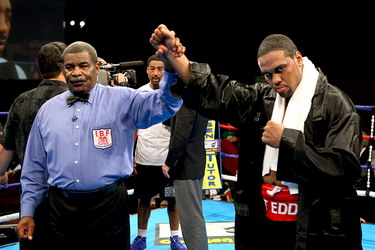 "I'm excited and ready for the next step,'' said Chambers, who triumphed by the scores of 115-113 twice and 113-115. There were no knockdowns. "Povetkin doesn't have a lot of pro fights (14) but he has a load of international experience in the amateurs. I can't train harder than I do, but I can train better. I'll be ready.

"I was scared when I heard 'split' because I had never heard that after one of my fights, but I knew I'd won. I never expect my fights to be close and I never want to leave any doubt, which is why I stepped it up in the last two rounds.

"But Brock deserves credit. He never hurt me but he made it a tough fight. He did a good job and although I know I hurt him a couple of times, he had a better chin than I thought. Brock landed a lot of punches, but mine were sharper and much quicker.''

Brock, who began the evening ranked third in the IBF, seven notches higher than Chambers, was so positive he was well ahead on the scorecards that he mostly coasted the final two rounds, particularly the 12th when he danced and pranced and stayed outside for nearly the entire three minutes.

"I listen to my corner and they told me I had the fight won and to stay away,'' said Brock, who is trained by his father, Eddie Sr., and four division former world champion Pernell Whitaker. "This is very disappointing because I definitely felt I won. I thought I fought a perfect fight.

"I moved and boxed well for 12 rounds, which nobody thought I could do. I landed more punches. I did what I was supposed to do. I dictated the pace.

"Knowing what I know now, the only thing I would have done differently is fight with more urgency at the end. As far as the decision goes, I agree with one of the judges.''

Before Friday, the only other boxer to defeat Brock was Klitschko.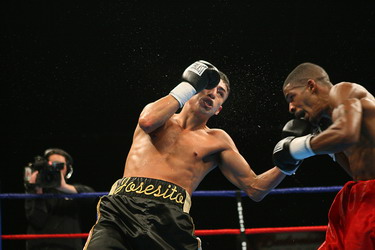 Lopez, who fights for Orange County, Calif.-based Thompson Boxing, was victorious by the scores of 79-72 and 77-74 twice.

"Harris was awkward and the first southpaw I've fought, and it is hard to look good all the time against guys like that, but I know I could have performed much better,'' Lopez said. "I am happy to win but disappointed with the way I fought. I can do much better.

"This was my first opportunity to fight on SHOWTIME and I really wanted to put on a show. But I guarantee I will be better next time.

"I was surprised two of the judges had it so close. I thought I won fairly decisively.''

The judges' scorecards would have been tighter had Harris not lost a point for hitting south of the border in the seventh.

"This was set up for him to win," Harris said. "That's why they made it eight rounds instead of 10. I'm a 10-round fighter. He's not. I know he was tiring and I was hurting him in the later rounds. I would love to fight him again. Next time, I will knock him out, which is the only way I was going to win tonight.

"I hope SHOWTIME gives me another chance, but even if they don't I know I am going to become a world champion.''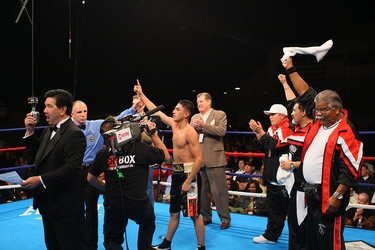 Nick Charles (blow-by-blow) and Steve Farhood (analyst) called the action from ringside. The executive producer of ShoBox is Gordon Hall with Richard Gaughan producing and Rick Phillips directing.

Friday's bouts will re-air as follows:


DAY CHANNEL

Saturday, Nov. 3, at Midnight ET/PT SHOTOO

Monday, Nov. 5, at 10 p.m. ET/PT SHO EXTREME

Tuesday, Nov. 6, at Midnight ET/PT SHO EXTREME

Thursday, Nov. 8, at 11 p.m. ET/PT SHOTOO

The next "ShoBox" telecast on Friday, Nov. 16 (SHOWTIME, 11 p.m. ET/PT, delayed on the west coast) will feature undefeated 2004 U.S. Olympian Andre Ward. It will air live from St. Lucia.

Tonight/Saturday, Nov. 3, SHOWTIME CHAMPIONSHIP BOXING (10 p.m. ET/PT, delayed on the west coast) presents a world championship doubleheader highlighted by a WBC super featherweight title fight between defending champion Juan Manuel Marquez and Rocky Juarez. In the semi-main, Robert "The Ghost'' Guerrero will defend his IBF 126-pound crown against Martin Honorio.

A Dec. 1 tripleheader on SHOWTIME CHAMPIONSHIP BOXING (9 p.m. ET/PT, delayed on the west coast) will feature title defenses by International Boxing Organization (IBO) light heavyweight champion Antonio Tarver, World Boxing Association (WBA) 154-pound titleholder Vernon Forrest and IBF flyweight champion Nonito Donaire.

For information on Showtime Sports Programming, including exclusive video, photos and news links on SHOWTIME CHAMPIONSHIP BOXING and EliteXC mixed martial arts telecasts, please go to www.SHO.com/sports.


About ShoBox: The New Generation

Since its inception in July 2001, the critically acclaimed SHOWTIME boxing series, ShoBox: The New Generation has featured young talented fighters matched tough. The ShoBox philosophy is to televise crowd-pleasing and competitive fights while providing a proving ground for willing prospects determined to fight for a world title. The growing list of fighters who have appeared on ShoBox and advanced to garner world titles includes Leonard Dorin, Scott Harrison, Juan Diaz, Jeff Lacy, Ricky Hatton, Joan Guzman, Juan Urango, David Diaz, Robert Guerrero and Kelly Pavlik. Article posted on 03.11.2007
previous article: Mundine To Defend vs. Jose Clavero!
next article: Interview With Female Featherweight Contender Kasha Chamblin