The Miranda-Porras Undercard Was Action-Packed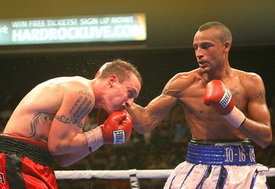 By Wray Edwards, Photos © Wray Edwards/ESB at ringside. Seminole Warriors Boxing has a great Matchmaker and Coordinator. His name is M. Chico Rivas. Among other things, this gentleman is responsible for matching up fourteen guys on fight nights. It is his judgment call with, the advise and consent of others in the organization, to make sure there is a minimum of mismatches at Warriors events. The goal in Boxing is to have the two most closely matched fighters possible enter the ring for a contest. Tuesday night was no exception.

Even though the Main Event ended half way to the ten rounds scheduled, the task of verifying Miranda's readiness to return to combat at 168 was exciting and satisfying. This was especially the case as the other fights (with one exception in the last round) all went the distance wherein every one the boxers left it all in the ring to the last drop of blood, sweat and tears. This was especially true as Super Middleweight Buddy McGirt Jr, 16-0, 9 KO's fought Canadian Jason Naugler, 17-6, 11 KO's in his first eight rounder. These two guys did not let up for five grueling rounds. These photos show just how much effort and courage Buddy and Jason put into their meeting and, as you will see, so did the other ten fighters: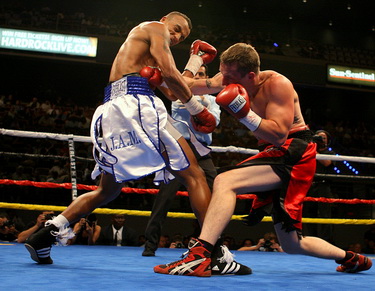 Jason was very athletic and reminded me a bit of Cowboy Brown's style especially when he got into the "earphones" position to get inside for some muggings.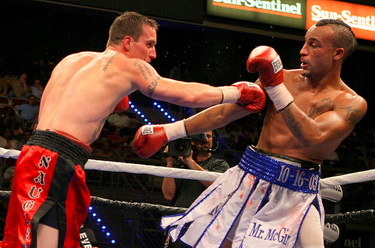 Jason made his greatest efforts with his right.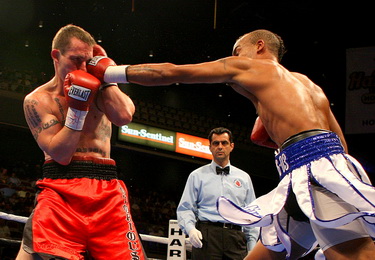 James Jr. showed a more balanced use of both gloves. First a left…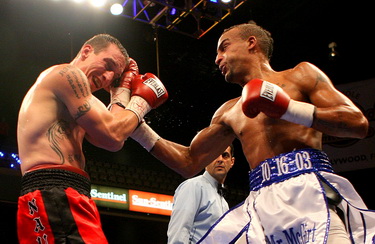 …then a right…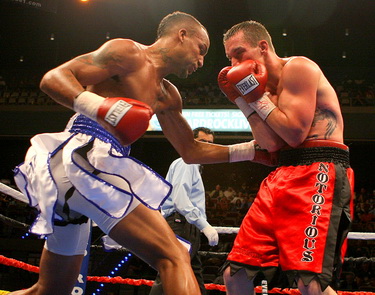 …then a left to the body.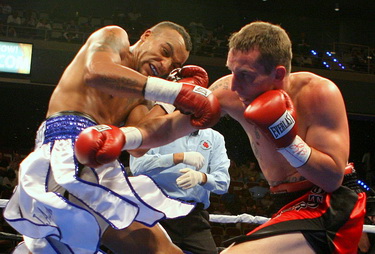 James head movement was fair, but as the Fight News photog to my left remarked, "Junior could easily stay back and pick this guy apart all night", but James decided, pretty much to fight Naugler's fight and spend more time than he needed to inside.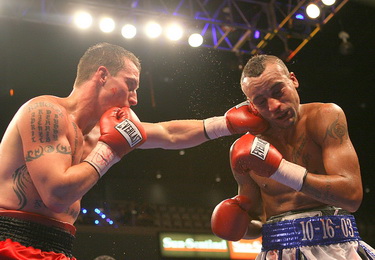 This led to James getting hit way more than necessary in order to win. This shows one of Jason's occasional lefts which were quite effective when he used it.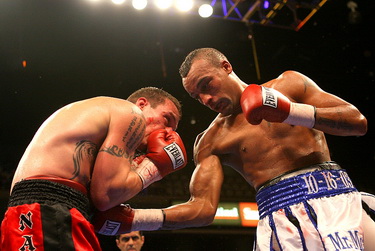 McGirt's attacks were not only balanced left and right, he worked the body and the head in effective proportions.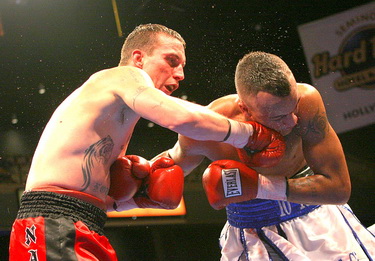 Still, James kept drifting inside and getting Jason's right in the kisser.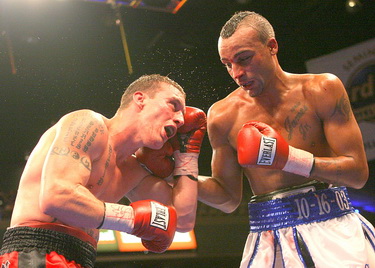 :

Though very arm-weary during the Seventh and Eighth Rounds, Buddy Jr. sucked it up to drive himself through his first of those and earned a respectable UD.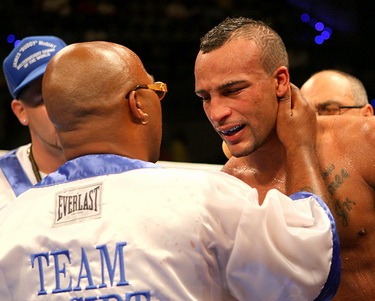 This made Papa McGirt happy as he told Jr. what a great job he had done. Jason was a real workout for young James, and he was a perfect selection to take James into, what for him, were uncharted waters. As his dad said in the corner, "Just six more minutes…". It was an obvious test and he passed it quite respectably. McGirt has a frame which will enable him to move up in weight as his career progresses. If he has an easy time staying at SMW he should continue to rise as his father carefully brings him along.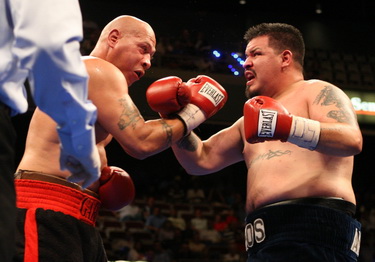 The first fight of the evening was a Six Round Heavyweight match between New York's Isreal Garcia, 17-1, 10 KO's and Kenny Lemos, 9-4, 1 KO from Denver.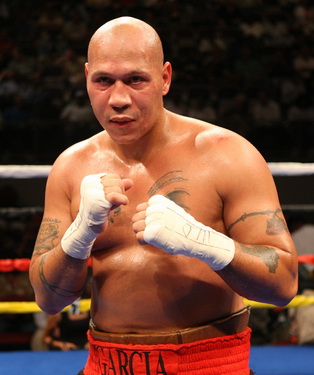 Garcia won by UD.

Fight number two was Four Rounds featuring Jr. Lightweight Sammy Payne, 6-0, 4 KO's from Hollywood, FL versus Puerto Rican Jose L. Torres, 4-12, 2 KO's.

Payne (great name for a boxer) delivered some to Torres who went down from the shots.




Mr. Torres looked up at the count and rose to beat it.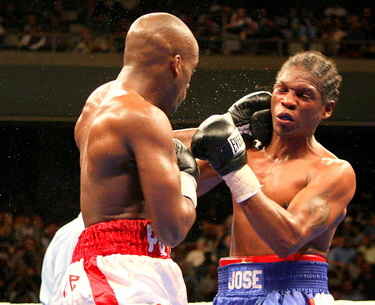 That was a tough decision to make considering he was in store for welcome back.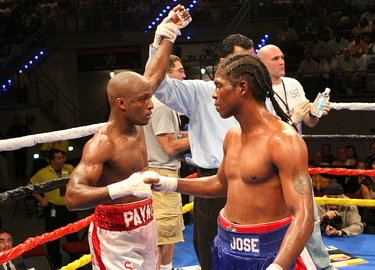 After the distance, Torres shows respect to Sammy.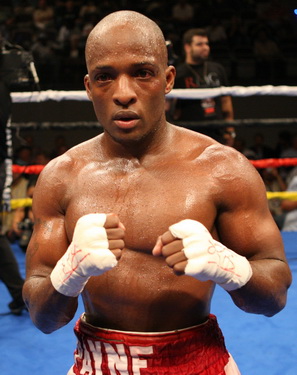 Payne is ready for more.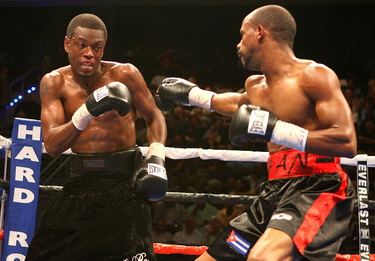 Then Featherweight Cuban Yan Barthelmy, 2-0 encountered Pensacola Florida's Kevin Hudgens, 5-11, 2 KO's.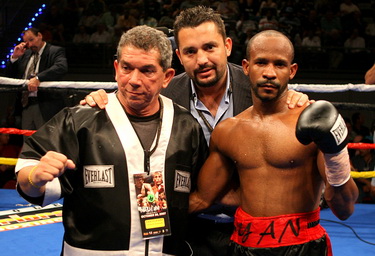 Yan eartned a UD without much trouble.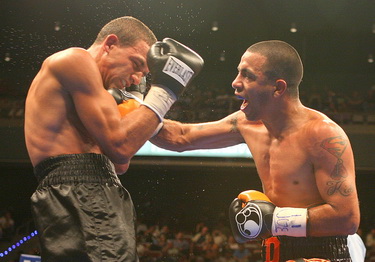 The fourth fight was a real Eight Round whack-fest with Featherweight Gary Stark, 18-2, 8 KO's from New York taking onRobert Da Luz, 10-9-2, 9 KO's from Providence, RI. Here we see just one of many heavy duty Stark rights finding their mark.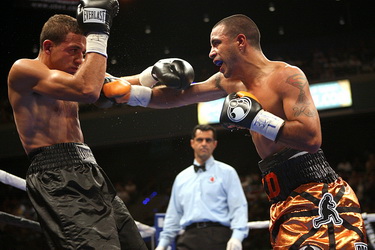 I said many.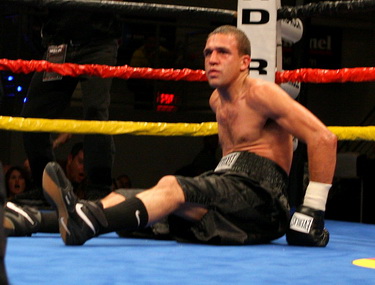 In fact, in the Seventh Round one of them put Da Luz right on his keester.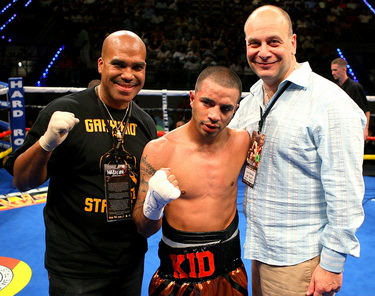 Big Lou steps in the ring to pose with his happy winner "kid" Stark.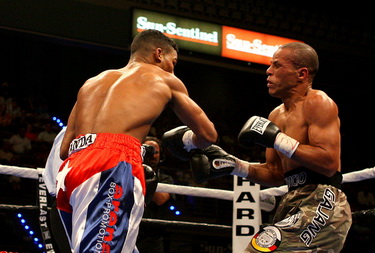 Next to the McGirt-Naugler fight, the Six Round Junior Lightweight contest between Cuban Yuriorkis Gamboa, 4-0, 3 KO's and Adailton De Jesus, 19-2, 17 KO's from Salvador, Brazil was really strong. A huge right (above) by Gamboa in Round One, sent De Jesus to the canvass: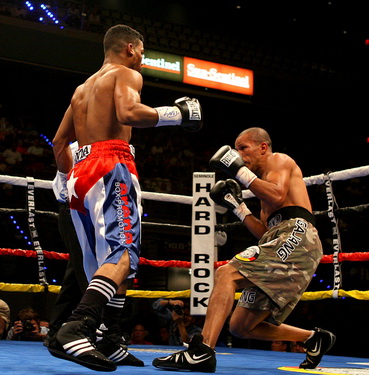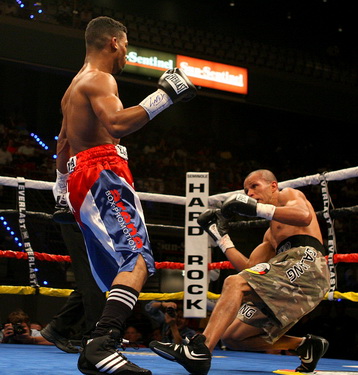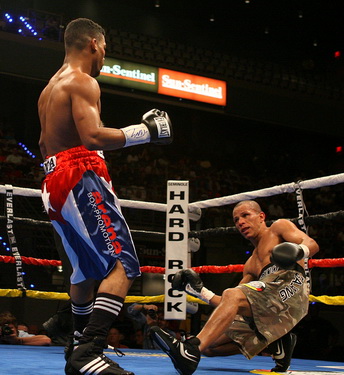 This was not a happy event for De Jesus.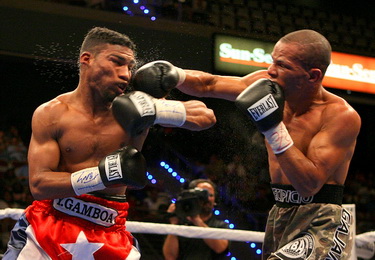 Adailton was not pleased and made Gamboa pay for the KD. He had a very strong right and fought with great courage throughout the whole fight with every ounce of his will and courage.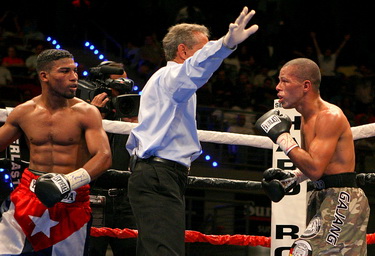 Unfortunately for De Jesus, Gamboa was just too strong and kept trapping the Brazilian in the corners. Finally, he was worn down to the point that he could not defend himself and the Ref stepped in to protect him and the rest of his career.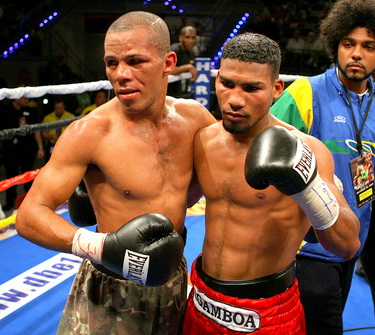 De Jesus earned great respect by his effort and was a good sport. Gamboa was a real gentleman and gracious in victory.

I have been to hundreds of Boxing events all over the world. This card was rock solid and very entertaining. Thanks again to Leon Margules, Lourdis Correro of Seminole Warriors Boxing and Cima Georgevich of Redline Media for keeping standards high and making it possible for East Side Boxing to record their great events. See you at the fights. Article posted on 02.11.2007
previous article: Bonanza For British Boxing: Let's Keep The Union Jack Flying
next article: HBO Boxing To Replay Cotto vs Judah, DLH-Mosley