Edison Miranda Defeats Henry Porras In Move To 168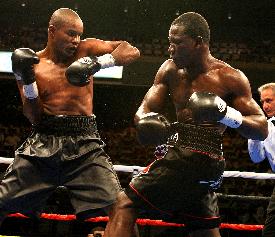 By Wray Edwards: Photos © Wray Edwards/ESB at ringside. It is so refreshing to see such beautiful Boxing form. Edison Miranda's stance, footwork, classical jab and overall fighting style is prototypic. In his fight with Henry Porras Miranda, IMO, moved to a weight classification which more closely relates to his frame, musculature and height. Porras, who is pretty far down the list in world rankings (in the 220s) was, nonetheless, pesky enough to make the fight interesting. He was obviously overmatched, but hung in there with the bunchy-muscled Edison.

Miranda's foray into Super Middleweight territory could hardly be considered seeking greener territory by leaving behind the likes of Pavlik, Taylor, Abraham and the charging Duddy because Calzaghe, Kessler, Bute, Pascal and Lacy await at 168. Personally, I would like to see him matched with Jeff Lacy providing Jeff's appointment in Las Vegas materializes and he emerges victorious. As mentioned above, Edison's style is pleasing to the eye. So let's get to the photos of the fight which include a few "technical advisor" snaps.: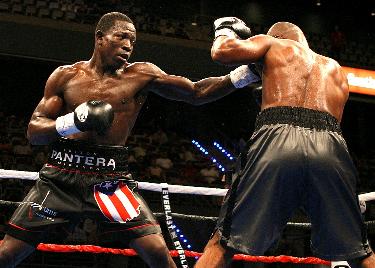 Miranda demonstrated a textbook jab all throughout the fight.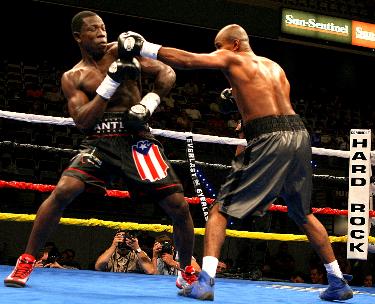 Henry tried the same, but Miranda's head movement was quick enough to avoid any meaningful contact.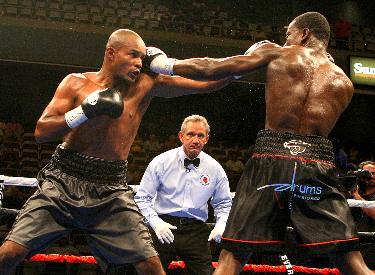 This shot demonstrates Edison's superior reach. Though Porras is leaning forward, and has his torso more rotated, and Edison is leaning back…Henry's glove is still short of contact and Edison's is well past. So in trading punches Miranda had a significant edge.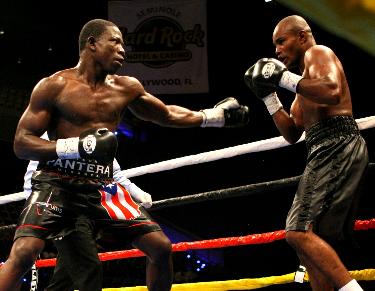 About the middle of the fifth round, Miranda began feinting and striking with his left to the body which lowered Henry's gloves a bit but left him vulnerable to Miranda combinations to the head which followed. This often led to Porras getting caught in the corners which eventually led to his undoing.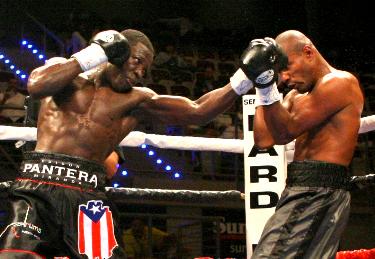 Porras really fell to the corners in Round Four and again as Round Five began.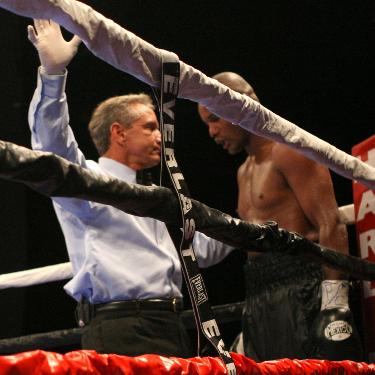 Referee Frank Santore, Jr. had to step in as Columbian Miranda trapped the Costa Rican Porras once again and the fight was called in the Fifth Round because Henry was not fighting back.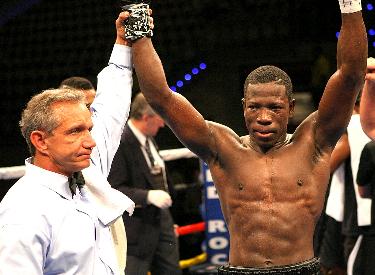 Santore presents the winner to the cheering crowd at the Seminole Hard Rock Live.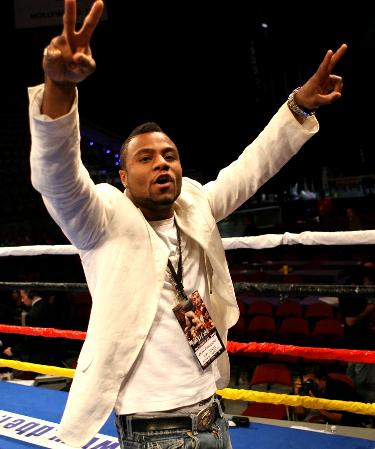 Then Jean Pascal, WBO Super Middle number two hops in the ring to strut his stuff and challenge Edison.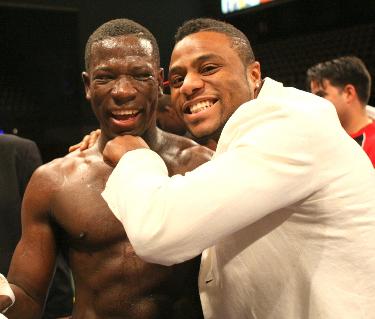 He then goes over to Edison and tells him "You're not beautiful enough to beat me!!" All in good fun…but it could get serious.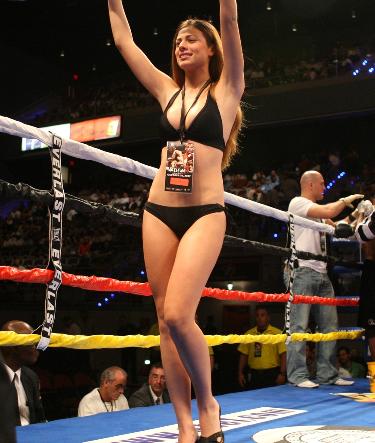 Darn it…I really like belly buttons!!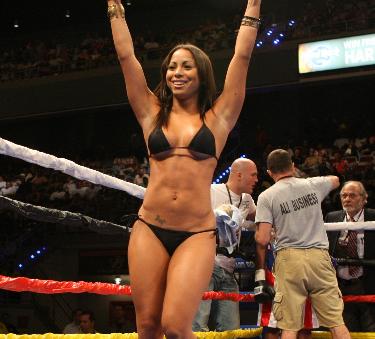 Now there's a technical advisor a guy can trust.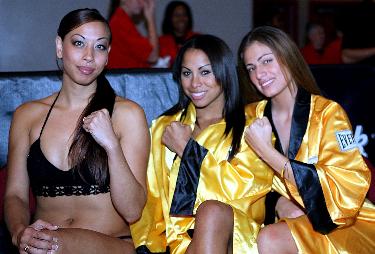 Here we see the Advisors demonstrating proper punching form.

Edison Miranda is a solid B+ Boxer who may just move right up there at 168. Time will tell. He is, with out a doubt, a very respectable addition to the Super Middleweight ranks.

The under-card was really great entertainment. Included was a fight featuring Buddy McGirt Jr. in his first eight round contest. Tomorrow I will detail the fights…two of which were real barn burners. ESB would like to thank Seminole Warriors Boxing for their houspitality and exciting fight card. See you at the fights. Article posted on 01.11.2007
previous article: Matt Godfrey defends NABF title against Jeremy Williams Nov. 24