Alexander Povetkin vs Chris Byrd: Povetkin "Hungry" For More
Alexander Povetkin is not just hungry for success. He is also hungry for Russian food. Just ask Ilona Aprelenko. The 35-year-old cooks for the 2004 Olympic gold medal winner whenever he trains in Germany. "She is a great cook", Povetkin stated. "Thanks to her delicious meals I am not missing anything during the hard practice sessions in Germany. It makes me feel at home.".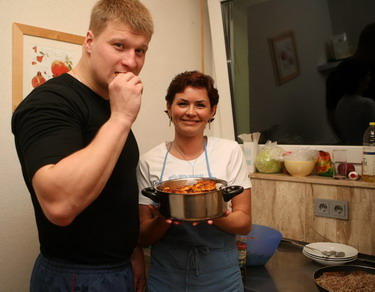 Povetkin´s favourite meal includes borscht (vegetable soup with beetroot as a main ingredient), plov (rice pilaf with meat and vegetables), chicken and zapekanka (Russian cheesecake) - all of which Ilona happily delivers. "I really enjoy working for him," she said. "For a heavyweight he is a pretty normal eater. For lunch he always has a soup followed by a main dish with meat and a lot of other nutritious food with buckwheat."

Originally from Odessa, Ilona has been living in Berlin for 14 years with her husband and their seven-year-old daughter Nora. As a former Soviet fencing champion, she knows what life as an athlete is like. "I am very grateful for all her help", Povetkin added. "The Russian Cuisine gives me the power I need to beat Chris Byrd next week."



Povetkin (13-0, 10 KOs) will kick off the IBF elimination tournament with his fight against former champion Chris Byrd (40-3, 21 KOs) in Erfurt on October 27.

Article posted on 19.10.2007
previous article: "Piolo" Castillo out-hustles Ledesma
next article: The 2008 U.S. Olympic Boxing Team to Walk in Opening Ceremonies at the 2007 AIBA World Championships