McCall - Gomez Weigh In Photos
WBC International Champion Oliver McCall (No. 2 in WBC rankings) and Juan Carlos Gomez (No. 4) presented themselves well prepared and in perfect physical shape at the official weigh-in at "Kroyman's" car dealership for their big clash this Friday night in Berlin's Estrel Convention Center. "The Atomic Bull" weighed in at 235 lbs. while "The Black Panther" brought 228 lbs. 9 fights are scheduled for arena's "Champion's Night" featuring 5 heavyweight bouts and 4 international championships. The show starts at 6 p.m., Gomez and McCall will step into the ring at about 11 p.m. (German time)..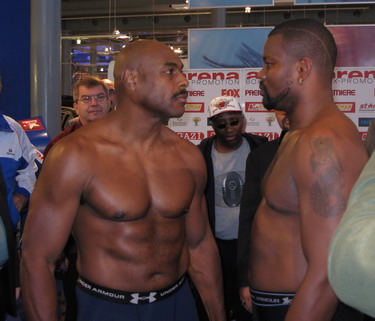 The heaviest fighter of the night will be Corey Sanders who lived up to his name T-Rex by weighing in at 358 ½ lbs. Sanders faces promising German heavyweight prospect Steffen Kretschmann in the co-main event who went over the scale with 234 lbs.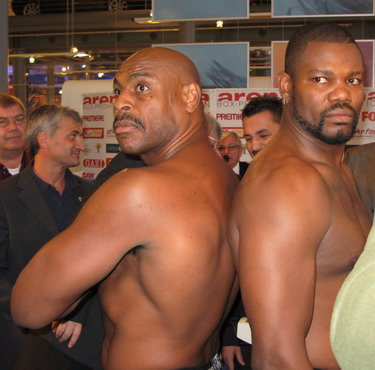 The lightest competitors are Cuban Olympic Champion Yuriorkis Gamboa and Samuel Kebede from Ethiopia who both weighed in at 132 lbs.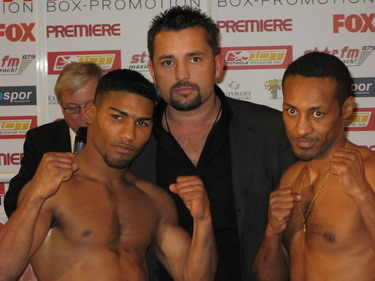 The training is done, the talking is over. Now all former world heavyweight champion Oliver "The Atomic Bull" McCall wants to do is knock out Juan Carlos Gomez in their highly-anticipated rematch tomorrow night.

"Just ring the bell, man, just ring the bell," said McCall, who is looking to extend his unbeaten streak to 12 at the expense of Gomez, a former world cruiserweight champion who battled "The Atomic Bull" to a ten round no contest in 2005. "Me and Gomez have unfinished business, and I'm gonna finish it once and for all on October 19th."

McCall (51-8, 36 KOs) is best remembered for winning the WBC Heavyweight title in 1994 by stopping future Hall of Famer Lennox Lewis in two rounds. He successfully defended his crown by defeating heavyweight legend Larry Holmes before losing it to Frank Bruno in 1995. Since then, McCall has been on a tear, going 25-2 with 2 no contests, including wins over WBC heavyweight champ Oleg Maskaev (KO1), Henry Akinwande (KO10), and Sinan Samil Sam (W12).
Article posted on 17.10.2007
previous article: Gomez-McCall Undercard: Olympic gold medallist Gamboa takes on Kebede