Kirilov Edges Navarro, The Untold Story, Plus The Great Action Of The Ibragimov Holyfield Undercard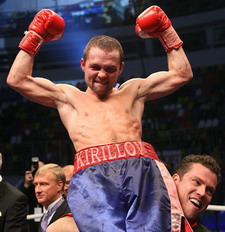 By Wray Edwards, Photos © Wray Edwards/ESB at ringside in Moscow, Russia. After the really intense boorishness and brutality caused by the Russian TV hacks at the weigh-in, one wondered how nasty it might get ringside. The next morning at the hotel I witnessed Leon Margules (Warriors Boxing) lay down the law to the Russian event managers and gophers. The result was that the American photogs were placed in a special slot at the apron and the Russian media were forbidden to come near us. They were restricted to the other side of the ring. We felt vindicated and protected by Leon's timely actions and professional authority.

What then followed was one of the best organized, rapid fire presentations of boxing matches one could wish for. Every pair of fighters from the first to the seventh contest, were brought to the ring in quick succession, and the series of bouts were completed right on time. The match-making was excellent as there was only one mismatch, and good fighting throughout the program. As you will see by the photos that follow, these guys really went at each other with serious intent. Also, the Navarro-Kirilov contest was an action-filled, even fight with a surprise ending, which touched everyone's feelings, and demonstrated the absolute best in sportsmanship and human kindness..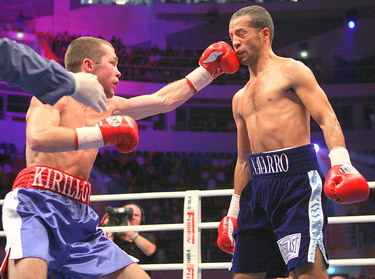 ESB writer Ron Hansen's excellent narrative of the fight pretty much covered the details of the contest, so here are the photos of this very good bout. Above Kirilov (from St. Petersburg, Russia) threw a left (after several other punches) which left Navarro (from Los Angeles, CA, U.S.A.) with his arms down. You can see the Ref's hand coming in, as Jose's arms are down, to separate the boxers and give Navarro…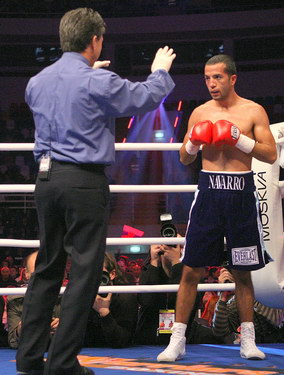 an eight count, and give him a chance to evaluate the boxer for further action.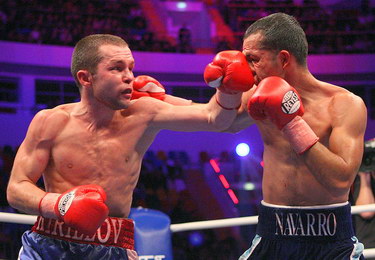 There was more action alright. Here we see just one of the many full-contact punches which Jose endured in his fight with Dimitri.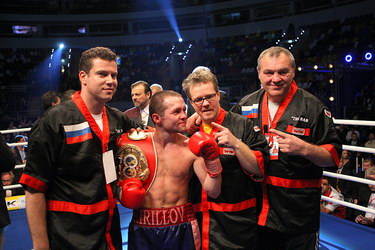 Dimitri was awarded the UD and posed with Freddie Roach and the rest of his team as they claim the IBF Super Flyweight Championship.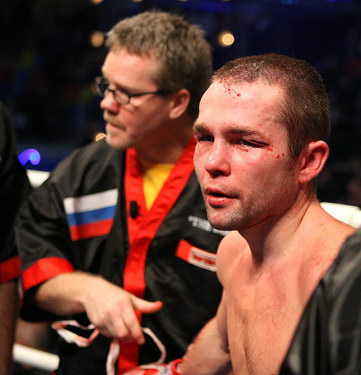 Kirilov was cut and had a bit of blood here and there.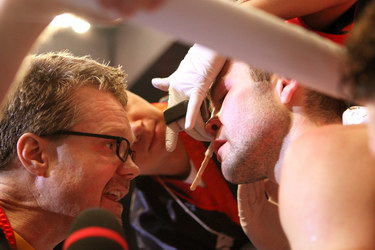 Freddy stayed right with Dimitri.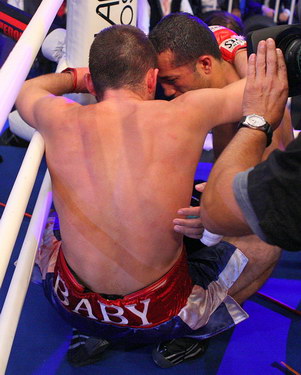 As the ring filled with Dimitri's celebrating team, photographers, and Jose's camp…I saw Navarro break out of the throng, run past me at the ropes and fall to his knees, forehead to the canvass, in a neutral corner. He was obviously crushed by his loss of the IBF Super Flyweight Championship. Seeing this, Kirilov rushed to Jose's side to comfort him and bring him to his feet in friendship.

In all sports but one (baseball) that I can think of, there is great respect and even affection for one's opponents. Participants either line up to shake hands, or stand around in smiling groups and pairs after the game. They had both given it their all, but Dimitri abandoned his celebration to take care of the more important task of showing respect and kindness. He's a good kid and a credit to his craft. I was impressed.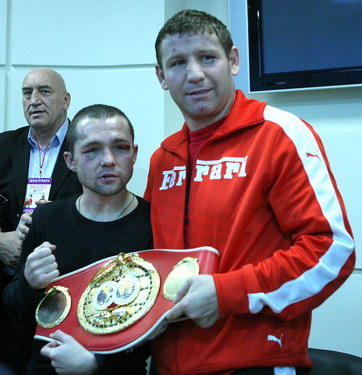 Here we see that being a champion has nothing to do with size. Both of these guys walked the longest ten feet in sports from the stool to ring center and face their destiny as the world watched.

The first fight of the evening was a Cruiserweight bout between Ali Ismailov (9-1-1, 7 KO's) from Baku, Azerbaizan and Pavel Ochertiany (6-0, 4 KO's) from Kiev, Ukraine.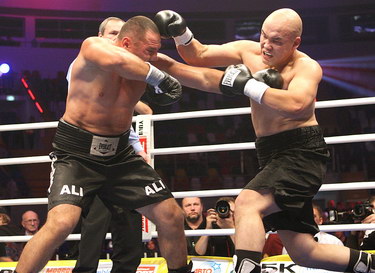 There's no doubt that these two were serious about their craft.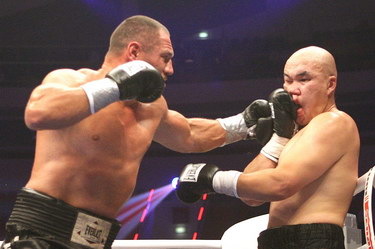 Pavel put his glove up, but it soon had a lot of Ali's left punch power in it which wasn't much fun.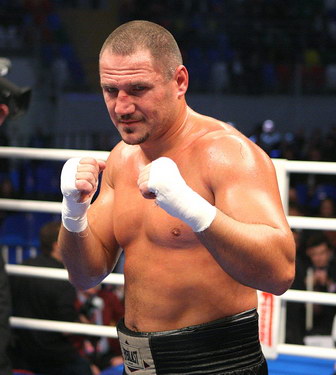 Ali got the UD and went up one in the victory stats.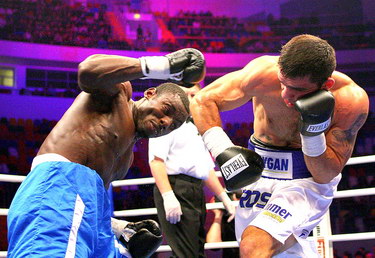 The third fight was a Light Heavyweight bout between Bernard Bonfack (6-5-3, 1 KO) from Berlin, Germany and David Kostecki (24-1, 18 KO's) from Rzeszow, Poland.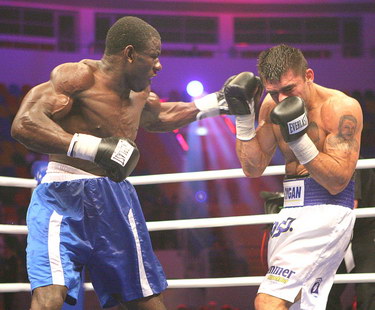 Bonfack shows off the bunchiest muscles of the night. These two both had some real power.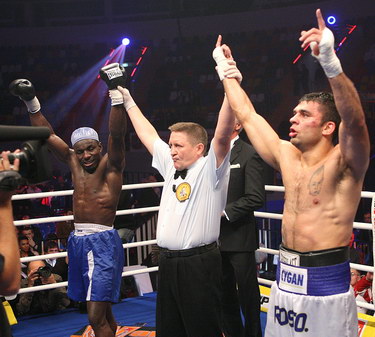 As a draw is declared, Bonfack appears to be looking at Kostecki as if to say, "You may have the fancy record, but you couldn't take me out." Kostecki was not amused and stormed out of the ring in a fit of pique.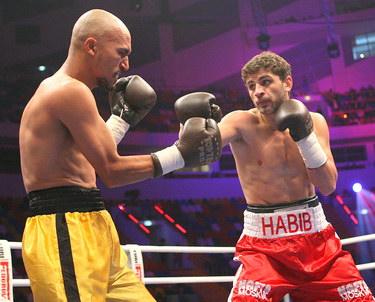 Junior Welterweight Habib Alakhverdiev (5-0, 2 KO's) from Kurush, Russia squares on Gustavo Miller (2-0-1, 1 KO) from San Jose, Costa Rica.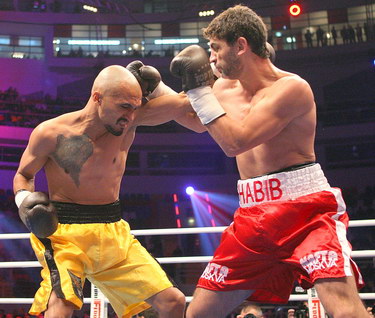 Habib, who is career building, is quite headstrong and aggressive. I was told he does not listen to his corner very well and prefers to bore in. He does bore in, and so far has not had to pay the price. I like this guy. He's fun to watch. He got the UD.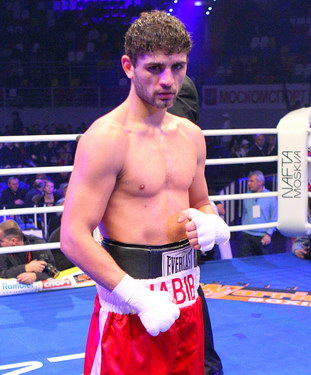 We shall see fellah. So far you get to do that pose every time.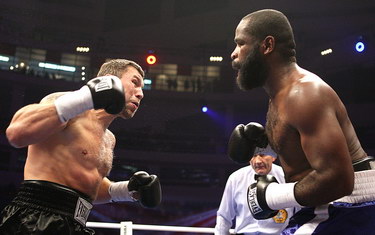 Silver-chested Cruiserweight Vadim Tokarov (23-1-1, 16 KO's) from Ekaterinberg, Russia ripped away at Marlon Hayes (23-9, 11 KO's) from Newark, N.J., U.S.A.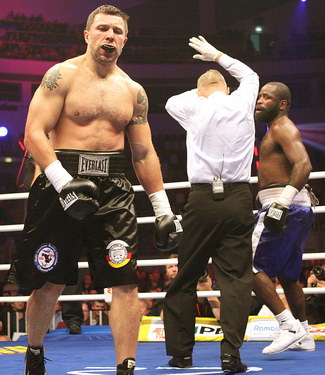 By the Third Round, the ref had seen enough and stopped the contest TKO as Hayes was in over his head with the burley Vadim.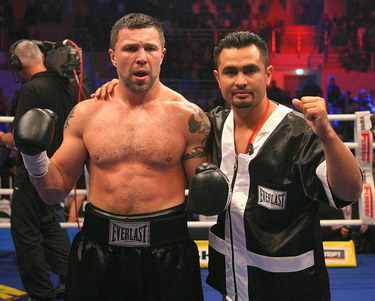 Tokarov poses with his trainer.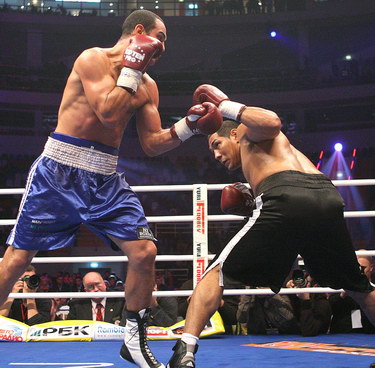 The third Cruiserweight fight was for the IBF Pan Pacific title between Mohamed Azzaoui (21-0-2, 7 KO's from Kerikeri, New Zealand and Henry Saenz (15-6-1, 12 KO's) from San Jose, Costa Rica. Mohamed took the lead and was very aggressive.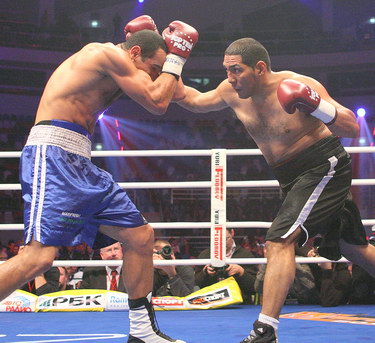 Saenz fought back but he got bloodier in the face with each round. By the end of the Seventh and the beginning of the Eighth Saenz was pretty beat up and quit on his stool.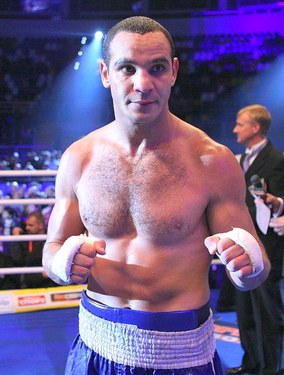 I got a little spooked by the look in his eyes.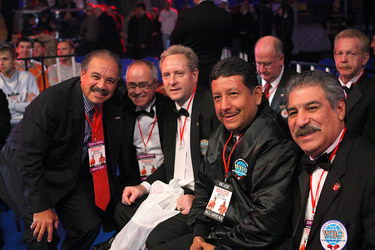 The main event Judges and Referee Raul Caiz make quite a distinguished group. Second from left: Chuck Giampa; third from left: Tom Miller; fourth from left: Raol Caiz; fifth from left: Rubin Garcia.

One note about the Main Event Referee Raul Caiz. He was totally in charge while being equally unobtrusive. He only stepped in when necessary, and allowed for the best possible contest between Sultan and Evander. He did a masterful job.

I would like to apologize for getting this report in so late. I had jet-lag from hell and mountains of work to do back in the states. All-in-all the Russian trip was very successful. Again, many thanks to Seminole Warriors Boxing and the good offices of Leon Margules who was the absolute lynchpin of the whole show. See you at the fights. Article posted on 18.10.2007
previous article: Mayweather Hatton: Win Or Lose, Will This Be "The Hitman's" Last Fight?
next article: Carl Froch: "I would knock either of Berrio or Bute out"