Sultan Ibragimov Out-Boxes Evander Holyfield…A Slide Show Of The Big Fight!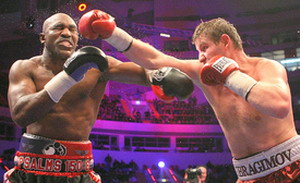 14.10.07 - By Wray Edwards, Photos © Wray Edward/ESB at ringside in Moscow, Russia -- click here to view photo gallery -- Zowie!!...when the tenth round started, nobody at the apron could believe that the fight was already almost over. "Time flies when your having fun." Though both fighters sized each other up for a good part of every round, when the leather flew, it did so in earnest. Both fighters got deadly serious about seven times every round. The Russian crowd, which gave Evander a pretty good cheer when he came to the ring, really got into the fight and chanted "Sultan!, Sultan!" many times during the bout.

This fight produced so many great images that I could hardly decide which to include here. So-much-so that the under-card report will have to wait. I have never had the opportunity to capture so many contact shots in one contest. So with that in mind let's get to the pics and you will see just how powerful the fight was: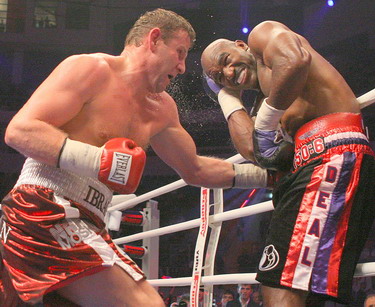 Besides the lead photo at the top…there was this to Evander's tummy. One of which later in the round was right at the solar plexus and doubled Holyfield over.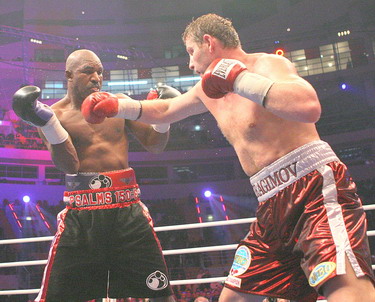 And this…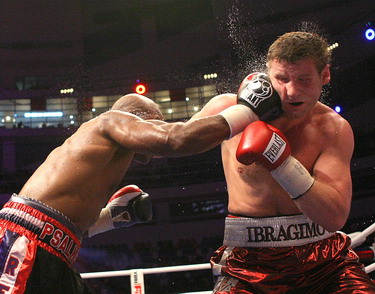 Evander put some of his best shots into the mix, but that just made Sultan hot-to-trot.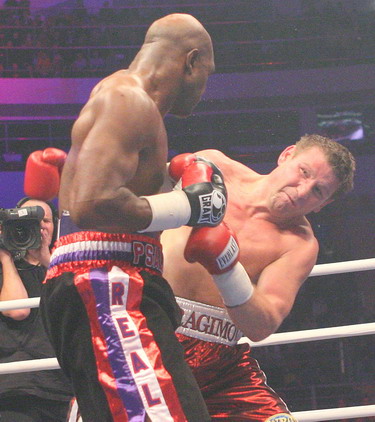 Ibragimov had to do some fancy upper body contortions to avoid quite a few Holyfield assaults.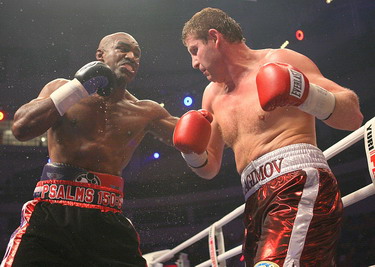 Evander got pretty tense whenever Sultan moved in.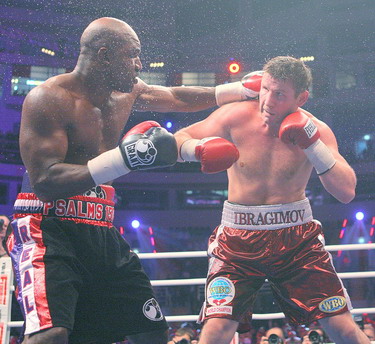 Here, we see Sultan helping Evander wipe off some sweat…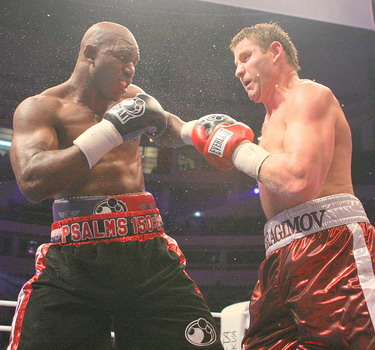 In fact many times.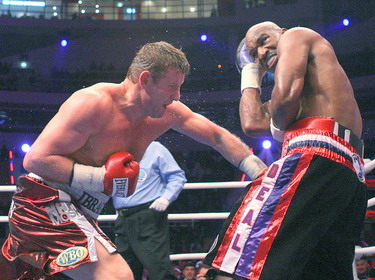 Ibragimov waged a balanced fight plan which also included plenty of lefts.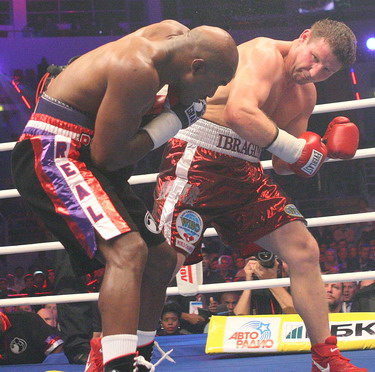 Well…maybe more rights than lefts.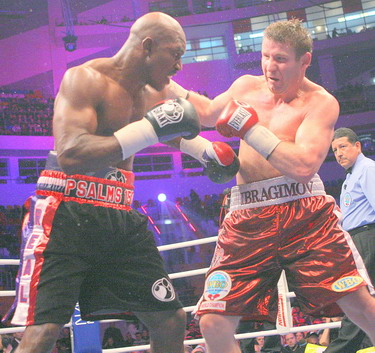 Man!...Boxing is so stressful.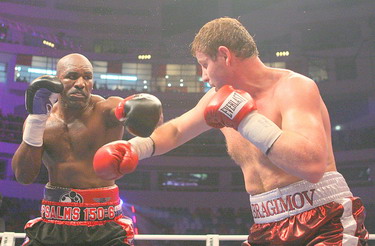 Evander calculates another close encounter.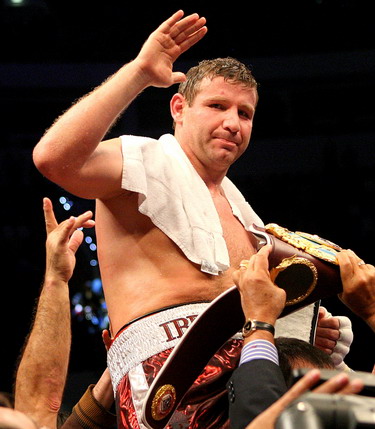 Sultan retained his championship and was lifted high to celebreate and wave to you guys. I had the contest 8 Rounds for Sultan and 4 Rounds for Holyfield.




Jeff Mayweather also got lifted up, and I think he was happy.



Sultan's brother was invited to the ring to celebrate. Man…they look alike.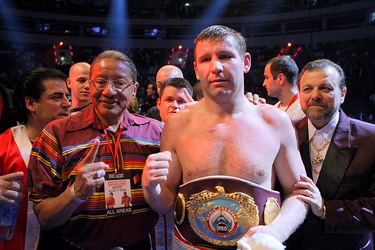 Sultan poses with the Chairman of the Seminole Tribal Council.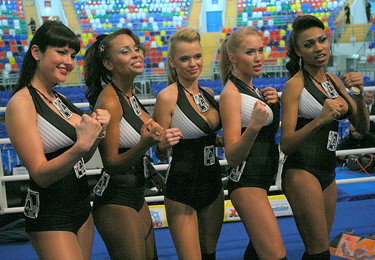 Go Russians!! Good genes!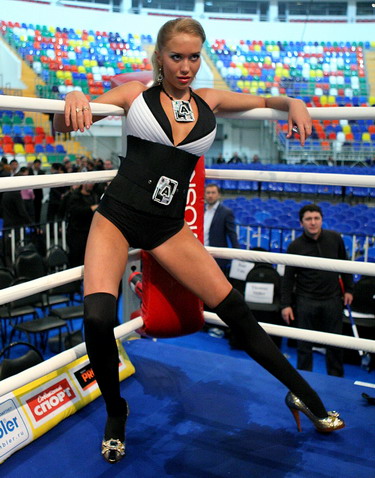 Yikes!!!...I think she's going to pounce.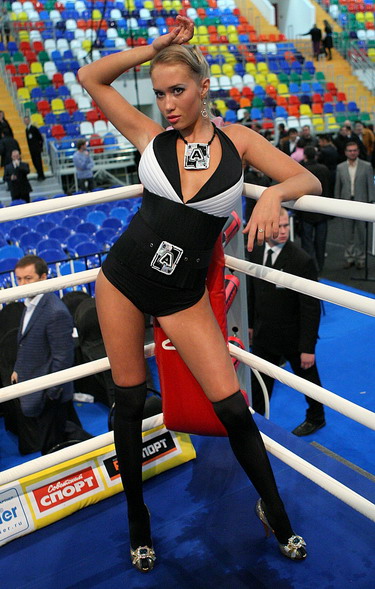 Maybe not. Damn…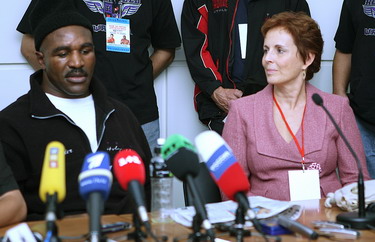 Evander was complimentary regarding Sultan's efforts:

"He was able to move real well. He's a smart fighter. He did the right things. I am planning to continue my career. Sultan's a good boxer. Styles make fights and his was effective with me."

I asked Holyfield if he thought Sultan had a good chin. He hesitated, but had to admit it after I added that he (Evander) was still able to crack. He did bring the leather pretty good last night.

Ms. Duva: "I would like to congratulate Jeff Mayweather for his excellent training and game plan. Thanks to Leon Margoles, Sampson Lewkowicz, and Yuri Fedorov for providing such a great venue and opponent for Evander.

Jeff: "I feel very good about this outcome. Sultan came to this fight in very good shape which took an amazing amount of hard work and training." Holyfield still has good power, and we were not about to deviate from the game plan just to try for a KO. If it happened as we followed the plan, good. If not, who cares?...we came to win."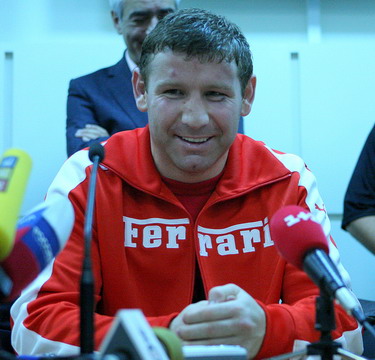 Sultan and his team answered the reporters' questions about Holyfield's performance with generosity towards Evander.

IMO, Evander put up enough of a fight to test Sultan's Boxing credentials. Considering the number of people who insisted that Evander was going to expose Sultan, there has to be a lot of humble pie getting chomped on today. Nor was Evander as vulnerable as others thought. He did right well in there.

As for his next fight, Thompson is Sultan's apparent mandatory. We shall see about that.

ESB would like to thank Warriors Boxing (Leon Margules, Lourdes Carrero") and Redline Media (Cima Georgevich) for their extreme efforts to organize and present this event. Considering the distance, language and experience barriers, and physical challenges, it was nothing short of a miracle. Every fight went off, on time, one right after the other with no delays. A Very professional effort. One of the best memories will be the harrowing, Jason Stratham/Transporter style ride in two high-powered Audis from the hotel to the Khodynka Arena. See you at the fights.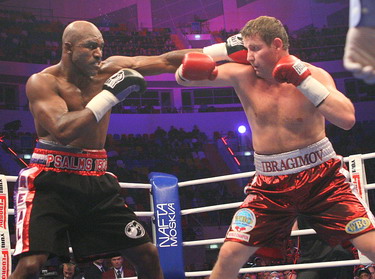 Article posted on 15.10.2007
previous article: British Boxing: Reid Prepares for Fewkes Showdown