Will Wladimir Putin Attend The Match Between Sultan Ibragimov And Evander Holyfield?...and Weigh-in Results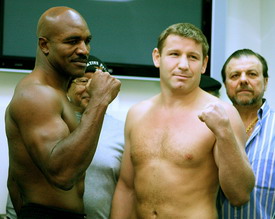 12.10.07 - Wray Edwards ringside in Moscow, all photos © W.Edwards: Back in the day, American President Theodore Roosevelt was a devotee of outdoor adventures, physical fitness and Boxing. He was known to have been very interested in the sport and was not a stranger to the ring. I overheard a couple of people at the Moscow airport discussing whether President Putin would attend the matches to watch a hero of the Russian Federation defend his world title. I joined the conversation by offering that it might be a good idea if Sultan won, but the downside, if Evander Holyfield, won might be unacceptable.

They replied by saying, "Did you not see our President in the woods with his shirt off a few months ago? He is a tough guy. Putin knows that in the Olympics and in Boxing, some win and some lose from every country. He is fair-minded, and would congratulate any brave man or woman who competes with honor, win or lose. It's called being a good sport." He is, of course very welcome, but IMO he might watch it on TV, and enjoy the event at a safe distance.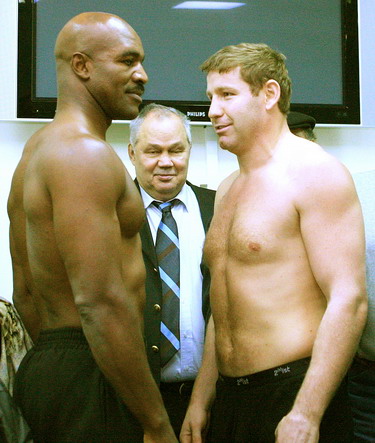 HEAVYWEIGHTS…12 ROUNDS…WBO WORLD CHAMPIONSHIP

Sultan Ibragimov, Rostov-na-Donu, Russia, 21-0-1 (17 KO's) 95.9 kg.

Evander Holyfield, Atlanta, Georgia, U.S.A., 42-8-3 (27 KO's) 99.2 kg.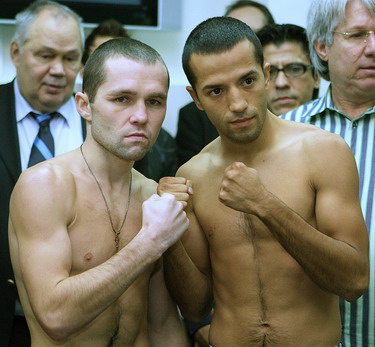 SUPER FLYWEIGHTS, 12 ROUNDS IBF WORLD CHAMPIONSHIP

Dimitri Kirilov, St. Petersburg, Russia, 28-3 (9 KO's) 52 kg.

Jose Navarro, Los Angeles, Cal., U.S.A., 26-2 (12 KO's) 51.65 kg.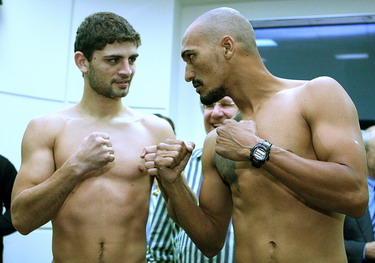 JUNIOR WELTERWEIGHT, 6 ROUNDS

Habib Alakhverdiev, Kurush, Russia, 5-0 (2 KO's) 64.2 kg.

Gustavo Miller, San Jose, Costa Rica, 2-0-1 (1 KO)

CRUISERWEIGHTS 12 ROUNDS:

Mohamed Azzaoui, Kerikeri, New Zealand, 20-0-2 (7 KO's) 90.05 kg.

Henry Saenz, San Jose, Costa Rica, 15-6-1 (12 KO's) 92.35 kg.

CRUISERWEIGHTS, 8 ROUNDS:

Vadim Tokarov, Ekaterinburg, Russia, 23-1-1 (16 KO's) 90.4 kg.

Marlon Hayes, Newark, New Jersey, U.S.A., 23-9 (11 KO's) 89.4 kg.

CRUISERWEIGHTS, 6 ROUNDS:

Ali Ismailov, Baku Azerbaijan, 9-1-1 (7 KO's) 90.25 kg.

Pavel Ochertiany, Kiev, Ukraine, 6-0 (4 KO's)

LIGHT HEAVYWEIGHTS, 8/10 ROUNDS

David Kostecki, Rzeszow, Poland, 24-1 (18 KO's)

Bernard Donfack, Berlin, Germany, 6-5-3 (1 KO)

The room selected for the weigh-in was one third the size it needed to be. The venue was very unprepared for the number of photographers who showed up. As a result there was the most violent shoving and pushing I have ever experienced at a weigh-in. The guys who got there ahead of time for good position were virtually assaulted by being intentionally hit in the head with TV cameras, pushed down and shoved.

Just as the boxers came out, one guy with a video camera came bashing into the already crushing mess as if he were trying to go up the middle for a touchdown. Other photographers actually had to fight him off to stay on their feet. It was total chaos. I've never seen anything like it. We were grabbed, pulled and hip-checked with merciless disregard. If things get that rough in the ring tonight, we're in for some real action.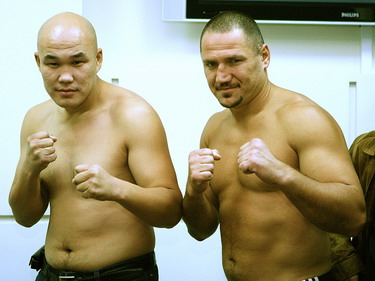 These two guys made a great pose for us and shook hands in good sportsmanship.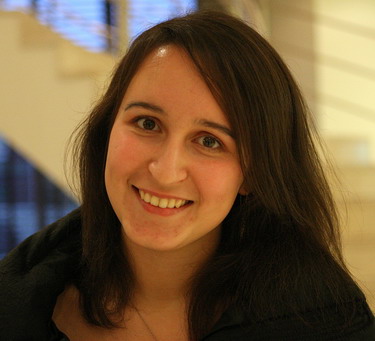 A few of the weights are missing above as my lovely interpreter/guide & confidant, Eugene Sosedenko was pushed around so much by the rude guys who came late. She could not write and stagger for her balance at the same time. She was very brave.

The interest in this fight has snowballed faster than any I can remember. The plane ride over was made a very pleasant experience as I was seated next to Chuck Giampa who retaliated with his life story just after I finished telling him mine. Then we talked boxing. This helped to pass the eleven hour flight time. The seat had turned to concrete (or at least felt like it) by the time we landed in Moscow. We were also honored by the companionship of Nick Charles on that flight.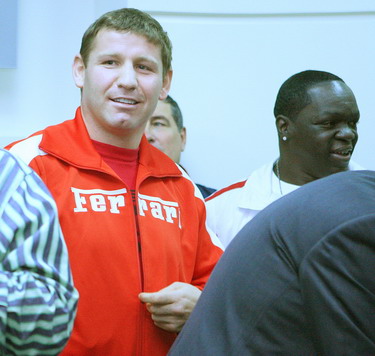 I am a little surprised by the polarity of opinions surrounding this contest. There are some who waver, but most are adamantine about their guy. I will be content just to survive what will probably be another photographer mosh pit at ringside. See you at the fights. Article posted on 12.10.2007
previous article: Johanneson And Michael Gomez Clash Head To Head
next article: Maccarinelli vs Sellers On Calzaghe-Kessler Undercard