Interview With Former WBC Bantamweight Champ Miguel "Happy" Lora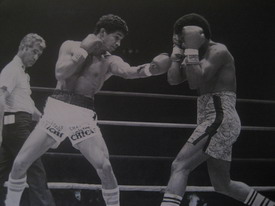 By Jaime Castro-Núñez, photos courtesy of M. Lora -- A couple of days ago, I had the pleasure of speaking with former WBC bantamweight champion Miguel "Happy" Lora. I caught him in his native Montería, in Northern Colombia, surrounded by family and friends.

Jaime Castro-Núñez: "Happy," thanks for accepting this interview and welcome to eastsideboxing…

Miguel Lora: Good afternoon to all of you, it´s a great pleasure for me to share part of my life here in eastsideboxing..

JCN: You won the WBC bantamweight belt in 1985 against Daniel Zaragoza and lost it to Raúl "Jíbaro" Pérez in 1988. Then you tried twice to recapture the belt, but you failed. What happened?

ML: I had problems with my weight when I lost the belt. Then I took a 9-month break. After that, my promoter Ricardo Maldonado told me: "Happy, I support you. If you want to keep boxing I can find a good chance for you, so you can be champion again." I told him "Yes, I want to recapture the belt." I returned to Montería and outboxed Bernardo Mendoza, a guy from Chile. Then I knocked out a Panamanian boxer named Emilio Aponte. After that fight I got a championship match against Gaby Cañizales in Detroit. I was the favorite and I knocked him down in the second round. He got up and I tried to finish him off, but he threw a hard hand to my chin and knocked me out. I rested five months and my promoter said: "Happy, if you want to box, I totally support you, you're young, you're a good boxer, but if you want to retire, it´s ok. If you desire another chance, just call me." I told him "no, I don´t want to retire yet. I love boxing. Cañizales just got lucky, but I know I can recapture the belt."

JCN: What happened when you faced Rafael del Valle?

ML: In 1993 [Ricardo] Maldonado informed that there was a chance to fight for the WBO bantamweight title, but I told him that I was no longer a bantamweight, but he asked me to do a sacrifice. So it was that I fought Rafael del Valle in Hato Rey, Puerto Rico. I was in command of the fight until the 9th round, when he sent me to the canvas and from that point he started to score more points and eventually decisioned me.

JCN: When did you decide to retire?

ML: During that particular fight [against Del Valle] I noticed that I was heavier, that I was losing reflexes. I felt the weight of the years and I decided to retire in July 1993. Also, as a consequence of the hand with which Cañizales knocked me out, my fifth cervical vertebrae dislodged towards the trachea. I could fight in the super bantamweight division, but Dr. Humberto Uribe-Posada in Medellín advised me to quit boxing.




JCN: What did you started to do?

ML: I'm a polifacetic person, so I started to do a lot of things. First of all I concentrated on my family, my children, and my wife. I started to promote the practice of boxing here in Montería and in Colombia. I invested on real state, I bought a farm and cattle. I appeared on TV shows, realities, and soap operas. I have been working as a fight analyst, first with Jesse Lozada of Telemundo and most recently with Estewill Quezada of Caracol TV. I was a special guess in the Torres-Holt bout in Barranquilla.

JCN: How did you see that fight?

ML: Kendall Holt is an excellent fighter, very fast and knows the business. I saw an amateurish Torres who needs to improve his skills. I think the referee shouldn't stop the fight, but that's my personal opinion. That bout was a good one and the fans enjoyed a lot. The problem with Torres is that he relies too much on his punching power.

JCN: And what do you think of the eleventh round?

ML: I disagree with what people did. Jaime, you know that we have bad reputation and we cannot afford to get the same reputation in sports. We Colombians have to show education and good manners, show that we're decent people. On the other hand, I understand the people of Barranquilla because they fiercely defend their idols and I really understand that. What is unquestionable, though, is that Holt received a tremendous hand from Torres and the referee decided to stop the bout.

JCN: What do you think of Mayweather-Hatton and Mosley-Cotto?

ML: Mayweather should win over Hatton. He's faster and smarter. Hatton is good, but Mayweather is exceptional. And Mosley should defeat Cotto.

JCN: Happy, what did boxing leave you?

ML: Boxing left me a lot of satisfactions, personal relations and economical stability. I didn't earn much money, but with what I got I bought some properties, my kids are attending university and they have everything. I live with dignity thanks to God.

JCN: I'll let you go now…

ML: Jaime, I really appreciate this opportunity and I would like to thank both you and the eastsideboxing fans for remembering me. Thanks to boxing fans I became somebody. God bless you all.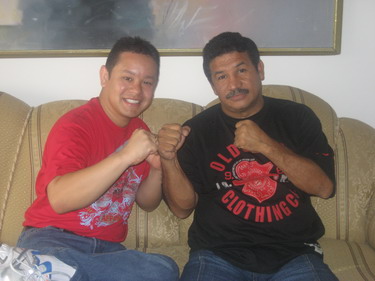 Article posted on 09.10.2007
previous article: HBO Boxing To Replay Pacquiao-Barrera Rematch
next article: Duva Boxing's Samuel Peter Shows "Heart of a Champion" In Victory Over Jameel McCline