Manny Pacquiao - Marco Antonio Barrera Prediction
04.10.07 - By Matthew Hurley, photo by Naoki Fukuda : With all the so-called "distractions" surrounding Manny Pacquiao many in the Marco Antonio Barrera fan base are hoping that the "Pac Man" enters his bout against the "Baby Faced Assassin" this Saturday night at the Mandalay Resort and Casino in Las Vegas unfocused and unprepared for a very prepared Barrera. The problem with that notion is that this isn't the Barrera who tore apart Prince Naseem Hamed in April of 2001 as a huge betting underdog. This Barrera probably won't be any better than the one who lost to Juan Manuel Marquez by decision in March of this year – albeit a very close decision..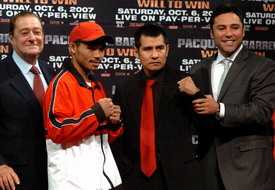 Successive bouts take a toll on fighters. One of the toughest fighters to ever step into the ring, Erik Morales, who fought both fighters three times, commented after his final bout against David Diaz that "I really felt the punches this time." He was remarking, almost incredulously, that punches that hit him before, be they a jab or the vicious Barrera uppercut in round two that broke his hawk-like nose in their third classic fight, never bothered him. At least to the extent that they do now. One ridiculous war after another had extracted a noticeable toll on the "Tijuana Tornado" and he finally understood that he had nothing left to prove. No fan wanted to see this first ballot Hall of Famer get hurt because he had given them too much.

Barrera, whether he likes it or not (and he would obviously hate the comparison because he and Morales can't stand each other) is in exactly the same position that "El Terrible" was in his third bout with Manny Pacquiao. He is going up against a younger, faster and stronger fighter. In boxing technique Barrera is the better overall fighter. But styles make fights and Pacquiao's whirlwind attack will be too much for the proud Mexican icon. Not only that, Pacquiao is a better fighter than he was back in 2003. He has rounded out his game, adding a vicious body attack to his craft and a much improved right hand. He is a complete fighter now, one who thrives on aggression and, yes, distractions. All these alleged distractions only add fuel to the fire for Manny Pacquiao. He may lose focus for a bit against a lesser opponent like his most recent target Jorge Solis, but not when it comes to a legend like Marco Antonio Barrera. Proof of that was visible in a recent open training session for reporters. He looks as fast and formidable as ever.

Barrera has immense pride and this is the fight he truly wants. Make no mistake, he was off his game in the first bout but he has deteriorated physically since then, as all great athletes do as they age, where the fresher Pacquiao is at his very peak. Barrera, because of his toughness will keep it competitive for the first several rounds, but Pacquiao's relentless aggression will break him down and finally bring an end to one of the best boxing careers of the last two decades.

Pacquiao TKO 7 Barrera

Article posted on 04.10.2007
previous article: Green vs. Duddy: Why Not?