The Brawl at the Beach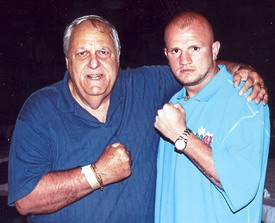 28.08.07 - By Ted Sares - Photo: Author with Mike Paschall - It was Saturday August 25, 2007 and I was ringside at the Convention Center in Ocean City, Maryland for the Brawl at the Beach promoted by the very capable Jake the Snake Smith.

My host was ring announcer and good friend Brad Dudley known as The Auctioneer for his unique way of opening the venue (Brad is a professional auctioneer). He is also the Michael Buffer of the Beltway.

Of course, no activity in Ocean City is complete without a feast of shrimp, crabs and corn, and we put on our best imitation of James Toney as we went after the chow nonstop. Also available on the main drag were two great cigar shops where I dropped a near fortune on some Chateau Reals and legal Cubans..

At the Center on 64th St., I had a great opportunity to catch up with some old friends and made many news ones as well. Lou Duva was among the 1,500 fans in attendance and it was nice to see him enjoying himself.

I had a long and informative conversation with affable Ring Doctor John Stiller and got to meet and compare notes with one of my very favorite boxing announcers and writers, Gary "Digital" Brown. If there is a nicer person than Digital, I have not yet met him. In fact, all the officials, ex-boxers, fellow writers, and ring side personalities were characterized by their friendly demeanor. The absence of political hacks was noteworthy and thankfully the narcissism I usually observe around ringside was nowhere in evidence.

The venue and results were as follows:

Lightweight Ryan Belasco 5-1-2 W Jose Torres 4-12 UD 4

Light middleweight Jessie "The Beast" Nicklow 13-0 W Anthony "Quick" Little 7-8 UD 8

Welterweight Tim Coleman 12-0 W Richard "Tiger" Hall 10-19-2 UD 8

Light heavyweight Mike "The Persecutor" Paschall 13-0-1 W Richard Stewart 13-4-1 UD 8

Heavyweight Richard Boone Pultz 25-1 W Jerry Simpson 2-9-1 UD 6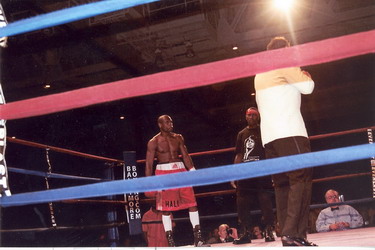 Tiger Hall being introduced by Brad Dudley



The Coleman-Hall fight started off as if Tim would blow the inactive Tiger away with his combos, but they lacked pop and had no visible effect on the superbly ripped Hall who came on in the late rounds and showed me something with his hard uppercuts and strong rights. Had this fight gone ten rounds, I can only wonder how it would have ended since local favorite Coleman was badly cut by a butt and was starting to breath out of his mouth. A peek at Hall's seemingly poor record of 10-19-2 is very revealing. His list of opponents include some very tough customers like Jose Angel Rodriguez, Delvin Rodriguez, David Estrada, Marlon Haynes, Joachim Alcine, Nick Acevedo, Jose Celaya, Derek Ennis, and Xavier Tolliver. This might sound strange but Tiger Hall was the fighter I was most impressed with on this hot night on the Boardwalk. In my opinion, he has the goods to turn his career around; he just needs better handling.

The main event featured crowd favorite Mike "The Persecutor" Paschall (Baltimore) against Richard Stewart, brother of contender Michael Stewart. This was a Delaware-Maryland battle and the crowd was in it throughout. The Persecutor exhibited incredible movement as he picked his shots with good hand speed and moved away from the stalking but slower Stewart who looked to unload one punch at a time. Both fighters were cut by head butts late in the fight and the blood and sweat flowed freely.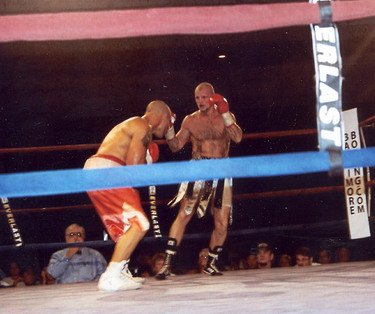 Stewart (L) and Paschall at war



It appeared the heavy handed Stewart was finally catching up to Paschall but time ran out and Mike took the UD handily. All in all, an interesting fight if you like stalkers going after elusive prey. Stewart has an uncanny physical resemblance to Miguel Cotto, but lacks the Puerto Rican's great body attack. Paschall and his capable corner should patent the method he used to train for this fight, as he moved as fast in the 8th round as he did in the first stanza. A rematch would be interesting.

The night ended by my going back in a time capsule to watch noirish Richard Boone Pultz beat limited but game Jerry Simpson over six interesting rounds. That's right, the very same Boon Pultz who beat Magne Havnaa in Copenhagen in 1989 for the vacant WBO Cruiserweight title. Boon is now on an improbable comeback at age 47 going on 48. Amazingly, he was fit and ready for his opponent and won every round in route to his second comeback win in a row. Watching him use old school tricks was entertaining, though he had a willing partner in Simpson. Everything from swarming and leading his opponent into the ropes--to cuffing--to back handing. The wiley and extremely popular veteran out of Virginia put on a crowd pleasing show.

As I drove back to New Hampshire the next morning, I reflected on what I had experienced. The entire ambience was one of friendship and "let's put on a good show for the fans." To this end, promoter Jake Smith more than accomplished this goal. It was a damn good show with very competitive fights, but more importantly, it was what boxing is all about. It represented the heart and soul of the sport we love so much. Thanks for a great time. Article posted on 29.08.2007
previous article: Prize Fight "Fights At The Fitz" on Sept 1
next article: Andre Berto to pay tribute to Legendary Promoter Jackie Leonard at September 29 bout