Maskaev-Peter, Golota-McBride, Rivera-Santos on Oct. 6 at MSG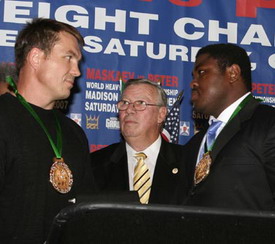 09.08.07 - PHOTOS BY SUMIO YAMADA - World Boxing Council heavyweight champion Oleg Maskaev will make the second defense of his title against WBC No. 1-ranked mandatory challenger Samuel "The Nigerian Nightmare" Peter at Madison Square Garden on Saturday, Oct. 6 in a highly anticipated championship match scheduled for 12 rounds. Tickets priced at $400, $250, $150, $100 and $50 (more than 14,000 tickets will be $150 or less!) will go on sale soon at the Garden box office and all Ticketmaster locations or by calling Ticketmaster at 212-307-7171, 201-507-8900, 631-888-9000, or 914-454-3388. Ticketmaster purchases are subject to convenience charges.

The main event will also be televised on SHOWTIME CHAMPIONSHIP BOXING beginning at 9 p.m. ET/PT (delayed on the West Coast) and is being promoted by Don King Productions and Duva Boxing in association with Madison Square Garden..

Two domestically non-televised matches have already been added to the card: Two-time 147- and 154-pound world champions Jose Antonio Rivera (38-5-1, 24 KOs), from Worcester, Mass., and Daniel Santos (30-3-1, 21 KOs), from Bayamon, Puerto Rico, will square off in an elimination bout to determine the World Boxing Association super welterweight No. 1 ranking and mandatory challenger to new champion Joachim Alcine. Polish favorite Andrew Golota (39-6-1, 32 KOs), from Warsaw, will take on Mike Tyson conqueror Kevin "The Clones Colossus" McBride (34-5-1, 29 KOs), from Ireland, in a special heavyweight attraction.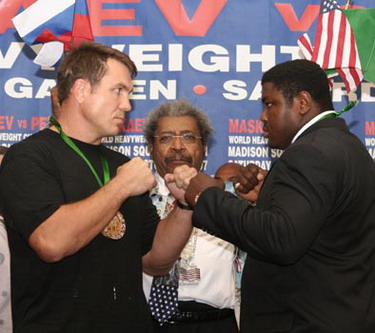 Maskaev (34-5, 26 KOs), from Kazakhstan and a U.S. citizen since 2004 now fighting out of Staten Island, N.Y., is riding a 12-fight winning streak that includes a 12th-round technical knockout over Hasim "The Rock" Rahman to win the WBC heavyweight crown in Las Vegas on Aug. 12, 2006.

The Russian-American won many fans that night with a dramatic and gritty final-round stoppage in a fight that was up for grabs. It has often been said it takes heart to win the big ones, and Maskaev proved he had the heart of a champion. He landed a devastating left hook that sent Rahman down midway through the final stanza and shortly thereafter finished him off with an unanswered barrage, forcing the referee to step in and halt the action during the last minute of the contest.

Perseverance has been a model for Maskaev in his career. A Russian amateur star that stopped Vitali Klitschko in the first round, Maskaev turned pro in 1993 but was matched too soon with the likes of Oliver "The Atomic Bull" McCall and David Tua.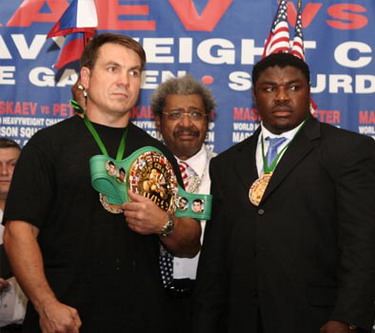 He ran his record to a respectable 20-2 before stumbling against Kirk Johnson in 2000, Lance "Mount" Whitaker in 2001 and Corey Sanders in 2002. Many thought it was time for Maskaev to throw in the towel, but he took a year off and came back with a new team and vision, and he hasn't lost a match in over five years.

Maskaev will again face the type of young lion in Peter (28-1, 22 KOs) that has caused him so much trouble in the past. The 26-year-old from Akwa Ibom, Nigeria, now living in Las Vegas, is on the precipice of achieving the success many boxing experts and fans have predicted would come for this heavy-handed knockout artist.

Promoter Don King has been telling everyone within earshot that Peter could be the next Tyson (King co-promotes Peter with Duva Boxing), and the Nigerian's 76-percent knockout percentage backs the claim. His lone loss came by decision in 2005 against Wladimir Klitschko after Peter had knocked him down three times.

Scariest of all for Maskaev—and, for that matter, the entire heavyweight division—is the fact Peter has now honed his boxing skills to the extent he beat Old School boxing master James "Lights Out" Toney twice in a row in his most recent ring appearances—both on 12-round decisions. Those victories made Peter the WBC No. 1-ranked heavyweight and the mandatory challenger to Maskaev. Article posted on 10.08.2007
previous article: Bio: Oleg Maskaev