Paul Williams-Antonio Margarito: Final Press Conference Quotes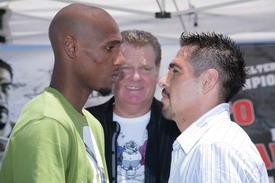 13.07.07 - Photos by Jan Sanders/Goossen Tutor Promotions-- On Saturday, July 14, 2007, in the outdoor tennis stadium at The Home Depot Center in Carson, Calif., undefeated and World Boxing Organization (WBO) No. 1 welterweight contender Paul "The Punisher" Williams (32-0, 24 KOs) looks to commemorate the holiday of Bastille Day by ending another reign of terror – that of WBO Welterweight Champion Antonio "The Tijuana Tornado" Margarito (34-4, 1 NC, 24 KOs).

Cristobal Arreola (20-0, 18 KOs), of Riverside, Calif., via East Los Angeles, will take on Derek Berry (12-8-1, five KOs), of Rialto, Calif., while Ward (12-0, 7 KOs), of Oakland, Calif., will face Francisco Diaz (16-1, eight KOs), of Shawnee Mission, Kansas.

Billed as "Pride N' Punishment," the long-awaited, highly anticipated 12-round confrontation between arguably the hardest-punching, most bitter rivals in the 147-pound division is presented by Goossen Tutor Promotions and will be televised on HBO "World Championship Boxing.."

"The winner of this fight is the preeminent welterweight in the world -- and that includes (Miguel) Cotto or anyone else in the 147-pound division,'' the event's promoter, Dan Goossen, said.

The fight card will will start at 5:30 p.m. PT. The WBO world title fight will start at approximately 7:45 p.m. PT and doors to the stadium will open at 5 p.m.

Tickets are available for as low as $25, with VIP floor seats priced at $300. Other tickets in the bowl are priced at $50, $75 and $150 and are on sale at TicketMaster outlets and online at www.Ticketmaster.com, as well as The Home Depot Center Box Office (open Monday-Friday, 10 a.m.-6 p.m.), and Saturday (day of event) beginning at 10 a.m.). Group tickets are available online at www.aegtickets.com or by calling 1-877-AEG-TICKETS.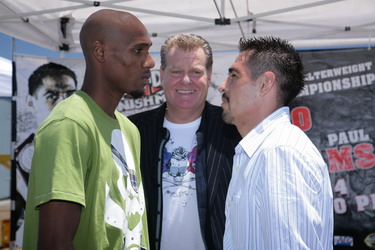 ANTONIO MARGARITO

"The time is here for me to continue keeping my title."

"Everything has been great. I have had no injuries. I am 100 percent ready for any type of fight."

"This is not going to be a decision."

"I know that Williams is a great fighter who throws a lot of punches. I am hoping that Williams throws a lot of punches because it is going to be a great fight."

"I am not looking at this fight to go the distance. I will finish Williams in the seventh round."

"What bothers me are the lies from sparring three years ago with Williams."

"Williams looks dehydrated. Maybe he does not have the energy to talk."

"I am not thinking about Williams making weight. The rules are the rules. He has to make weight if he wants to fight for the title."

"I have fought many fighters with more experience than Williams has."

"This fight is very important because it is the key to my future. It is the key to unification fights."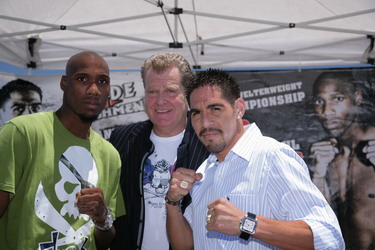 My style is my style. I am going to come out and fight my fight. I always get the job done."

"I don't know if Williams has the stamina to stay in there with me. He does not have the experience."

"I feel very happy to be fighting at home. I train here, but I haven't fought here in a couple of years. I have to continue to defend my belt so I can fight in front of my fans."

"I prepare myself in the gym and had the right sparring."

"I could not have asked for better preparation for this fight."

PAUL WILLIAMS

"I guess I will knock Margarito out in the seventh round."

"I am going to punish Margarito."

"I am going to prove on Saturday that I am the best. That is why I am fighting the best."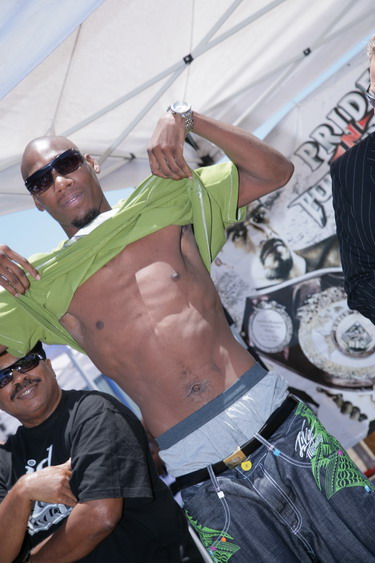 "I am ready to get it on. My confidence is sky high. I am not taking Margarito lightly. I have been hearing some kind of crazy stuff on the internet, like I am sick and I can't make weight. On July 14, you are going to see something that you have never seen before in the ring."

"People are trying to start stuff on the websites. People said I was in the hospital in Puerto Rico. I sent two sparring partners to the hospital."

"I am going to make Margarito's fans become my fans. The fans just want to see somebody come out and fight. They are going to cheer for me. The fans want to get their money's worth. I am going to give them what they want."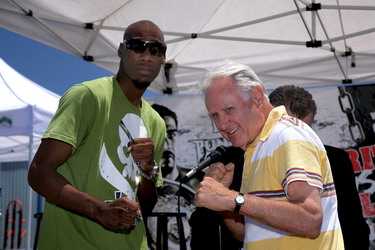 "The longer the fight goes, the more I am going to punish Margarito."

"On July 13, they will see how 'sick' I am when I get on the scale. On July 14 when I get in the ring, I will prove I am ready."

"This is the best camp I have had. The weather was always nice in Puerto Rico. The people down there showed me so much love."

"I will come out there and put my best foot forward. I want to bring the fight to Margarito."

"My time is here. This is my shot."

"I am 100 percent fine. Don't believe everything that you read."

"This is my job. I train for it. How am I going to take care of my family if I am not in shape? I can go in the ring, throw 100 punches and not be tired."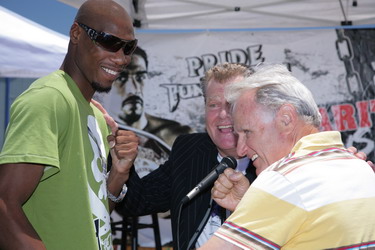 "I have a lot of love and respect for Margarito as a champion, but this is my time to shine. Margarito is the champion and the man, but this is my time to beat the man and become the champion."

"Our styles match perfectly. We (Margarito and I) both come forward. I am going to fight really smart to beat him."

"I am going to steal the show. I am 'The Punisher.' I am going to do my thing."

"I got comfortable being in the ring with Margarito three years ago when we sparred."

"If the fight goes 12 rounds, Margarito is going to be punished. I don't think it is going to go 12."

"It kind of made me mad when I heard the rumors. I didn't fall for the boogeyman when I heard about him."

"Every time I get into the ring, I am 100 percent. I am always ready to go to war."

"Once I get into the ring and do what I have to do against Margarito, it is not going to take long."

"Once I get the belt from Margarito, I am going to go after the other guys in my weight class. I want to hold all of the belts."

"I used to be a troublemaker on the school bus. My amateur coach was the bus driver. He asked my mom when I was eight if he could train me."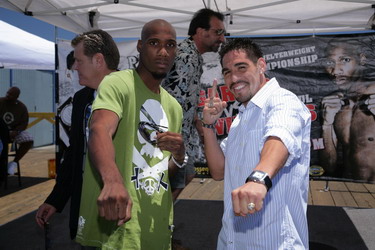 ANDRE WARD:

"The main event speaks for itself. I am honored and privileged to be part of this card. I am going to do my part and put on a show."

"My opponent is tough as nails. It is a step up in competition. I look forward to it."

"My career is going just fine. This is not an overnight type of thing. You have to climb to the top. I believe every fight is a step up in competition. There is no rush."

"The main thing that I have learned as a pro is that I have more time. I have eight rounds to do what I have to do. Settling down is the main thing that I have learned so far."

"As far as training and preparation, I have been blessed with a tremendous cardiovascular system, and I have the will to put in the work. I believe I can 10 or 12 rounds."

"To have the support of my wife, Tiffiney, means everything to me. Family is a good distraction, but it is a distraction. We are growing together. I go away to train for every fight. Leaving my family is never easy to do, but I have to do it."

"In my sixth fight, I got knocked down. By the grace of God, I got up and showed the mark of a champion. When you have adversity and tribulation, you show what you have on the inside. If I have to get in a war, I have what it takes on the inside."

"It was a blessing to get knocked down. God taught me a lesson in that fight. He allowed that to happen, but he picked me up. My faith grew leaps and bounds in that fight. It has made me grow as a man and a fighter." Article posted on 13.07.2007
previous article: HBO Boxing To Replay Tarver vs Hopkins and Taylor vs Wright