Campbell KO´s Alcorro In An Awkward Fight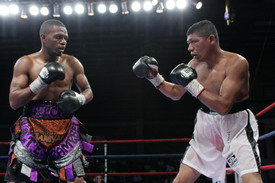 08.07.07 - By Wray Edwards, Photos © Wray Edwards/ESB, photo gallery. Now that's just wrong. I get back to the house and turn on the TV for a change-of-pace, and there's my ugly mug on ESPN FNF's shooting pics of the Campbell fight. Forgot about the tape delay. It was handy, however, as Alcorro was right over us during the KO and we had no way to shoot it. Theoretically this fight was a stepping stone for Campbell to raise his stock enough for a shot at one of the Lightweight belts. Though he is listed as the number one contender by the IBF, he called out just about everybody in the division during a pre-fight interview.

The under-card was quite good with the "co-main event" between Patrick Lopez from Venezuela and Fernando Angulo also from Venezuela (& Sucumbios, Ecuador) going the distance with a lot of Boxing action. Back to the fight between Campbell and Alcorro. Their contest was pretty competitive (as seen in the photos below) but as Lopez began to slow down there was much holding..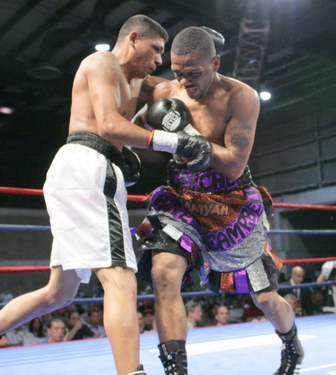 There was a lot of in-fighting between the two. Alcorro pretty much knew that Campbell was very dangerous to him from the outside, so he closed as often as possible.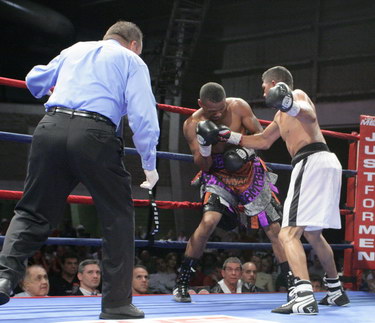 At one point in the third round it appeared that Wilson caught Nate with a pretty good body shot and got him against the ropes for quite a prolonged period of rope-a-dope action.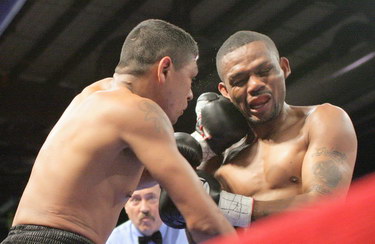 Even when Nate got Wilson against the ropes he fought back pretty well.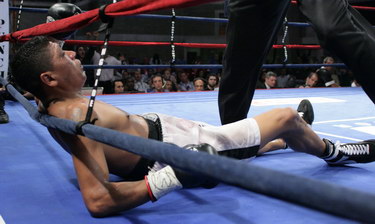 Along about the sixth round Wilson began to really slow down and he got tagged by a ¾ right uppercut thrown by Campbell followed by a tight, short, follow-up right which dropped Wilson on the ropes right in front of us. Wilson was counted out at 0:27 of the sixth round.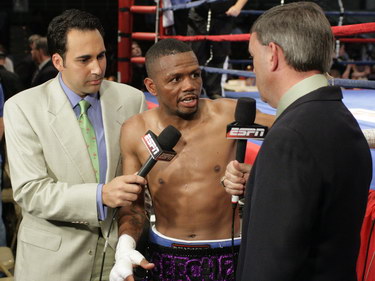 Nate paused very briefly (too briefly for me to get a shot) for a victory photo and then rushed off to do a post-fight interview with Teddy and Joe.

Though he started off pretty tight, Nate finally relaxed and unleashed some really competent Boxing blows. This fight was a tune-upper at best, but it was good to see him back in the ring. Hopefully he will get a belt match soon. He is getting pretty long in the tooth for a lightweight.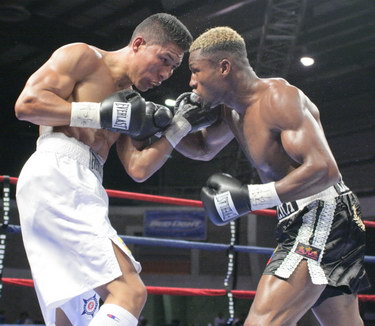 The Co-Main Event was a ten round Jr. Welterweight match between the very sturdy looking Fernando Angulo and Patrick Lopez, both from Venezuela.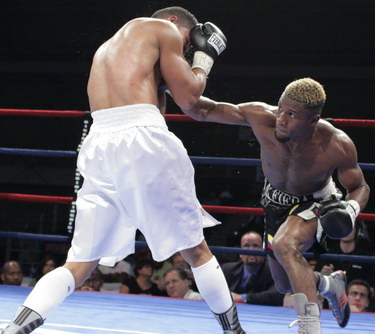 Angulo was a very athletic boxer with a strong, stable stance and excellent extension. They fought the full ten rounds, and everybody in the place got tired just watching them leave everything in the ring with so much energy and focus. Fernando was awarded a UD for his efforts and the crowd was pleased.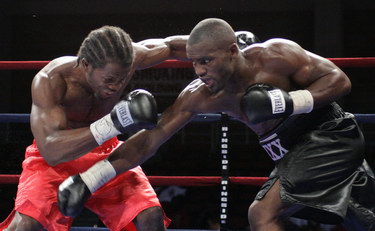 The first fight of the evening was a four round middleweight bout between Ashandi Gibbs and Eric Clinton. Gibbs displayed compact power and stable footwork.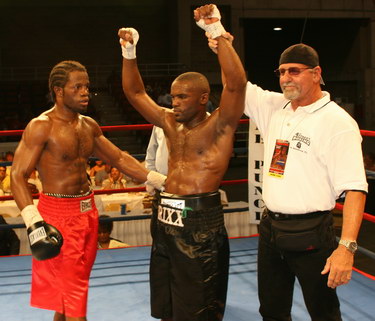 Gibbs was awarded the UD victory.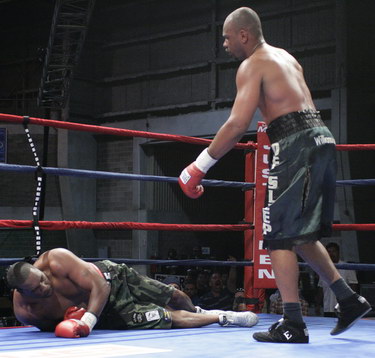 The second fight was supposed to be a heavyweight ten-rounder between Davarryl Williamson and a club fighter from Philly by the name of Maurice Wheeler. Wheeler hung on (literally) until 2:56 of the third round when Williamson sent him nappy-time.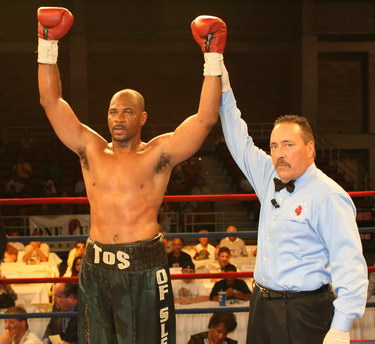 A long way from DR. K, but it's still a KO.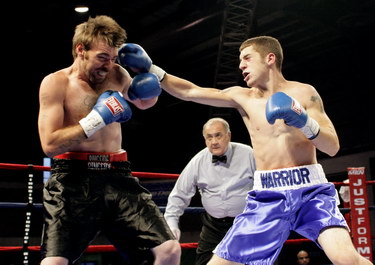 Then a young kid, Manny Cortesis from Tarpon Springs , Florida made his Pro debut in a four round Jr. Middleweight bout versus Raymond Brindle from Charlotte, NC.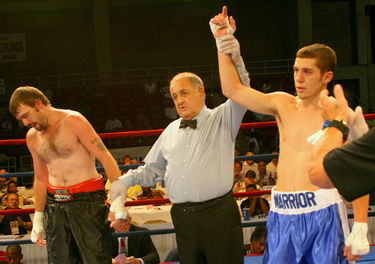 A 1:21 of the first round the ref stepped in to save Brindle's life and the kid starts off with a KO.

Nate was very upbeat at the weigh-in and on fight day. He is cranked up to take on Juan Diaz (says he's been protected), El Cepillo (says he's old) and any other lightweight who thinks they're all that. Time will tell and he is fun to watch.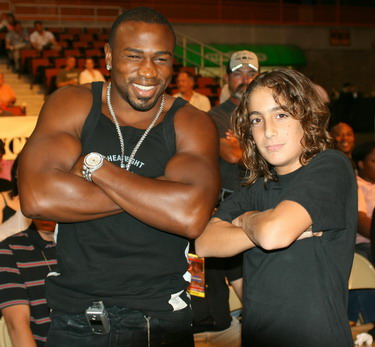 Jeff Lacy who was there to support Nate had a great time and got a lot of attention.

ESB would like to thank Mr. Trekas of ONE PUNCH PRODUCTIONS, for his very professional running of the show and his houspitality to the media. Also, the ESPN crew was great to work with. See you at the fights. Article posted on 09.07.2007
previous article: Castillo vs Oquendo
next article: Open Letter From Emmanuel Nwodo Regarding The Darnell Wilson Fight