So Whatever Happened To Jeff "Left Hook" Lacy?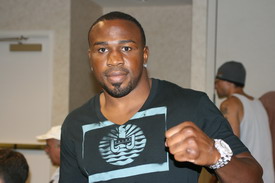 06.07.07 - By Wray Edwards - Photos © Wray Edwards/ESB. My guardian angel must be a Ninja. On the way to the Campbell-Alcorro weigh-in I was thinking "It's about time for me to look up Jeff and see what he's doing." After all, Calzaghe didn't kick him off the planet…hell, Joe couldn't even knock him down. With very few exceptions, all boxers suffer defeats. A brief survey of Wlad's career, and many other boxers, demonstrates that one or two defeats often has fans jumping ship on a guy like he's been "exposed" or he's a "bum" or "overrated". The condemnation of WK after Brewster was relentless. Now he's God's gift to Boxing. The thought never occurred to me that Jeff would not be back.

So I walk into the weigh-in venue at the Hilton Garden Inn (East) in Tampa and there's Jeff talking with friends, looking fit and in good spirits. "Hey man how are you doing" I ask. "Oh hey, good to see you" he replies. When you like a person and haven't seen them for a long time, it's a really great lift to find them well and on the mend. From the many times and places I was lucky enough to see Jeff box and interact with fans and the media, it was easy to respect and admire this young boxer. With his friendly nature, great heart and good looks he makes the room a better place. Jeff agreed to speak exclusively with ESB about his recent convalescence and future plans. With a brief preface, here is what he had to say.:

Unless you were in suspended animation or just not a Boxing fan, you remember that Lacy's last two fights were a rude awakening and an early injury in that order. In neither case did Jeff lack heart and focus. Against Joe Calzaghe he was taught a lesson about Boxing skills and hand speed. Jeff said so himself. He also learned that a very experienced boxer like Joe has a lot of tricks up his sleeve to nullify the frontal attack of a slugger…So he lost his IBF and WBO Super Middleweight titles to the Welshman back in March of '06.

Nine months later Jeff met Vitali Tsypko, for the second time, to essentially complete their fight of June, 2006 which was called a No Decision due to an accidental head butt laceration of Vitali's face. This time the injury was to Jeff in the second round when he injured his left shoulder. Still, he fought on (perhaps not a good idea as the damage might have increased throughout the fight) which is typical of a true warrior.

Jeff did tough-it-out and eked a Majority Decision from Vitali with the judges voting 95/95, 96/94 & 96/94. It was close and some argued with the result. Since that day Jeff has been working full-time to rebuild his shoulder and get back in the game. He may have been given the W, hard won, even deserved because of the handicap, but he lost medically.

ESB: Thanks for speaking with us Jeff.

Lacy: Anytime.

ESB: A lot of fans would like to know when you are going to fight again and what you have been doing since the Tsypko fight.

Lacy: I had surgery on December 8 th to repair the damage to my left shoulder, and for the last seven months I have been going to therapy. The injury was extensive, and it requires daily attention to heal and make it strong enough to compete.

ESB: How soon will you be able to fight again?

Lacy: I would like to get back in the ring in the Fall or just after the first of the year.

ESB: Who will be your manager/promoter…is there any chance you might go with Winky Promotions? (At which point he gives me a curious look like that was an odd thought)

Lacy: I haven't gotten to a point where I can really tell you about that.

ESB: What do you think about your management experience with Gary Shaw and what do you think of his handling of Corrales? (Ignoring my reference to Chico…)

Lacy: Mr. Shaw took me coming out of the Olympics and developed my career up to the point that I started getting good exposure on TV which brought me a lot of recognition and fan support.

ESB: Have you been concentrating on changes which will enable you to do better in a fight like the one you had with Calzaghe?

Lacy: I learned a lot from that fight and I would like to have a rematch with Joe.

ESB: How would things be different then?

Lacy: Well, I was not at my best in that fight both in and out of the ring. There were some things going on which made things more difficult than they should have been. Those issues are private but, believe me, they were serious and did affect the effort. (I have absolutely no reason to doubt Jeff's words)

ESB: What's your take on Hopkins-Wright?

Lacy: They are both highly experienced, older fighters which should make for a great fight. If it goes all the way, and the judges have to decide, it will be very controversial. They are both veterans and will not disappoint.

ESB: So you feel that you will recover from the injury to a point where you will be competitive again?

Lacy: Absolutely, but we have to get in the ring to find out for sure, and I'm ready to give it my best.

ESB: If you were in a fight that was called a draw, would you be in favor of fighting an extra round to settle things? (I am conducting a poll of boxers to see what they think about that)

(Jeff laughs a hearty laugh looking me in the eye and says):




Lacy: You must be kidding. If they call a draw, that's the fight. If you want to see more, pay me for another fight. Is that clear Enough for you?

(I'm not giving up. I will report on this poll in a month or so.)

ESB: We would like to check in with you in a couple of months to see your progress and watch you train.

Lacy: Sounds good. (We make arrangements)

ESB: Thank you Jeff.

Lacy: Anytime.

Jeff's fight with Tsypko, IMO, was an example of warrior mentality and get-there-itis overruling another choice. The symptoms being reported by Jeff after the second round (It feels like it's out") and other comments, should have been red flags, which if waved, might have prevented a compounding of damage as Jeff fought on. In team sports a trainer will pull a player immediately if such indications arise. They know that to continue to play will increase damage.

Until tag-team Boxing becomes a reality (don't hold your breath) there is no one to step in. Our hero is alone in the ring, having walked the longest ten feet in sports from his stool to ring center. It's a very tough call. With many boxers and fans adhering to the ethic that "a true warrior goes out on his shield", it is likely that more boxers will tough it out under such circumstances. That might be a career threatening decision. 20/20 hindsight aside, Jeff is determined to give it his all and return to the sport.

Many athletes recover from joint injuries. ACL problems often see the player back in the sport in six to nine months. A cuff injury is more complicated though. The knee moves essentially (and ideally) through one plane from front to back, so repairs are limited to restoring that restricted arc. An arm, from the shoulder, is way more complicated in its range of motion and fragility. Full recovery is chancy at best.

One year is not unusual for such an injury to heal. Some get back to normal, some less and some even stronger. Occasionally injuries heal with the body making extra efforts to strengthen the affected tissues. In terms of attitude, Jeff is back in top form. Now if he can reconstruct his physical abilities, he will again be a credit to the sport both in and out of the ring. He is a gentleman with an upbeat personality and great physical potential.

Some boxers have little passion for the sport. They are just there for the money. Lacy, like Ibragimov, loves the ring, what goes on in there and is a credit to the sport. I, for one, would very much like to see him back in the mix. See you at the fights. Article posted on 07.07.2007
previous article: Andy Lee takes on Hengstberge this Saturday in Germany
next article: Klitschko/Brewster: Can Lamon Pull Another Upset?