Nate Campbell And Wilson Alcorro Set To Rumble At The Florida State Fairgrounds Hall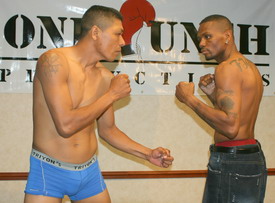 06.07.07 - By Wray Edwards; Photos © Wray Edwards/ESB: Billed as "Friday Night Fireworks" One Punch Productions brings Nate "The Galaxy Warior" Campbell (30-5-1, 24 KO's) From Jacksonville, FL and Wilson Arcorro (35-7-3, 23 KO's) from Monteria, Colombia to Tampa for Lightweight action. Mr. Campbell is blessed with great talent and cursed with inconsistent use of it. On the one hand he has a victory over Kid Diamond (Almazbek Raiymkulov), and on the other he pulled a Mayorga in front of Robbie Peden back in February of '05 which promptly earned him a no-see'um, one punch KO. ESPN's "Friday Night Fights" will carry the event.

ESB asked Nate about the incident and he said "I made a mistake, and it made me a better boxer." IMO he has been much more workmanlike since that go-to-sleep call (we can't call it a wake-up call now, can we?). Rated in the top five by some and the top ten by most, Campbell comes off his March victory over Ricky Quiles with an eye towards fighting often and fighting hard to earn a title shot. The under-card fighters looked ready as they weighed in as follows.:

MAIN EVENT LGHTWEIGHTS…Contract: 135 LBS, 10 ROUNDS:

Nate Campbell…135 lbs.

Wilson Alcarro…134.6 lbs.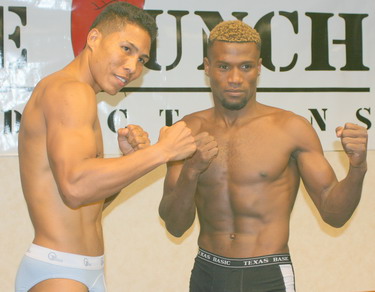 CO-MAIN EVENT…Contract: 138 LBS, 10 ROUNDS:

Patrick Lopez, Estado Cojedes, Venezuela…138.6 lbs.

Fernando Angulo, Caracas, Venezuela…138.2 lbs.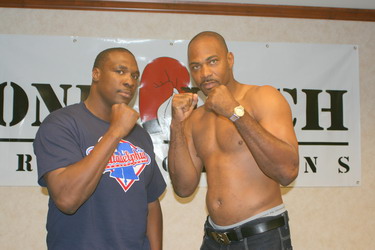 HEAVYWEIGHTS…8 ROUNDS:

Davarryl Williamson, Aurora, Colordo…226.2 lbs.

Maurice Wheeler, Philadelphia, PA…245.6 lbs.


MIDDLEWEIGHTS…Contract: 163 LBS, 4 ROUNDS:

Ahshandi Gibbs, St. Pete, FL…160.4 lbs.

Eric Clinton, Tallahassee, FL…163.6 lbs.


JR. MIDDLEWEIGHTS…Contract: 157 LBS, 4 ROUNDS:

Manny Cortessis, Tarpon Springs, FL…151.6 lbs.

Raymond Brindle, Charlotte, NC…161.8 lbs.


CRUISERWEIGHTS…Contract: 190 LBS, 4-6NROUNDS:

Willie Chisholm, St. Pete, Fl…189.6 lbs.

Brian Rollins, Atlanta, GA…188.6 lbs.


JR. WELTERWEIGHTS…Contract: 139 LBS, 4-6 ROUNDS:

Marcus Broadnax, Tampa, Fl…139.6 lbs.

Joshua Cordero, Atlanta, GA…136.4 lbs.


East Side Boxing will be ringside to catch the action for presentation here Saturday morning. See you at the fights. Article posted on 06.07.2007
previous article: Booth vs. Napa Sure To Be A Classic
next article: The Lion roars! Luan "The Lion" Krasniqi ready to pounce on Tony "The Tiger" Thompson!