Emmanuel Steward: "I am sure Klitschko will knock out Brewster"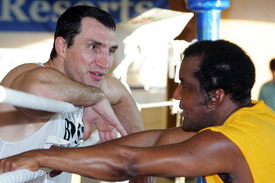 04.07.07 - On Monday, following Wladimir's last training www.klitschko.com called Emmanuel Steward, Wladimir's trainer. Since Emmanuel was about to go to sleep, we kept this interview brief and asked him few questions about the upcoming fight and his thoughts of Wladimir's training camp

Emmanuel, this was the first time that Wladimir held his training camp in Austria? Why did you choose Austria this time?

As you know our prior camps were held in Majorca but during summer it's very hot there. In Austria the weather was much cooler. That's primary why we picked Austria..

How did the training camp go?

The camp went very well. We had a lot of good sparring partners. Since all of them were also getting ready for their upcoming fights they were very, very aggressive and highly competitive. We had over ten experienced heavyweights with us in the camp.

We also had the undefeated Johnathon Banks (16-0, 12 KO). Many people expect him to become one of the top ten heavyweights. He was very aggressive with Wladimir. Another one was Andre, who was also very strong and aggressive. Andre Purlette is 39-2, with 37 knockouts. All in all it was very good training, no one got hurt and it was very competitive. Among other fighters that trained with us were Kermit Cintron and Andy Lee.

Emmanuel, is Wladimir fully prepared for the fight?

Yes, he is completely prepared for the upcoming fight.

This fight is very important to Wladimir. Did you prepare differently this time than usually?

Not really. Wladimir fought a perfect fight last time. We expect Brewster to be very aggressive in the beginning and then he will have to slow down. But don't think he'll be an easy target for Wladimir. Brewster is a very strong opponent, and even when he's tired or hurt he always finds that energy turn things upside down. So you can never relax with him. He's the most difficult heavyweight to fight. We just made sure that Wladimir is in great shape for this fight.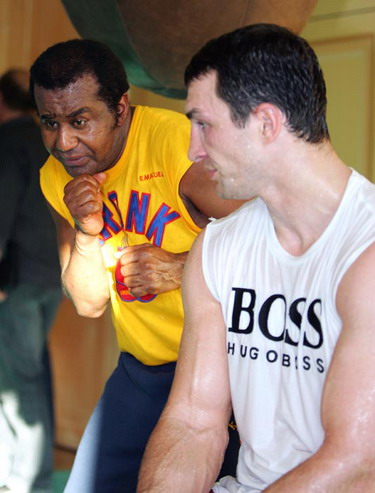 So you're expecting him to start the first round similar to the way he started against Golota?

Yes and Wladimir will be able to control him with his left hand. He will use it to slow him down and once he does we'll destroy him.

Are you looking for a KO win or is it likely that the fight will go to the scorecards?

I still think that Brewster can't take Wladimir's punches. With that said we do have a lot of respect for Brewster, since he the only heavyweights that can punch as well as Wladimir. I don't think much of Samuel Peter's punches; he crocks them or punches to the back of the head.
Brewster does know how to punch properly and he's very well schooled. He's tough.

I think him and Wladimir are the best punchers right now. And if you compare them to the other heavyweight, very few of them are big punchers. That's what makes Wladimir so different from the rest, he can punch someone out with one big punch. Brewster also is very good with that. That's why it's unlikely it to go the distance.

Anything else you would like to add…

Wladimir is very focused and very determined. He will fight a very intelligent fight. I am sure he will knock out Brewster Article posted on 04.07.2007
previous article: Santiago-Velázquez Title Eliminator added to Forrest-Baldomir Card