Oliver McCall Outpoints Samil Sam - "The Atomic Bull" Is Back!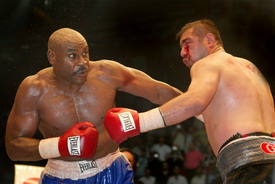 17.07.06 - By James Slater, photo: J.A. Treptow: Oliver McCall is back, back, back! Scoring a points win many felt he was incapable of doing in the backyard of Turkish tough-guy Sinan Samil Sam, McCall earned his most meaningful victory since his ten round stoppage of Henry Akinwande back in 2001.

Not only did "The Atomic Bull" punish Sam for a unanimous decision triumph, he also set himself up for a shot at regaining his old WBC heavyweight title. With the winner of last night's clash promised a title chance pre-fight by none other than Jose Sulaiman himself, the forty-two year old can now look forward to boxing the eventual winner of the Maskaev/Peter/Vital Klitschko situation.

Good times indeed may be ahead for the fighter nearly everyone wrote off completely after his bizarre loss to Lennox Lewis over ten years ago. Oliver could now be one more win from becoming a two-time heavyweight king. His chances cannot be dismissed, either. Oliver already has a one round win over Oleg Maskaev on his record, and with the type of conditioning his lean 236 pound body displayed last night in Turkey, a victory over big punching Samuel Peter is not out of the question also. And with "Champion Emeritus" Vitali Klitschko likely to retire after his eventual championship fight - win or lose - it looks as though it will be either "The Big O" or "The Nigerian Nightmare" that McCall will fight in the coming months.


His chin has always been ultra-reliable - McCall has never ever been down, amateur, pro or in sparring - and nothing has changed in that department. The inner demons that served to haunt him are gone too, it appears. Indeed,
Oliver now says he's hungrier and more focused than ever. He certainly looked good last night.

A bad swelling forming under his left eye early on, the seventeen pounds heavier man's chances of winning were seriously diminished. McCall, now 51-8 (36) punished him from then on. There was no quit in the thirty-two year old Sam, though, and Oliver later said the fight had been a tough one. In fact, Sinan, too, has never be stopped. Gamely he kept trying to push the action, but McCall would not be denied. At the end the scores were 115-112 twice and 114-113. Sam fell to 27-4 (15). Oliver picked up the WBC International title with his win.

"The Atomic Bull" may be picking up some more precious hardware soon!

Article posted on 18.06.2007
previous article: Don "Da'Bomb" George: Destroys Cory Phelps in Rochester