EDNER CHERRY OUTPOINTS WES FERGUSON…Starfight Does It Right…Now That's How You Put On A Boxing Show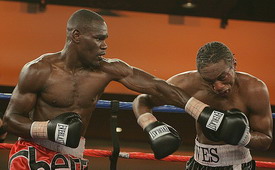 14.06.07 - By Wray Edwards, all photos © Wray Edwards/ESB -- big photo gallery --
Last night at the A La Carte Pavillion in Tampa, Florida, an SRO crowd of fight fans were treated to an evening of well-matched Boxing which was carried on ESPN's "Wednesday Night Fights". The Main Event featured Edner "Cherry Bomb" Cherry (21-5-2, 10 KO's) from Wauchula, Florida versus Wes Ferguson (16-1-1, 4 KO's) from Las Vegas, Nevada in a ten round lightweight fight. Edner's alias comes from his hitting style which often includes maxed-out, looping punches calculated to drive his opponent into the floor.

The under-card was a series of fights in which very competitive opponents went toe-to-toe. The careful pairings led to all of the fights (for which I was able to stay) going the distance. Notable among them was a really frisky pop-and-bang contest between lightweight ladies Jenna Shiver and Mercedes Mercury. As you will see in the photos, they really mixed it up and generated plenty of reaction from the fans; More about that below. The Cherry-Ferguson fight was an example of two young boxers (24 and 21) prepared to go all the way with maximum effort, and here's the photographic proof and brief comments.:

True, Edner Cherry's career has been punctuated by five losses, but if you look at those opponents who bested him such as Paul Malignaggi and Ricky Quiles, it's obvious that his management team has not given him an easy road, nor should they. This fight was no different. In between frantic camera wrangling and apron-side hip-checks with the other photogs, it is possible to get a pretty good look at the action.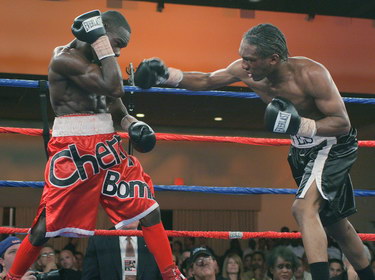 The first couple of rounds pretty much set the tone which was to be mostly infighting with occasional outside leads to get them together. By the third round Wes Ferguson (who was being cheered on by Floyd) began to show that if he was going to be "bombed", he was going to bomb back. Now Cherry is a very well-proportioned and solid-looking muscle guy…Ferguson?...not so much, but again we see a boxer with an unremarkable physical nature bring it with 110% effort.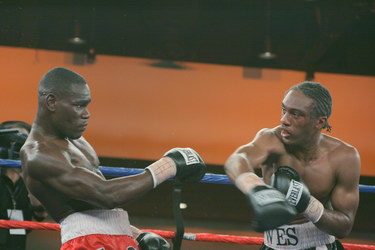 As Wes began to deliver his own bombs, the fight settled into a pattern where Edner pursued most of the time as Ferguson pushed back often and, countered with courage and great stamina. There were three or four instances during the match where Wes was stung pretty good and got off balance, but he toughed it out and fought back with surprising energy. This was Edner's 13th! fight at the A La Carte Pavillion. That must be approaching some kind of record for a fighter's number of appearances at the same venue.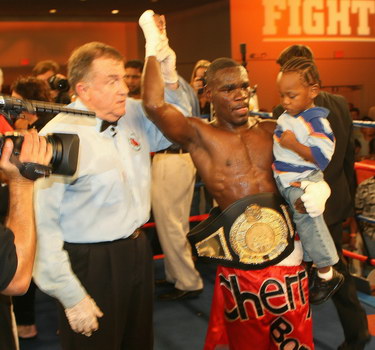 After the full ten rounds the officials went to the score cards and declared Edner to be the winner 96-94 | 96-94 | 98-92. It was a close fight and Ferguson earned the respect of everyone there. As a 21 year old boxer he is poised and showed dynamic ability to hang under difficult circumstances. For Wes it was an excellent opportunity to face a good boxer and for Cherry it was a solid career-builder.

The first fight of the evening was not televised but it was an eight-rounder with plenty of action: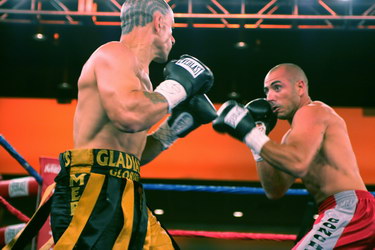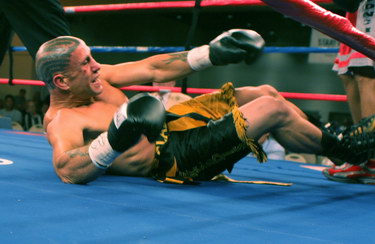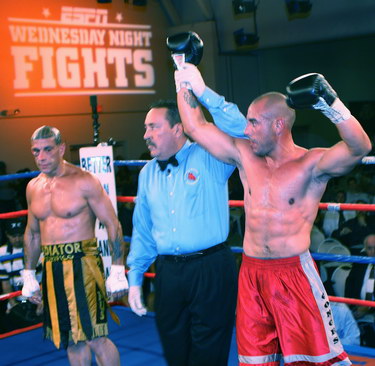 Superwelters Timothy Leonard from Key West and Robert Newbiggin from Manchester, England toughed it out for four rounds with Robert going down once and Leonard being declared the winner by (40/35 by all three judges)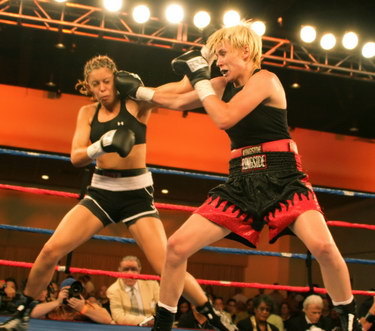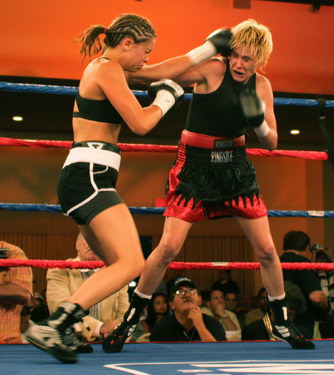 Then the ladies toed the line and really got to fighting. Jenna Shiver and Mercedes Mercury banged away for four rounds and put the lie to those who dis women's boxing. Everybody in the room was stoked on the action.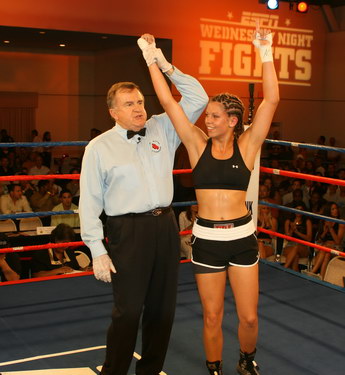 All three judges gave Shiver the win (40/36) as she delivered the most telling blows throughout.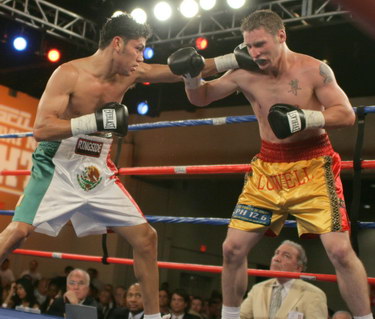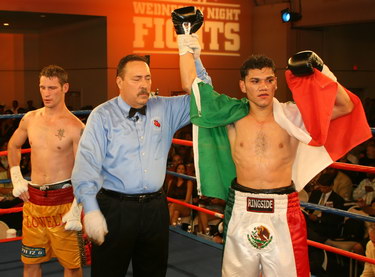 As ESPN went on the air Jr. Welterweights Lowell Brownfield (9-3, 3 KO's) from San Fernando, CA and Raymond Montano (12-4-2, 1 KO) from Las Vegas, Nevada went eight rounds with Montano getting the UD.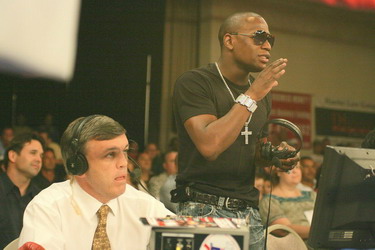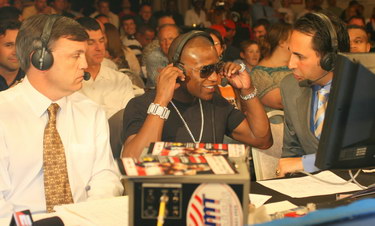 One really humorous event took place when Floyd came around the ring and was standing right behind the ESPN broadcast table yelling encouragement to his bud in the ring. In self-defense, Teddy and Joe clapped a set of earphones and a mike on Mayweather and interviewed him a bit. It seemed a good ploy and he returned to his seat on the other side of the ring.

East Side Boxing would like to thank Aaron Jacobs, Starfight's Director of Operations, for his help in providing us with access to the ring. Also helpful was Scottie Foster who puzzled over our camera's performance until we got it right. See you at the fights. Article posted on 15.06.2007
previous article: Mijares headlines July 13 PPV in Mexico