Ralf and Graciano Rocchigiani To Train Richel Hersisia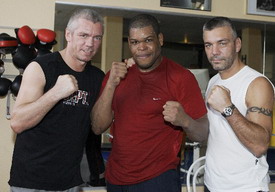 10.6.2007: Photos by Marianne Mueller: After three weeks of camp, up-coming WBA Intercontinental heavyweight title challenger Richel Hersisia is making very nice progress with his new training team of former 'world' champions Ralf and Graciano Rocchigiani, reports manager Olaf Schroeder after visiting the Duisburg training headquarters of the German boxing legends, where his Dutch client prepares for his clash with WBA # 7 Taras Bidenko (June 30 in Stuttgart, Germany).

"I am convinced we are going to see the best 'Dutch Sonny Liston' ever, about that there's no doubt for me – and in three weeks we will know if it's enough to overcome Bidenko," says the Fight Production boss, "Richel's already done with four sparring partners and one of them ended up in hospital!"..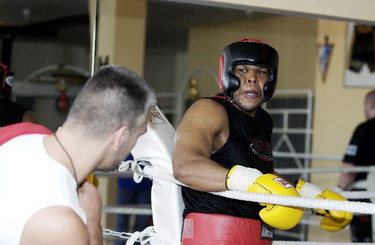 Germany's foremost boxing photographer Marianne Mueller last week visited Rocky's Gym to capture the training sessions – and came away impressed. "Richel definitely has improved a lot," said Mueller, who has taken ringside photos of both of Hersisia's last two fights.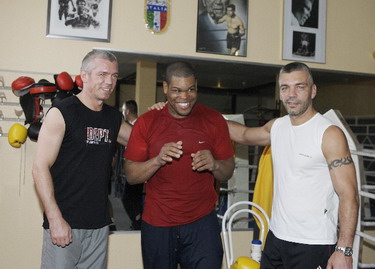 Article posted on 14.06.2007
previous article: Cotto, and Sugar Shane Mosley, and Floyd Mayweather Jr! Oh my!