At The Boxing Hall Of Fame
11.06.07 - Photo: "Bull and Finito Lopez"
-- By Ted Sares: Hey, I can talk about eating at diners, stopping at yard sales or to look at antiques and visiting neat little towns on the way to Canastota. Great towns like Saratoga Springs, NY where we watched the Bikers heading up to Lake George for a big rally, or where we took in the Art Galleries, but this is about getting to Canastota so let's cut to the chase.

We arrived at the Hall on Friday, June 8 in 96 degree heat and just in time to see the inductees getting their fists cast. The first fighter I talked with was Canastota's' own Dickie DiVeronica, a welterweight contender and fellow cigar smoker. Dickie fought professionally for approximately 15 years and his achievements are in the 1970 edition of the Ring Record Book. His career totals was 53-11 and he was ranked as high as third.

Now these conversations are important to me. I can confirm certain assumptions I have and I can learn some new facts. For example, Dickie mentioned that Carmen Basilio would be at the banquet and this indicated that he was still able to get around..

We met up with Terry Norris who looks to be in perfect physical shape. After a chat and photograph, we went over and had a nice conversation with a surprisingly gracious and accommodating Bert Sugar--fedora, horrible pants and cigar included. Bert has an extremely interesting and impressive academic background including three degrees. He passed the bar in Washington, D. C. and New York having graduated from the University of Michigan Law School. No easy task.

Ruben Olivares was next and we conversed in Spanish. He was alone and I doubt if many fans even recognized him. It's hard to believe this little, unassuming guy had 104 fights with a record of 88-13-3 with 77 KO's. I got some insights into his fights with Chacon and Lopez that were new and interesting, and will pop up in future articles.

John Stracey looks like he could still go 15 rounds. His wife, however, got far more attention and, I might add, for good reason. I asked John who were his toughest opponents and he replied that "Earnie "Indian Red" Lopez [brother of Danny "Little Red Lopez] was a very, very tough man. I would say along with Palomino, Lewis and Napoles even, he was one of the best. I mean he went fifteen rounds with Napoles and you don't go that distance if you're not tough."

After filling my gullet with a Carmen Basilio sausage sandwich with onions and peppers, I tried to reach Roberto Duran, but he was mobbed and it was a lost cause. Duran looked extremely comfortable with who he now is and was very fan-friendly. All in all, it was a good start to our visit. .

After a great dinner at Delmonico's in nearby Utica, we watched the Friday Night Fights and Randall Bailey get stiffed by the judges in Montreal as he lost to hometown favorite, Herman Ngoudjo. It was the kind of decision that makes you want to watch Kimbo or Rampage.

On Saturday morning and with the heat wave now over, we took in the Memorabilia Show at the High School where I tried in vain to find photos of Bob Satterfield and/or Bennie Briscoe. I did get a good one of "Finito" Lopez. Unlike past years, I was able to move freely about and have some great conversations with Arthur Mercante Sr. whose son I complimented on his handling of the recent Chambers-Rossey fight. He was visibly pleased. I mentioned to him how impressed I was with a referee out of Oklahoma by the name of Ritter and it resonated well with him.

I then had a real treat talking (in Spanish) with the legendary Amílcar Brusa, an inductee and the trainer of Carlos Monzon. Other boxers Brusa guided to world titles include Miguel Angel Cuello, Francisco Quiroz, Rafael Pineda, Sugar Baby Rojas, Francisco Tejedor, Tomas Molinares, Luis Mendoza, Miguel "Happy" Lora, Antonio Esparragoza, Juan Diego Cordoba, Jorge Barrios, Carlos "Famoso" Hernandez, and most recently welterweight Carlos Baldomir. This was an unexpected thrill, and unexpected thrills are always the best kind.

I was amazed at how articulate and erudite Ricardo "Finito" Lopez was. A class act all the way. I referred to his two rough fights with Rosendo Alvarez and how he pulled off the SD with a fantastic last round in their 1998 bout. He thanked me for the compliments.

At around noon, about 15 members of the International Boxing Research Organization (IBRO) of which I am a member got together for a photo shoot. Hank Kaplan was there and looked just great as did my good friend and fellow New Hampshire resident, Dan Cuoco. Since its inception, IBRO has had four Directors: John Grasso, 1982-1988; Tim Leone, 1988-1994; International Boxing Hall of Fame (IBHOF) Inductee Ralph Citro; 1994-2000; and Dan Cuoco, 2000 to the present.

Finally at 5:30, we attended my favorite event, the cocktail party which is always a great opportunity to meet up close with the boxers and other celebrities. Livingston Bramble and I relived his two defeats of Ray "Boom Boom" Mancini. The "Pit Bull" looks like he could go an easy 12 and was surprisingly articulate and lively when I suggested Mancini may have underestimated him in their first fight. His reply was a simple, "it would not have mattered." He said he is coming back and I said he was nuts, but I said it with a smile.

Next up was Buster Douglass who is just about as nice a guy as you would want to meet. First off, of course, I thanked him for beating Tyson's butt, but then we talked about Kelley Pavlik and he confirmed my feelings that Kelly is a pure power puncher with great accuracy. Buster, of course, is also from Ohio. We also talked about his dad and former contender, Billy Douglass. Like many others, Buster is a sensitive, knowledgeable and well spoken man and, I believe, would make a great commentator.

We then met up with my favorite referee of all time, South Africa's Stanley Christodoulou, considered one of the most powerful and revered men in South African boxing. This conversation was conducted in a mixture of English and Greek. Las Vegas Referee Toby Gibson also took part in it. When I mentioned "Manos de Dios," his eyes lighted up and we proceeded to talk about the legendary fight from which this phrase derived; namely, between Jorge Castro and John David Jackson which was the 1994 Ring Magazine Fight of the Year and which featured a miracle knockout by Castro. It has since become known as the "Manos de Dios" fight. Stanley described how he was ready to stop the fight and was beginning to raise his hands when all of a sudden, Jorge caught Jackson with a right and that was that. His heartfelt description made my entire visit to the Hall worthwhile. From that point forward, whatever I got would be icing on the cake.

I complimented rugged looking Alan Minter on his son's boxing career and on his great win over Sugar Ray Seales which I viewed on T.V. and he confirmed that it was the fight that was his break-through. We talked some about his two wins over Vito Antuofermo, but I purposely avoid any conversation about the Hagler loss.

There were plenty of disappointments, probably the biggest being that I could not get to Fighting Harada who for some inexplicable reason was being too protected from the fans. As he was my favorite Japanese fighter, I wanted badly to talk with him. I did manage to have a nice conversation with his sister and cousin. Another disappointment was that many of the top personalities were out of fan reach, but that kind of comes with the territory and was not unexpected. Moreover, I enjoy talking with the lesser known guys; they tend to be more open and you can learn more. And speaking of being open, referee Frank Cappuccino provided some neat information on the state of boxing in Philadelphia. I had similar chats with matchmaker and promoters Don Chargin and Russell Peltz, legendary historian Hank Kaplan, and Stan Gordon from the Sacramento Boxing scene.

Meanwhile, Holly, my wife, conversed with Iran "The Blade" Barkley who I know on a personal level and also super friendly Billy Backus, another World champ from Canastota. I did not see Pernell Whittaker at the cocktail party and was not able to reach him during my time there, but then again, I didn't try to reach him.

That night, we had a delicious dinner at Graziano's Restaurant in Canastota while most of the other fans were either at the Banquet in Syracuse, or watching Cotto dismantle Judah on T.V. By around 11:30 PM, when the boxers and fans return from the banquet, Graziano's starts hopping and it soon becomes wall-to-wall madness-- and lots of fun.

On the way back to Utica, we stopped at the Turning Stone Casino in Verona where I always get caught up in the high-energy atmosphere of the Black Jack and Poker games, and where I make my annual (and reluctant) contribution to the Oneida Indian Tribe.

Will I return to the Hall? Of course I will. Heck, can Larry Holmes be too far away?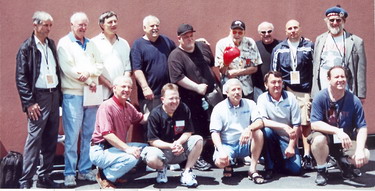 Article posted on 12.06.2007
previous article: Where Does "Super" Judah Go From Here?