Sultain Ibragimov Beats Shannon Briggs to the punch and removes a serious obstruction in the WBO pipeline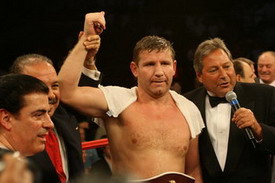 03.06.07 - By Wray Edwards: Whenever the WBO or WBC gets bogged down with a boxer who is more of an obstruction than an attraction, it needs to find a good plumber to ream out the pipes and get the excitement flowing again. For the recent past, a sickly and over-bulked fighter has blunted the point of the spear which the heavyweight champion represents for each sanction. Though potentially a powerful puncher, which breeds caution in his opponents, Shannon Briggs' only chance to prevail against Sultan would have come from a smaller ring, better footwork and superior hand-speed. These attributes were not available to him…so he lost.

Sultan, on the other hand, had listened to Jeff Mayweather and did as he was trained to do. When ESB spoke with Jeff the night before the fight, the plan was to stick and move, not cross the feet, and stay cool and focused when getting hit from time-to-time. There's noting wrong with being cautious when messing around in front of Shannon Briggs. Sultan showed adamantine dedication to his fight plan. Throughout the fight Sultan worked behind feints and jabs to deliver a mix of body shots and head shots at a ratio of about two to one respectively. I can now disclose some of the things I was told off the record until after the fight.. ´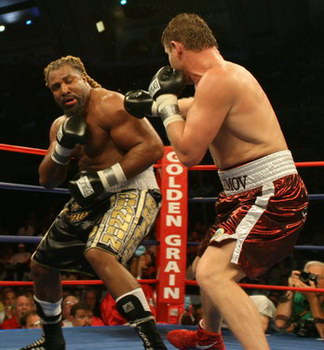 Everything Ibragimov did in the ring was foretold the night before…not that Briggs would have been able to do anything about it, but sometimes it's good to keep the playbook in a safe place. Also there was a great deal riding on this one for a lot of people. ESB was told that Sultan would retire if he lost this one. I was surprised by that. He is young by Heavyweight standards, but only he knows what's best for his future.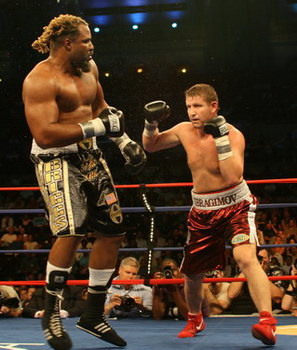 Sultan only got hit really solidly one time. That was a straight right as he fell to the ropes.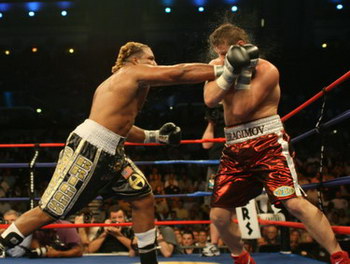 As Shannon's right cannon fired on target for about the only time last night, the shot went right down the pipe between Sultan's guards and caused an explosion of sweat to burst from Ibragimov's head. This was a way more powerful punch than the one which put Sultan on his knees in front of Ray Austin. The net effect…Sultan countered immediately and walked right through the hit.

Throughout the bout Ibragimov was able to beat Shannon to the punch at will about sixty percent of the time. I haven't seen the punch stats, but sixty percent feels about right. As for Briggs…his counters and leads were often thrown with amateurish form, and often led to punishment if, on occasion, they grazed or connected. During the fight, Briggs' trainer threw more demonstration punches than Shannon threw real attempts between the bells.

The crowd booed several times as both boxers were understandably cautious after feeling each other's power. Sultan was obviously trying to take Shannon deep into the rounds banking on gassing him out and then going in for the kill. Briggs, however, metered out his efforts more judiciously than he had with Serguei Lyakhovich and so, was able to hang with Sultan for the distance.

For his relative size, Sultan might as well have garnered his style for this one from Floyd Mayweather. He did stick and move. Unlike Oscar, Briggs was unable to chase Sultan around the ring to deliver, even if he did have an Oscar-like bag of highschoolish flurries and cuffie-bangs. As it went, Shannon had to settle for plodding around in right-hand circles to try and keep Sultan in his sights.

In the end, Ibragimov so out-pointed Briggs that The Cannon needed a KO to win and he wasn't nearly fast enough and, IMO, powerful enough (remember that big right) to do it.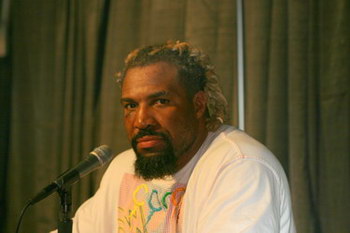 The press conference got under way about 1:am and started off with Shannon seated first. Briefly here is what he had to say…in paraphrase: He said he was still sick with asthma and pneumonia relapse, but decided to go ahead because he was being "threatened with lawsuits, suspension from Boxing and being blackballed by the TV networks." Besides, he stated that he had to think about his family and what the 1.8 million Warriors bid would mean to them.

He said that "the kid", as he referred to Sultan, never hurt him and did not really take the belt away as he should have. He said that he thought he did enough to get the D. There was a "D" alright, but it was "D" for denial in this event. Shannon and his people (Don King was there, but evaporated after Briggs' loss) ruminated about a return to Boxing, but the prospects for that are slim to none.

It is not seemly for a sportsman who has been so obviously out-pointed to whine and complain in the manner he did. Hopefully, he will find another vocation. This career seems virtually at an end.

Then the happy campers came to the press room. Sultan, Jeff, Sampson, Boris and Leon all celebrated Ibragimov's victory. Though it wasn't pretty, one is hard-pressed to think of a better and more correct (from a professional boxing standpoint) approach than the one Sultan was trained to take. To his credit, Sultan is always evaluating his performance and shows frustration when he is unable to display his optimum talents. One must admit that facing the big guy is dicey at best. He likes to KO the other guy and is pretty hard on himself when he doesn't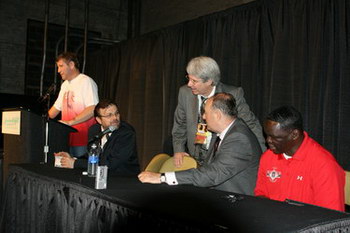 The following was published by Briggs' camp in February:

Shannon Briggs responds to Sultan Ibragimov

23.02.07 - First of all I know Sultan didn't even say those things. He's not much of a talker and he's a classy guy. I guess his twin promoters Leon and Sampson, known in the boxing world as Dumb and Dumber, are trying to stir up some hype. That's the job of the promoters so I understand.

I guess Leon and Sampson put that one to rest. It's the old saying one must remember: "It is always best to keep one's words palatable, for it might be necessary to eat them one day."

Ibragimov will probably take a challenger or two before attempting a unification match with one of the other champions. Then one would consider a proper course through those waters. WBC's Oleg Maskaev might be a good start, then the WBA's Ruslan Chagaev as a way of working up to very conservative thoughts about the IBF's Wlad the destroyer. Ibragimov is a gentleman sportsman and will be a credit to his championship.

The undercard had some very entertaining contests which resulted in some pretty good photos. Maybe Admin will put them up in a day or two.

ESB would like to thank Ed Keenan, Cima Georgevich, and everybody at Redline Media, Golden Grain and Warriors Boxing for their generous efforts to make way for our coverage. See you at the fights. Article posted on 04.06.2007
previous article: Julio Cesar Chavez And Edwin "Chapo" Rosario - Two Great Lightweights On A Collision Course
next article: Sultan Ibragimov's Manager Boris Grimberg: "Klitschko is the only other champ who wants to unify!"