Pacquiao Stops Solis in 8th round Knockout Victory
(Manny Pacquiao, pictured here, moments after stopping Jorge Solis in the 8th round) 16.04.07 - By Jeff Bastasini: WBC International featherweight boxing champion Manny Pacquiao (44-3-2, 35 KO's) halted Jorge Solis (32-1-2, 23 KO's), in the 8th round of their scheduled 12-round fight on Saturday night at the Alamodome, in San Antonio, Texas. Solis, 27, the # 4 ranked Super featherweight in the WBC, and previously undefeated, gave Manny Pacquiao, 28, a tougher time than many people expected, before being destroyed by Pacquiao in the 8th.

Solis, 5'8½," used his height and reach advantage, along with some good head movement, to keep Pacquiao relatively off balance for the first seven rounds, trying to solve his style and land effectively against the Mexican fighter. However, despite this, Solis never really amounted to much of a threat to Pacquiao, mainly being limited to jabs, and occasional right hands that he was able to land as Pacquiao would charge in.

Other than this limited offensive from Solis, the fight belonged to Pacquiao, who dominated every round of the fight with his blazing fast speed and powerful combinations. The only real boxing drama – if you want to call it that - in the bout was courtesy of a clash of heads in the 6th round, which opened up a cut above the left eye of Pacquiao, making him turn suddenly serious with Solis and opening up with non-stop attacks leading up to the final knockout in the 8th.

Before the clash of heads, Pacquiao seemed strangely calm, as if he was sparring with Solis, perhaps because he wasn't considered to be much of a threat due to his lack of offense. Whatever, the case, once the head butt occurred, Pacquiao was a different fight altogether, seeming to transform in an instant into the tiger that had previously destroyed fighters such as Erik Morales and Marco Antonio Barrera with ease.

Following the head butt, from that moment on, Solis never stood a chance, facing a steady bombardment of shots from Pacquiao, until the bitter end in the 8th. For Solis, the step up in class was simply too much for him to handle, as he had never fought anyone remotely as good as Pacquiao in his career, despite his impressive unbeaten record.

In first few rounds, Solis, using his long reach advantage, set the pace with his jab, trying to keep Pacquiao on the outside. It was only marginally effective, however, as Pacquiao would wade in on attack any time he saw fit, which was often, as it turns out. Solis was mostly limited to a few good shots per round, though none had much of an effect on Pacquiao. On the other hand, Pacquiao, even while fighting in a controlled manner, was dominating with his lightening attacks, limited in number as they were during this time. Pacquiao landed numerous straight left hand head shots during these rounds, and large number of boxing combinations, after charging straight a head with both arms throwing punches non stop. To his credit, Solis was able to duck and avoid many of these punches but with the sheer number, many of them connected.


In between rounds, Solis expressed doubts, telling his brother – his trainer – that he was being hit too often and was being beaten up by Pacquiao. Hearing this, his brother scolded him, telling him to be first, to take the offensive attack to Pacquiao. Easier said then done, as it turns out. Nevertheless, Solis obediently tried gamely to follow his brother's directions, starting each round with short burst of offensive. However, within the first minute, Pacquiao would take turn the attack on Solis, causing him to go into his shell to avoid being crushed by Pacquiao's powerful shots.

In round four, Pacquiao totally dominated this round, tagging with numerous head shots using both hands. Nearing the end of the round, there was a clash of heads when both fighters came together during an exchange, though no one was cut. Solis landed two good left hand shots with seconds to go in the round, when Pacquiao strayed to close to the ropes.

In found five, arguably Solis's best round of the fight, he started out very fast, after being given another scolding pep talk by his brother while in between rounds. Solis landed four right hands in the opening moments of the round, hitting Pacquiao with a right uppercut, a left hand to the head, and two hard shots to the chest. Pacquiao briefly tried to re-establish control, however, he was met with another barrage by Solis, who drove him back, causing him to cover up. Pacquiao was able to do very little in this round, mostly seeming to wait out Solis' off character aggression in the round.

In the 6th round, Pacquiao attacked from the start, landing several hard shots. However, while charging in on another attack, the two fighters clashed heads, opening up a cut above Pacquiao's left eyebrow. The action stopped briefly while Pacquiao had his head looked at. Upon the re-start of the fight, Solis, looking to take advantage of the cut, attacked immediately landing a flurry of shots for the next few moments. However, the tactic backfired, for it seemed to enrage Pacquiao, making him turn it up a notch or two, and sending him in an all out attack on Solis, burying him with a blanket of punches. Solis did the best he could to cover up, but he was hurt by a number of them and barely survived the round. Before the round ended, there was another clash of heads, but no further cuts were opened up on Pacquiao's face.

In round seven, both fighters fought to a standstill, tagging each other with huge shots over and over without much thought of any semblance of defense. Towards the end of the round, Pacquiao hurt Solis again with a huge left hand shot. He was made it out of the round, but it was clear that he would have big problems in the 8th if Pacquiao chose to continue fighting at this rate.

In the 8th round, Solis tried to take the fight to fight to Pacquiao, landing a several hard shots with both hands. However, Pacquiao seemed to have enough of the games, and opened up with a powerful combination which sent Solis down to the canvas, badly hurt. He barely made it up at the count of 9, as the referee stood over him counting. As soon as he made it up, Pacquiao charged in and landed a huge left hand, followed by a right and another left to the head, sending Solis down once again to the canvas. This time, he didn't make it up and the referee counted him out.

"He was hard to fight, he's taller, longer arms, and a lot of head movement … I was taking it easy in the early rounds, but when I got cut, I'm throwing more combinations to knock him out, then he got hurt and was saved by the bell …I want to fight Marquez next," Pacquiao said afterwards.


Photos by Naoki Fukuda: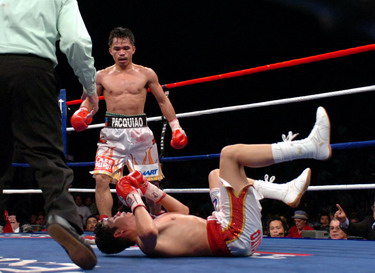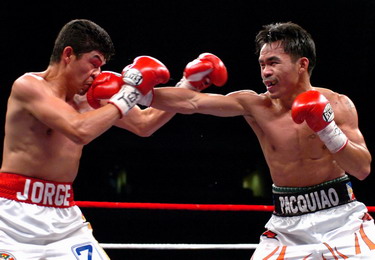 Article posted on 16.04.2007
previous article: Klitschko vs Brewster II on July 7
next article: Golden Boy ventures to tiny Russellville, Arkansas to scout big heavyweight prospect, JD Chapman