Mijares derails Arce and his history-making plans
15.04.7 - By Alden "The Kid" Chodash: If for no other reason, Jorge Arce in one corner made this a fight to watch. And of course the fact that Arce, a legitimate star in the boxing world with his never-give-in mentality, was chasing history by trying to become Mexico's third three-time title holder didn't hurt either.

Arce made a name for himself early in the year 2005 when he overcame adversity to stop "Hussy" Hussein in a bout which nearly received Fight of the Year honors. Ever since, Arce has been one to watch regardless of his opposition. The move to the super-flyweight class was made quite recently and although Julio Ler and Hawk Makepula, the only two men Arce faced at the weight, didn't rank as serious opposition, Arce was expected to take care of newly-crowned WBC kingpin Cristian Mijares in similar fashion. If anything, the Mijares match seemed to rank as a tune-up fight for lucrative matches against Fernando Montiel and a mega-bout against reigning flyweight champion Vic Darchinyan.

Mijares took the title from Katsushige Kawashima in January with a 10th round knockout to highlight a more dominant performance than their first meeting, which resulted in a narrow split decision victory for Mijares. Other than Kawashima, who still may not be a very well known or thought of figure, Mijares' opposition has been signifigantly lesser than Arce, or at least so it appeared. Another reason to vote against the titleholder Mijares was because not only was he beaten three times already, but recently drew with Luis Maldonado who was exposed against Darchinyan in June of 2006.

The fight took place in the Alamodome in San Antonio, a venue which allowed a good amount of diehard Mexican fans of Arce to view and cheer on their man. Arce cut out his usual electrifying entrance for this bout which showed his seriousness and readiness for his crack at history. Early on, Mijares threw of the aggressiveness of Arce with his slick southpaw stance and was unafraid to open up with a tremendous variety of punches. The majority, if not all of them landed in the opening rounds. Arce began to slightly close the distance in the fourth and fifth rounds but Mijares stood his ground, fired well in close and eluded many of Arce's attempts. Though judges could have possibly given a few of the middle rounds to Arce for his activity, Mijares never appeared to slow down and soon regained and ultimately held on to his momentum. In the ninth round Mijares continued his assault on Arce and by the eleventh he was backing up the Mexican star which discouraged Arce's chances of a late round knockout. Mijares refused to let up in the twelfth and won the round easily culminating a near shut-out win for the "other" Mexican fighter.

Cristian Mijares stated after the decision (which needless to say went in his favor) that he fought the fight of his life. Arce, being the humble warrior he is stated that he had no excuses and would resume his career. Though by no means does Arce's stock decrease, Mijares has but himself in position for future bouts which probably won't disappoint given his southpaw stance, grace under pressure and impressive work rate.


Photos by Naoki Fukuda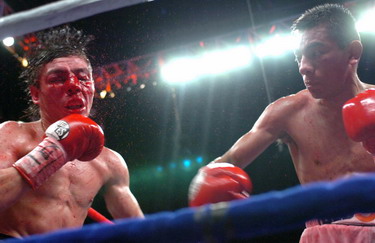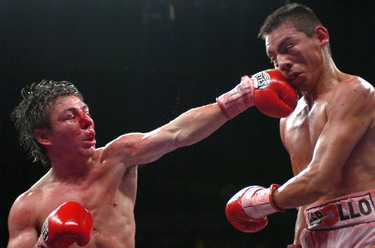 Article posted on 15.04.2007
previous article: Abner Mares Returns on April 20
next article: Aaron Williams Added to Chicago Card This Wednesday