Valuev Loses Title on Questionable Decision
14.04.07 - By Miguel Velasco, Photos by David Martin Warr, DKP - Nikolay Valuev (46-1, 34 KO's) was given what I consider to be a raw decision tonight in Germany, losing by 12-round majority decision to challenger Ruslan Chagaev (23-0-1, 17 KO's), in a fight that Valuev appeared to easily dominate for the entire boxing bout. Aside from a few slow rounds at the beginning of the fight, when Valuev appeared to be getting warmed up, he turned it up a notch starting in the 3rd round, and controlled the action with his jab/right cross combination, easily outworking the shorter Chagaev the rest of the way. The judges, however, saw it different, awarding the majority decision to Chagaev by the scores 114-114, 117-111, and 115-113.

I personally had Valuev winning nine rounds to three, and cruising to an easy decision over the short Uzbek fighter, giving him a boxing lesson in the use of the jab in the process. In the first four rounds, Chagaev, rarely landed at all, and the few that he did land, were more of a desparate type. He was often wild with his punches, looking like a cross between Axel Schultz and Arthur Abraham, though not as skilled as either of them. As for his power, he really showed next to zero against Valuev, particularly in the early rounds when he was mostly moving from side to side along the ropes and trying to stay away from Valuev. Chagaev basically stayed completely away from Valuev for the first four rounds, which is why I gave the those rounds to Valuev.

In round five, Chagaev landed well, catching Valuev with a number of left hands, a lot of them coming consecutively. To me, it looked like Valuev was taking this round off, perhaps figuring that he had won the first four and that he could afford to ease off his smaller opponent. I gave this round to Chagaev, the first round that he did enough to win it on my scorecards.

In the 6th round, Valuev came out strong and landed a four right hands in the first minute, many of them catching Chagaev clean as he attempted to charge in on the inside and snapping his head back violently. As the round was nearing an end, Chagaev head butted Valuev on one of his many charging attacks. However, no cuts or blood resulted. Valuev finished the round with a right to the head and a hook to the midsection as the bell sounded. A clear round for Valuev.


In the 7th round, Chagaev connected well on the inside, beating Valuev to the punch repeatedly. With his shorter arms, Chagaev had the clear advantage when they got in close, and unfortunately for Valuev, he let Chagaev get inside way too often in this round. I gave this round to Chagaev.

In rounds 8-11, it was all Valuev with him retaking control of the fight and outworking Chagaev, mainly using his jab, mixed with an occasional right hand. Chagaev didn't help himself in these rounds due to his constant circling and staying near the ropes, where his posture was mostly that of a defensive fighter. He was able to land every now and then, but he wasn't taking the fight to Valuev, like challengers are supposed to and he was being badly outworked by Valuev in each of these rounds.

In the 12th round, Valuev looked and fought like he was completely exhausted, missing many of his punches and lumbering around in a kind of listless manner. Seeing how tired Valuev was, Chagaev was able to come forward for the first time in the fight and assume the offensive role. He landed a number of excellent left hands during this round, though nothing that I would consider a really powerful shot by any means. In the last 30 seconds, Valuev seemed to get some of his stamina back, as he was able to tag Chagaev with three rights with the clock running down, each of which snapped Chagaev's head back badly. However, Chagaev did enough in the round to win it due to his early work with his left hand.

There you have it, nine rounds to three for Valuev. I gave Chagaev the 5th, 7th and 12th rounds. In the other rounds, Chagaev was badly outworked and his constant running took away any chance he would have to win the fight. However, the German crowd was clearly for Chagaev, and it showed from the very start, as they screamed any time he threw a punch, and would be oddly silent whenever Valuev landed, which was often. I must say, I've never seen a challenger win a fight doing so little, like I did with Chagaev. It was as if the roles were upside down, with Chagaev the champion and poor Valuev the challenger, trying to press the attack on the reluctant champion. It was pitiful, just pitiful, almost a carbon copy of two other bad decisions I've seen coming from Germany in recent times with the Abraham-Miranda and the Maske-Hill fight, only this was even worse considering the lopsided scores that were awarded to Chagaev.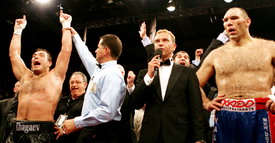 When I heard those scores, I knew that Valuev never really had a chance to begin with and nothing short of a knockout would have won it on this night. Just disgusting. I can't say much for Chagaev, not after this. Though, in fairness to him, I didn't think much of his skills before this fight, having seen him fight on several occasions against Sprott, John Ruiz and Rob Calloway. He mostly looks to be a journeyman type fighter to me, with little size, skills, power or hand speed. His nickname, "The White Tyson," I've always thought was made in jest, a joke on him, perhaps, one that he was slow to realize.

What's next for Chagaev? Well, I seriously doubt he'll be giving Valuev a rematch, probably knowing that he'd have a tough time getting lucky two times in a row with the judges' scoring. Seriously, I see him fighting mainly in Germany, being spoon fed easy opposition as long as possible, knowing that if Chagaev is matched up with a tough opponent in the top 10, someone like Rahman, Travis Walker, or Dimitrenko, he'd lose badly. Against someone like Wladimir Klitschko, forget it, Chagaev with his slow punches, short size and weak power, he'd be quickly obliterated in the first three rounds of the fight. So you can forget a unification bout because it isn't going to happen, especially with Wladimir Klitschko. That's my prediction. Naturally, they'll keep Chagaev matched up soft, allowing him to fight the bottom feeders in the division, that way he won't get his precious title taken from him immediately.

Article posted on 15.04.2007
previous article: Duddy & Irish Ropes sponsoring NYC fundraiser
next article: Stevie Johnston returns home for May 18th fight in Denver