The Official "Blaze Of Glory" Notebook: Pacquiao-Solis-Arce-Mijares
SAN ANTONIO, TX (April 13, 2007) -- Photo: Chris Farina - Top Rank -- Hello Mr. and Mrs. Boxing Fan and ships out at sea, let's go to press! THE GLOVE BOAT. Boss-publicist Lee Samuels from Top Rank received a ship-to-shore S.O.S. email from the offshore coordinator on the Skandi Neptune from Subsea7, one of the world's leading subsea engineering and construction contractors, with a desperate request -- the coordinates for the"Blaze of Glory!" pay-per-view signal! "We are a vessel currently in the North Sea and would like to book the pay per view fight on sat 14th Apr. We have Sky boxes on board and also 4 techno mates we have remote satellite that is currently tracking Astra 28.2 E, question is can we receive the fight with this system on this satellite?" Top Rank's PPV technical team is on the case to make sure this request is not deep-sixed....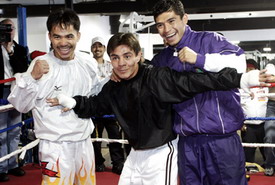 TIPPICANOE AND ARUM TOO. Promoter Bob Arum, who served in the Justice Department under Attorney General Robert F. Kennedy during John F. Kennedy's presidency, is hitting the campaign trail stumping for Congressional candidate Manny Pacquiao. Pacquiao, the first active politician to headline a boxing PPV card, is the Kampi Party's candidate in the May 14 election. Pacquiao is running against incumbent Rep. Darlene Antonino-Custodio, who is seeking her third term as representative of the first district of South Cotabato. Her family is part of a Philippine political dynasty that hasn't lost a race in 20 years. "Every time I open a press conference, do a media day or get interviewed, I wind up giving a campaign speech for Manny," said Arum " I so believe in Manny's issues, I have decided to accept his invitation to go to General Santos City to stump for him. With all his success, Manny has not lost touch with the people. He wants to give back and I applaud the personal sacrifice he is making on behalf of his community"...

MANNY GEARS UP RE-ELECTION CAMAPAIGN. Named 2006 "Fighter of the Year" by The Ring magazine and the Boxing Writers Association of America, Pacquiao is on a mission to win re-election of that award for 2007, beginning with his Saturday night title rumble against undefeated top-rated contender Jorge Solis. "When it comes to fighting, I am a bipartisan candidate who is equally strong with the right and the left," stated Pacquiao...

SOLACE FOR SOLIS. "I feel like General Santa Ana riding into The Alamodome," said Solis. "Manny Pacquiao is 'Republica Enemy No.1.' I hold the pride of Mexico in my two fists and they will end his domination of Mexican fighters on Saturday night!" Pacquiao boasts victories over Erik Morales (KO3, TKO 10), Marco Antonio Barrera (TKO 11), Oscar Larios (W 12), Emanuel Lucero (TKO 3) and Hector Velazquez (TKO 6).

TV GUIDES. Top Rank's pay-per-view broadcast team will feature a trio of award-winners, including AL BERNSTEIN handling the blow-by-blow, and Newsday columnist WALLACE MATTHEWS and two time world super featherweight champion GENARO "CHICANITO" HERNANDEZ providing analysis. The Pay-Per-View broadcast begins at 9 p.m. ET / 6 p.m. PT. In addition to the Pacquiao-Solis WBC International super featherweight title fight, the PPV broadcast will also feature a Mexican civil war between WBC super flyweight champion CRISTIAN MIJARES (30-3-2, 11 KOs), from Gomez Palacio, Mexico, defending his title against two-time world champion and current No. 1 contender JORGE "EL TRAVIESO" ARCE (46-3-1, 35 KOs), from Los Mochis, Mexico; former world champion and current No. 1 contender BRIAN VILORIA (19-1-1, 12 KOs), from Waipahu, Hawaii, taking on No. 2 contender EDGAR SOSA (26-5, 14 KOs), from Mexico City, Mexico, for the vacant WBC light flyweight title; and undefeated contender, JULIO CESAR CHAVEZ, Jr. (29-0-1, 22 KOs), from Culiacan, Mexico, son of Mexican icon Julio Cesar Chavez, in a 10-round welterweight bout against tough veteran ANTHONY SHULER (20-4-1, 14 KOs), from Indianapolis...

COTTO IN THE HOUSE. Undefeated WBA welterweight champion MIGUEL COTTO will be taking a midnight charter from ESPN's Bristol studios to San Antonio to attend "Blaze of Glory!" Cotto, who will be the in-studio guest on ESPN2's "Friday Night Fights," heads to New York after the fight for his Tuesday press conference announcing his annual title defense at Madison Square Garden. Cotto and former two-division world champion Zab Judah tangle Saturday, June 9 in a title tilt that will be broadcast live on HBO Pay-Per-View on the eve of the National Puerto Rican Day Parade...

DIRTY POLS. Despite his political opposition's best efforts, The Philippines WILL be able to watch Pacquiao slug it out with Solis after the Commission on Elections, in an en banc session, allowed the airing of the boxing match, radio dzBB reported Thursday. A petition to ban the airing of the fight had been submitted. In an interview with dzBB, Comelec chair Benjamin Abalos said the sparring sessions of Pacquiao can be aired as these were considered as legitimate news...

FORTUNE SMILES ON PACQUIAO. JUSTIN FORTUNE, Pacquiao's trainer is very pleased with Pac-Man's condition for his title defense against Solis. "Manny is back at peak condition and he is throwing punches with more explosive power than I have ever seen from him in all the years I have worked with him," stated Fortune after a recent workout. "One of Manny's best weapons is his punch we call Manila Ice. When Solis gets hit by it, it will be 'buenos noches, Jorge.' You saw how quickly The Titanic sank when it hit that iceberg? Solis is in for a hulluva night. We never underestimate an opponent. But a physically fit and strong Manny Pacquiao is impossible to beat, and Jorge Solis, you can call this fight Mission Impossible."...

THAT'S THE TICKET. Remaining tickets for "Blaze of Glory!" priced at $300, $200, $100, $75, $50, $35, can be purchased at the Alamodome Box Office, by calling (210) 207-3663 and at www.Ticketmaster.com Projected ticket sales make "Blaze of Glory!" the second-biggest boxing event in San Antonio history. Bigger than Oscar De La Hoya's 1997 welterweight title defense against David Kamau, and even bigger than Pacquiao's 2003 knockout victory of Marco Antonio Barrera. Only the legendary welterweight title fight between Pernell Whitaker and Julio Cesar Chavez in 1993 had a bigger opening.


Article posted on 13.04.2007
previous article: Don't Stop The Boxing Fight Just Yet!
next article: James Toney - Can He Still Be A Factor In Boxing?