PAL Boxing: Youth Development Program for Red Hook Kids
31.03.07 - by David Pambianchi: Ancient, rusty, crane platforms and abandoned warehouses melt away as new building developments overlook Brooklyn's Red Hook waterfront, bringing tourism, revitalized industry, various shops and markets, but on March 31, 2007, the Police Athletics League started some revitalization of their own. There is a new PAL Boxing Program for kids at 595 Clinton Street..

At Saturday's Grand Opening, the PAL's mission, "…to help develop and protect New York City youth during their critical development years…," once again became reality. When not in school, neighborhood children now have a place to learn discipline and benefit from physical fitness activities. Police Commissioner Raymond Kelly stressed the importance of "Character Development," and the PAL's meaningful role since 1914.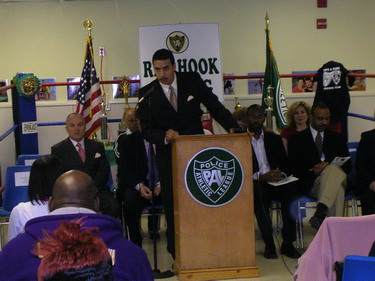 At a Red Hook pier (hoping to soon get in some Blue-fishing and crabbing), retiree, Robert Emerson recalls playing basketball at the Miccio Center. And ecstatically gives approval over the community's new boxing addition, "I remember way back when that building was the Clinton Theatre. It's good to know the Pal's still active in the neighborhood."

Among the many supporters for children's programs, Jill Diamond of World Boxing Champions and PAL coordinator Sean Connolly graced the ringside. Some notable Professional boxers signing autographs: Iran Barkley, Alicia Ashley and Chika Nakamura.

Director of Citywide Center Operations, Todd Seward, focused on the qualities of citizenship that determined PAL representatives want to foster in children, the value of education, proper recreation, socialization, sportsmanship and self-respect. Summing things up, he emphasized their commitment, "Think after-school for kids; Think PAL." Article posted on 31.03.2007
previous article: Mtagwa Looks to Ambush Roy at the Citadel
next article: Travis Walker and Raphael Butler, both of Whom Decked Vitali Klitschko In Sparring, Co-Headline Friday, April 6 On ShoBox