Mikkel Kessler: All Hail The King?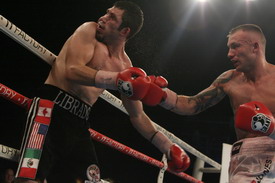 26.03.07 - By Michael Demmie, BoxingRealm.com, photo by SUMIO YAMADA: This past Saturday, HBO's "Boxing After Dark" featured a super-middleweight bout between two unbeaten fighters, WBA/WBC Champion Mikkel Kessler (39-0-29 ko's) and rugged mandatory challenger Librado Andrade (24-1-18 ko's). Kessler, a megastar in his native country of Denmark and known to die-hard boxing fans for his devastating one-punch knockout of Markus Beyer, was making his debut on US television. Andrade, who was born in Mexico, but lives in California, was looking to make a statement as well. Although he's fought in the states, he's done so with no publicity. On paper, it was a legitimate match-up. They were both rugged, hungry, undefeated fighters looking to make a name for themselves among US fans. That goal, though for two very different reasons, was definitely accomplished.

In front of a sold-out crowd of over 20,000 adoring fans in the Parken Stadium of Kessler's native Copenhagen, the hometown hero put on a display that will definitely have fans around the globe wanting to see more of him. From the opening bell, the differences between the two fighters were apparent. They were both extremely heavy-handed, and both landed some good shots.

Kessler, though, was definitely the more polished of the two. Besides having great hand speed and laser-sharp accuracy, he had great footwork and kept good positioning throughout the fight. Andrade looked as though he had two left feet. He was a slow, wide-swinging puncher, and when he threw, the combination of looping shots, and uncoordinated footwork made him appear to almost be falling over on himself. He landed some pretty good shots though. In fact, he hurt Kessler in the first round, but because of a lack of accuracy, coordination and speed, he was unable to capitalize.

As the fight went on, and as Kessler began to warm up, it was total domination for the Champion. Kessler, who's biggest weapons are the left jab right cross, was catching Andrade with shots that appeared to spin his head completely around on his neck. Devastating shots that would have decapitated a normal human being. But Andrade was no mere man. He had a chin like Carlos Baldomir on steroids, and walked through the shots as though he couldn't feel anything. At certain points in the fight, it looked as though he was beginning to wear Kessler down with frustration. And although these were times that Andrade would hit him easier and with more frequency, it would only last a moment as Kessler would fire back awesome combinations that would re-shift the momentum and give the reigns back to the Champion.

Kessler, who was the smaller of the two, did everything right. He kept proper distance, punched accurately and at angles, and threw combination punches with speed and power. His defense could have been better, but his offense could easily compensate for that against just about any of the top fighters in and around his division. He is a super-middleweight who punches like a cruiserweight. Andrade could potentially be a big force in the division as well. Besides being able to give and take heavy punches, he proved himself to be hungry and not easily frustrated by adversity. His defense was lacking as well, but if he could improve on his footwork, and accuracy, I could see him in the top ten. Maybe he should consider working with Emanuel Steward, who is known for giving the gift of balance to the coordinately challenged (see Tommy Hearns).

At the conclusion of the 12th round, Kessler won by the scores 120-108, 120-108 and 120-108 by all three judges. So what happens now? The fight that everyone wants, including Kessler, is the fight with fellow super-middleweight Champion and counterpart, Joe Calzaghe. Calzaghe, who never travels outside of his native England, has a fight coming up on April 7 against 'Contender' star Peter Manfredo at Millenium Stadium. He is also undefeated with 42 wins and 31 knockouts. The showdown with Calzaghe and Kessler would definitely be a mega-fight, but in order for it to happen, Kessler would have to be willing to fight in England. This is a fight that should happen, could happen, and hopefully will happen in the fall. Calzaghe, though, already seems to be looking in other directions as he has been calling out fighters like Bernard Hopkins and Jermain Taylor. Maybe it's for the money, but some could speculate that there may be other reasons why Calzaghe is looking past the one fighter that could help him put an unbreakable validation on his Championship status. Is it because he sees the "Viking Warrior" as the man that could potentially knock him off of his perch and replace him as the new king of the division? Only time will tell.

At the end of the night, I believe both fighters made an impact on the American public. Kessler for his devastating punching power and accuracy, and Andrade for his tremendous heart and ability to take extremely high amounts of punishment. Hats off to both fighters for putting on a great show.

P.S. HBO also showed the rebroadcast of the fight between Super featherweights Marco Antonio Barrera and Juan Manuel Marquez. I know that I'm about to take the unpopular position, but I had Barrera winning the fight by two points. Agree? Disagree? Let me know.


Article posted on 27.03.2007
previous article: Euro Boxing Roundup: Ulrich, Brähmer, Berrio, More
next article: New Jersey Boxing 2007 Hall of Fame Inductees.....just announced!