Jon Thaxton stops Scott Lawton
18.03.07 - By Keith Chadwick: When Scott Lawton stepped between the ropes in Norwich on Friday night to challenge holder and homeboy Jon Thaxton he was the rank outsider. When he stepped out of the ring after referee Richie Davies had stopped the contest with only 20 seconds of the seventh round remaining Lawton, although vanquished, emerged with an immense amount of credit and confirmed his credentials as a serious contender at domestic level. Furthermore, until suffering at cut just above his nose at the beginning of the 7th, Lawton had been in the contest and had played his part in making it an exciting affair..

As the contest kicked off the hard-hitting Thaxton began, as predicted, coming forward at every opportunity looking to land his hallmark left hooks. Lawton however used his jab and footwork to maintain his range and served to frustrate the Norwich man for much of the round. Missing with most of his volleys during the opening encounters Thaxton left himself open to counters from the Stoke man and Lawton successfully landed a couple of body shots which visibly reminded the champion that the result was by no means a forgone conclusion.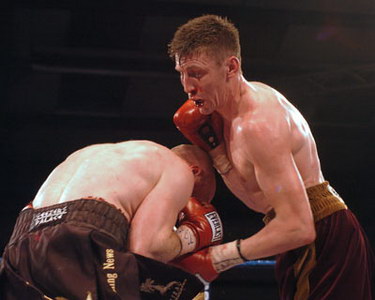 Appearing over anxious to please his supporters by making an early night of it Thaxton began the second at a frenetic pace and began to find more success marking the challenger's face by this stage. A booming right from the stronger Thaxton stimulated Lawton to 'stand and deliver' and a flurry of body shots and uppercuts from the Potteries man landed with precision earned him the round.

The begging of the third brought Lawton further success as he countered a reckless swing from Thaxton landing a straight right. Thaxton kept coming however and proceeded to land hooks to both the head and body of Lawton. Undaunted Lawton continued to use his range and jab and looked to counter at every opportunity.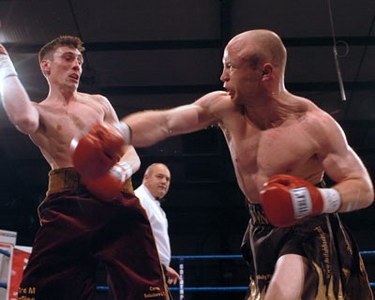 By the forth round the champion was becoming frustrated by both the durability and the skill of Lawton; after Lawton landed a ferocious right hook of his own Thaxton sought to rough up the challenger by using his shoulder. Referee Davies severely ticked-off Thaxton for employing this tactic and later declined to come to his aid when an accidental clash of heads left him with a cut above his right eye. As Thaxton looked for a time-out Lawton landed with two unreturned hooks.

The fifth round saw more of the same as Thaxton came forward throwing his bombs with varying degrees of accuracy and all the time leaving himself open to Lawton's counters. On my scorecard honours were just about even in this one.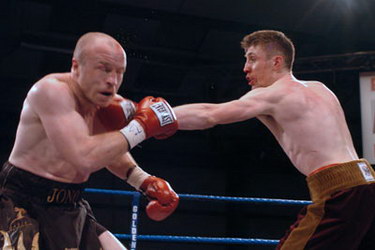 Lawton took the sixth by a clear margin and he began the round with some decent body shots that although visibly hurt the champion failed to deter him. A right uppercut found Thaxton's chin and a good straight left from Lawton also gave him something to think about. Unfortunately for Lawton Thaxton was able to weather the storm but the Potteries man was now in the ascendancy and a shock was on the cards.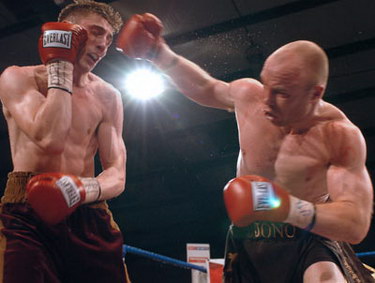 There was to be no lucky '7' for Lawton however as he came off worse in a 'toe-to-toe' encounter at the beginning of the round. With both men trading punches in equal number and with matching degrees of ferocity the advantage ebbed and flowed until Thaxton produced a powerful right over the top that resulted in a one inch vertical cut just above the nose of Lawton that produced a torrent of blood running into his left eye. Davies immediately called a time-out and escorted Lawton to his corner to be examined by the doctor who passed Lawton fit to see out the round.

Now on borrowed time Lawton switched to plan 'B' and became the aggressor as he sought to score a knockout blow against Thaxton. Initially Lawton achieved success but failed to halt the oncoming Thaxton. Lawton's visibility was clearly impaired by this stage as he was witnessed attempting to wipe the blood from his left eye with his glove. With 20 seconds of the round remaining Thaxton produced a concussive right that left Lawton stunned and gave referee Davies no option but to wave off the contest.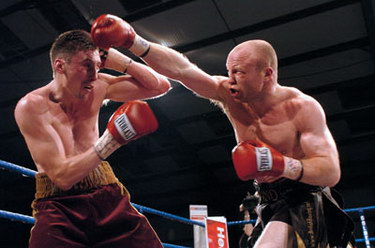 Throughout the contest Lawton never looked outclassed by Thaxton and looked comfortable at this level. At the beginning of the seventh round Lawton was proving a serious threat to the Norwich man and was in with a real chance of pulling off a surprise. The telling factor however was Thaxton's superior power and strength. In defeating Lawton, Thaxton confirmed his pedigree as a worthy domestic champion.

Lawton must now be considered as a serious contender for major honours and was paid the ultimate compliment by Thaxton who afterwards declared that he would not willingly offer him a rematch.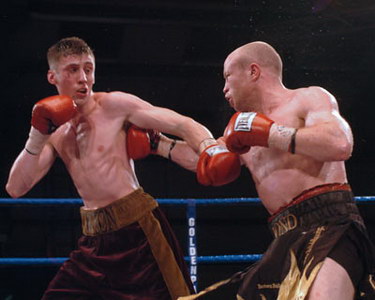 Thaxton's team will now consider his next move and a campaign to win World honours is a viable proposition as is a tussle with Yuri Romanov for the European belt. Lawton will now look towards defending his English title against mandatory challenger Dean Hickman, the bout having been postponed to allow Lawton's British title challenge, and along with Team Impact will consider other options. A future assault on the domestic pinnacle from Lawton must also be a strong possibility now.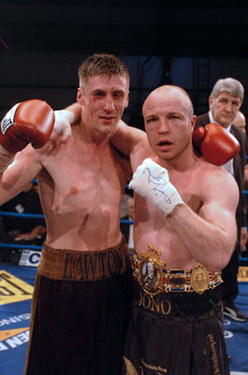 Earlier in the evenings proceedings Newark super-bantamweight Esham Pickering produced a workman-like performance to defeat Marc Callaghan and lift the vacant British title. Pickering had outboxed Callaghan throughout the contest and emerged the victor by a wide margin.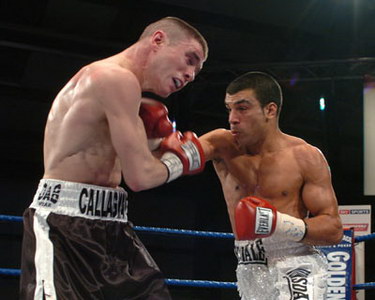 Article posted on 18.03.2007
previous article: Mormeck Decisions Bell
next article: Caballero Levels Castillo, Remains WBA Super Bantamweight Champ