Arthur Abraham meets junior reporters
15.03.07 - Arthur Abraham caught up with a group of intrepid junior reporters at the Max-Schmeling-Gym to get their journalistic careers off to an exciting start. Along with brother Alexander, the IBF middleweight champion tackled countless of interesting questions about video games, action movies and spare time activities. "Now that was a lot of fun," King Arthur said. "Itīs an honour for me to support them. Itīs good to see that they are starting early to develop a passion for their future jobs."

But Abraham was also surprised to learn how much the youngsters knew about his career. Questions about his famous defeat of Edison Miranda, when he saw off the Colombian challenger despite a broken jaw, were aplenty, just as those about his early boxing years, his rise to the top and his spectacular boxing style.

After conducting the interview and watching a practice session, the gifted youngsters dedicated six pages of their pupil magazine - called mosquito bite - to their idol. "Arthur Abraham, the peopleīs champion" read the title.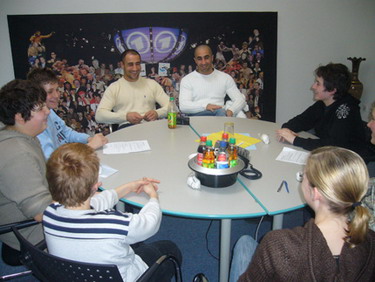 Caption: Arthur and Alexander Abraham during an interview session with junior reporters Article posted on 15.03.2007
previous article: Exclusive Interview With Wladimir Klitschko
next article: 8 Count Prepares for Terrific Friday Night St. Patrick's Boxing Show