Every Time I Wipe Their Blood Off Of My Camera, My Respect For Boxers Increases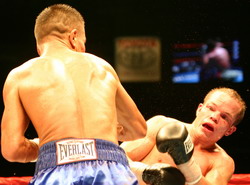 09.03.07 - By Wray Edwards, Photos © Wray Edwards/ESB. Manny Steward is fond of saying that Boxing is 90% mental. While that might be true during the more tactical and strategic phases of the sweet science, once you get tagged big time, it's 100% neurological. That is why our heroes wind up horizontal at Madison Square Garden, Mandalay Bay and Hard Rock Live from time-to-time.

Despite where a guy appears in the rankings, Every fight, for him, is a championship contest. On any given night the space between the ropes is the whole world for those two boxers, and they are there to see who will be champ of that ring there and then. The context outside the ring might be "primarily important" to some shallow Boxing "fans" and commentators, but for those two fighters, and true lovers of the sport, it is survival of the fittest spot on. If any of you doubt that, just consider the fact that most have died or been damaged for life while trying to get to the top in these preludes to fame and fortune, not in the glorious settings of fighting for "The Championship of the World!!" ..

While one can argue for better officiating, boxer unions, financial planning and fewer sanctions, these guys have to work with what they've got right now. Sure there is great room for improvement, but if you are a boxer, or think you are, and you want to bring on a new era of fame, fortune and public acceptance of the sport, put up your dukes. That's what these guys do, and they deserve respect for it.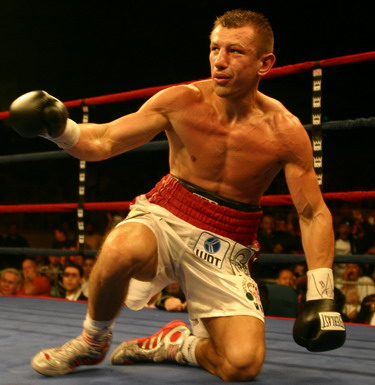 Shortsighted "fans" will sometimes make disrespectful remarks which include insults like "bum", "tomato can" and "joke". As one who has sat in quiet moments with these guys just shucking about life and the world, I can assure you that, with few exceptions, they are faced with choices which are a matter of life-and-death and food on the table… and they know it. Though the TV show "The Contender" overly dwelt on these dynamics, it was instructive to see a bit of it.

Matchmaking is key here. That's the whole reason for stats, sparring, qualification bouts and record-keeping. Nobody, except the perverse, want to see some overmatched guy get creamed. What true Boxing fans want, is to watch two guys get in there and box, slug and dance their way to sudden, dramatic victory in the eleventh or twelfth round. They want to see a contest…not an execution.

There are far more qualification matches in the lower parts of the ranking pyramids than there are high profile "world championship" contests. Additionally, since there are now so many sanctioning authorities, it is difficult to really consider this or that alphabet "champion" to be a true "world" champion unless he unifies most or all of the alphabet titles. That, of course, is almost impossible due to sanction rivalries and promotional politics.

Boxers will never fall into the popular cultural niche of "famous for being famous". They sometimes do or die. Those who can do, those who can't (or no longer can) teach. A good trainer can take a fighter with raw talent and heart, and turn them into a contender. In the discourse over creation versus evolution those who follow Boxing know that their sport is a microcosm in which they have no doubt that Darwin was right. As I said recently, boxers "trade blunt force trauma for a living" and attempt to make it look "professional".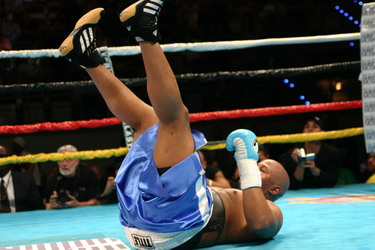 A famous NASCAR driver was once asked "Wow, that was a terrific crash, are you alright and what happened?" I think it was Cale Yarborough who answered, "Well, I guess I got a little behind in my steering." When boxers get a little behind in their defense, they do not have the luxury of a helmet or roll cage. They meet the canvass or sometimes their maker. It's very interesting to watch the transition from light conversation during news conferences or weigh-ins, to the actual moment when a mortal human being steps into the squared circle.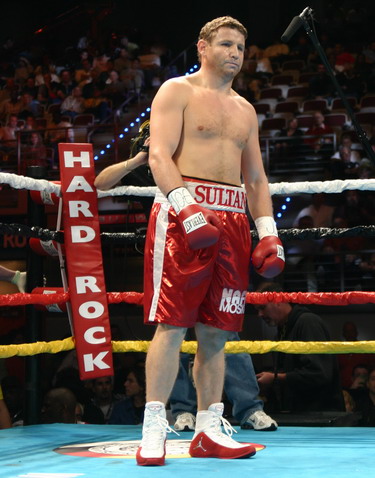 Gone are the good natured humor, the relaxed postures in chairs with feet up, and the trash talk. They are usually replaced by that stoic, thousand yard stare of a brave warrior. Sure Ali and others sometimes bring bravado, threatening looks, jokes and comic mime into the ring, but you can be sure that, if properly matched, each and every one of these guys knows, deep inside, that he is just human and faces his destiny. See you at the fights. Article posted on 09.03.2007
previous article: Photos: The Fab Four - M'baye vs. Kotelnik tomorrow