Ibragimov-Mora, Greenberg-Simms Weigh-In at MSG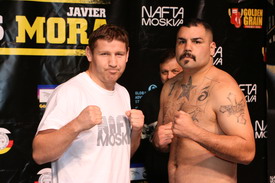 09.03.07 - By Wray Edwards, Photos © Wray Edwards/ESB, What can I say?...it's the "Big Apple", like moving around on a fire ant mound that someone just kicked over. Manhattan is the perfect place for aggressive sporting events like driving from Newark airport to Madison Square Garden…Lucky to be alive. Also lucky are those Boxing fans who will witness two world class heavyweight fights and a great under-card.

Coming off of a draw with Ray Austin at the Seminole Hard Rock Live Arena, Sultan Ibragimov will face Javier Mora. Due to Shannon Brigg's bout with pneumonia, Javier agreed to step in to face the big Russian who is now being trained by Jeff Mayweather. If Sultan's natural aggressiveness has been complimented by improved technical skills, he will be a formidable opponent for Mora or anyone else for that matter..

Of note regarding Sultan's weight was the fact that he came in at 221 pounds this time. A change which many feel will allow him to move much more effectively. ESB spoke with Sultan's trainer who said, "We have worked on everything…angles, defense, footwork and pacing." Sultan's.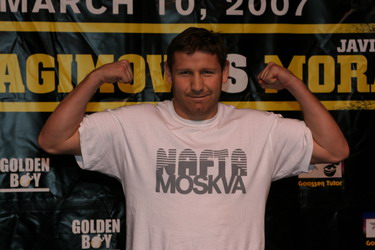 Roman Greenberg, who TKO'd Steve Pannell back on December 9th, got a little bloody which seemed to motivate as he stopped Pannell in three.
The weights were as follows:
Sultan Ibragimov: 221 Pounds
Javier Mora: 256.75
Roman Greenberg: 234
Michael Simms: 213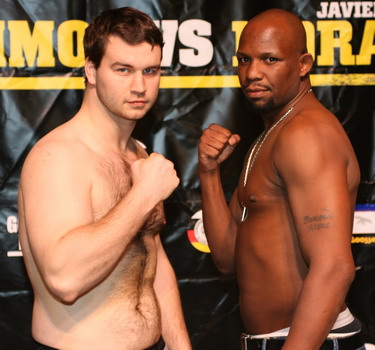 The fights, which will take place on Saturday Night and later broadcasted on tape delay, are presented by Golden Grain Promotions, Warrior's Boxing, Golden Boy, Gotham Boxing, NAFA MOSKVA, and Goossen Tutor. The undercard weigh-ins will be held tomorrow evening. See you at the fights.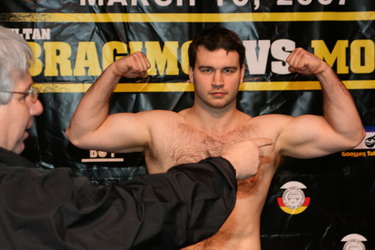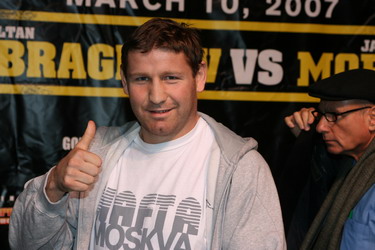 Article posted on 09.03.2007
previous article: HBO Sports To Replay Barrera Vs. Juarez I 2006 And Marquez Vs. Pacquiao 2004 on HBO2
next article: Arturo Gatti versus John Duddy: This fight should happen this year!