Sebastian Sylvester: A Hurricane also on the football pitch
01.03.07 - Practice can be fun. Just ask Sebastian Sylvester. The Hurricane, who will defend his WBA Intercontinental middleweight belt against Alessio Furlan on Saturday night, yesterday caught up with the footballers of Hansa Rostock. Sylvester joined his new team-mates for a thirty-minute training session featuring warm-ups and five-on-two games before coach Hartmut Schroder jumped in between. "Their practice match would have been too dangerous for Sebastian. We can´t risk any injuries at this point," he said..

Hansa striker Enrico Kern was full of praise for Sylvester. "He is a gifted player and can shoot with his left and his right leg. I´m sure our bosses will give him a contract soon."

Sylvester then invited Kern and Maik Wagefeld to join him for a boxing work-out. The duo worked the bag and also entered the ring for a light sparring session. "I let them punch," Sylvester said afterwards. "I wouldn´t hit them with full power."

Kern, one of the best scorers in Germany´s second division, certainly enjoyed the exhausting afternoon. "Boxing is very hard," he said. "You always have to push yourself to the limit. But it was a lot of fun.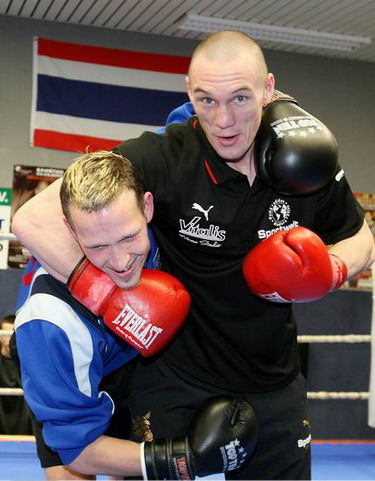 Article posted on 01.03.2007
previous article: Evander Holyfield: I do not use steroids
next article: Euro Boxing Roundup: Sturm, Branco/Drews, Abraham