Why Mayweather, Castillo, Judah, Williams and Wright will all win in 2007!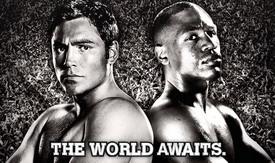 28.02.07 - By Yero Moody: 2007 is shaping up to be a great year for boxing! We have already seen the brilliant performance of the ageless Shane Mosley easily defeating Luis Collazo. In March we have Vasquez v. Marquez and Miranda v. Green which will be great fights as well. This year we will also witness the fall of some legends and the rise of others.

May 5 "The World Awaits" brings us the biggest fight perhaps the world has ever seen in terms of audience and hype. Floyd Mayweather, Jr v. Oscar De La Hoya. It was announced by Mayweather, Jr. yesterday, at the press conference in Las Vegas for his upcoming bout with De La Hoya, that he is uniting with his father, Floyd Mayweather, Sr. for this fight. This adds to the tremndous soap opera twists and turns that have been surrounding this fight even before the fighters signed to fight one another. De La Hoya sent word to Mayweather, Jr. that if he didn't tone down with the negative theatrics and verbal assaults that he was going to be kicked off the media tour and "sent home like a little kid." In this writers opinion it was a very smart move by De La Hoya because Mayweather, Jr was turning off alot of people, including myself and hurting boxing with his brash trash talk..

Clearly, it is very evident that Mayweather is not used to this kind of media attention and he is going about it in the wrong way. However, when the media circus is over and the two combatants enter the ring to do battle; Mayweather will be at home in his comfort zone. As I stated in my previous article "Predictions for 2007" and have heard from the great Boxing God Mayweather will score a TKO and defeat De La Hoya. Too much speed, great defense and ring smarts on the part of Mayweather, Jr. With the addition of his father in his corner adding a serious mental edge he will defeat De La Hoya even easier. Not having your father in your life can take a toll on even the strongest warrior. 

One fight that I'm looking forward to is the matchup between Ricky Hatton and Jose Luis Castillo for the IBO light welterweight championship in June. Hatton has proven to be a tough, strong competitor but he is in over his head against Castillo. Castillo has the ability to match Hatton's work rate while landing the faster more accurate punches. The only question will be the weight factor for Castillo. If he has difficulty keeping off the pounds during training camp we could witness a tired, weight drained Castillo lose to a lesser skilled Hatton. Castillo will defeat Hatton by UD with a knockdown or two in the fight.

To the surprise of many Zab Judah is right back into the mix with an upcoming bout with Miguel Cotto should they both win their upcoming fights. Cotto can establish a very solid campaign if he is able to defeat Judah and be in a position to unify the welterweight division. Ironically, against the last man to reign as the undisputed welterweight champion of the world, Zab "Super" Judah. Despite his setbacks, Judah exhibits the necessary athletic and physical tools to beat almost any fighter in the welterweight division. What he lacks too often is mental fortitude. I admire Cotto and have witnessed him improve dramatically in the past 2-3 yrs. Against Judah I strongly feel that his shortcomings will be exposed. He gets hit too often and relies on his power too much. He reminds me of Felix Trinidad in his latter fighting years in that he looks for the power shot all the time. Judah will be mentally focused for this fight and he will put on a boxing clinic. Judah scores a TKO victory. 

I've stated many times in my previous articles that I feel Antonio Margarito is a victim of the Bob Arum hype machine. He has been toiling on the battlefield for several years and not landing the big fights he should have gotten along time ago. He has agreed to finally face his mandatory challenger Paul "The Punisher" Williams with a date to be determined pending litigation between Top Rank and Goosen-Tutor Promotions. I think this is an excellent fight for both of these guys. Although Margarito is not getting the big named opponent he wants he gets a chance to show his detractors that he is not all hype. His last performance against Joshua Clottey did little to elevate his status as an overhyped underachieving contender. Williams has been on a steady rise and is the welterweight division's most physically imposing fighter. If Margarito can beat Williams convincingly he will be at the forefront of the division along with Mosley and Cotto. However, he won't! He doesn't possess the speed, defense, accuracy or ring smarts to beat Williams or any of the the top welters. I'm not saying this to demean him or his fans but he has shown little ability to adapt during a fight and comes forward often swinging wildly getting tagged in the process. Williams defeats Margarito in a lopsided brutal affair ending by KO before the 8th rd.

Last but definitely not least, in July two of the sports greatist tacticians square off. Ronald "Winky" Wright v. Bernard "the Executioner" Hopkins will be a display of the "sweet science" in its purest form. Both of these warriors will bring 100% to the ring. I feel that B-Hop is spending too much promoting and talking and is not going to be as focused as he needs to be to beat Winky. Alot of his time and enrgy will be spent as the mouthpiece for De La Hoya for his bout against Mayweather. I think Winky has learned from his last outing against Jermain Taylor not to leave it in the judges hands and fight all twelve rounds! Winky is too hungry, too fast and his defense will be enough to better an unfocused B-Hop. Winky wins a UD in a fight that will be an instant classic.

As a fan I hope that more great fights get slated so the fans, the public and the media get treated to the fights that make boxing great. Fights like Cotto v. Margarito, Corrales v. Hatton, Mosley v. Mayweather, etc. I could go on and on but you get my point. There are plenty of good match-ups to be made.

Article posted on 01.03.2007
previous article: Floyd Sr, Roger, Floyd Jr. Reuniting For May 5 De La Hoya War?