01.05.05 – By J.B. Reather – jreather1@cox.net - Once considered the heir apparent to the heavyweight throne, Dr. Wladimir Klitschko seemed to have lost his way. Or at least that's been the consensus among the vast majority of boxing writers, commentators and fans. continue


---
30.04.05 - By Jim Amato: Well, James Toney won a well deserved decision over John Ruiz and with it came the recognition as heavyweight champion by the WBA. So, who's next on Toney's dance card? More then likely it will be IBF titleholder Chris Byrd. Needless to say, I hope that Toney plans to get back into the ring real soon, since I'm afraid of what weight he may come in at for his next bout. continue


---
30.04.05 - By Izyaslav "Slava" Koza: In my write up for this fight, I clearly felt Toney would not withstand the Jab and Grab, and Ruiz would fairly (or perhaps unfairly) bore out a unanimous division. However, I did that Toney is who I would be cheering for, and that is exactly what I did. continue


---
30.04.05 - By Jim Amato: FINALLY...The reign of John Ruiz has ended. A large, 233 pound former middleweight champion outboxed and outslugged an always game John Ruiz to take a unanimous twelve round decision. The scoring was 116-111, 116-111 and 115-112. I gave Ruiz rounds three, four and six but there were a couple of other close rounds. Ruiz was down in the seventh but a replay showed that James stepped on his foot. continue


---
30.04.05 - By Lee Hayes Tomorrow nights fight between James "Lights Out" Toney and John "The Quiet Man" Ruiz is not as exciting or as eagerly anticipated as it might have been a few years ago. Mainly because Roy Jones Jr has already shown us that a smaller man with more talent, could expose John Ruiz as untalented - even if steadfast and consistent- a title holder the heavyweight division has ever seen. It's never as exciting to see a trick done twice. It will never be "amazing", until a new generation of fight fans witness a similar spectacle 20-30 years down the road. Still, this fight could turn out to be better than the Jones jr. vs Ruiz fight of March 2003. That's because Roy Jones danced around the flat footed Ruiz (who by even his usual slow footwork, was having a very off night) and out boxed him from the outside.

James Toney is as talented as Roy Jones was, however, he does not move nearly as quickly on his feet, and team Ruiz knows this. There will be more action in this fight. continue


---
30.04.05 - By Mike Indri:, Retired Boxers Foundation: All the talk is how James "Lights Out" Toney is going to bring change - much needed and much desired change, to boxing's heavyweight division. Stymied by the lack of an Ali, Frazier, Holmes-type champion, a supposed lack of newer, younger, more energetic and talented prospects, and enough sanctioning bodies for everyone to claim a stake at being called a champion: continue


---
30.04.05 - Undefeated heavyweight contender Samuel Peter stopped Gilbert Martinez in the third round of a scheduled 10-round bout Friday night for his 23rd straight victory. The 24-year-old Peter, of Las Vegas, improved to 23-0 with 20 knockouts. The 38-year-old Martinez slipped to 18-9-3 with seven knockouts. With this victory, PeterOn the undercard, Oscar Diaz won an exciting ten round decison over Jessie Feliciano.


---
29.04.05 - ANDREW GOLOTA: "To be or not to be, that is my question. I took two years off after the Tyson fight. After two years, I got tired of partying. I thought that something is missing in my life. I need to win a championship. I am proud of how I've come back." When told that he seems to have matured over the past few years, Golota said... continue


---
29.04.05 - By Chris Ireland: During Don King's dominant reign as a heavyweight promoter, the division's landscape has changed several times. Over the years, his ever-growing roster of champions have ranged from influential icons to sub-par stooges. In today's heavyweight title comedy that is the tales of Lamon, Moe, and Curly, perhaps no fighter personifies the fall of the heavyweight division better than John Ruiz. continue


---
29.04.05 - By Gail Carelli: James Toney has been doing a lot of talking lately, mostly about how he intends to destroy John Ruiz in their heavyweight bout coming up this Saturday evening at Madison Square Garden. What is also apparent is that Toney's been doing a lot of eating too, ballooning up to 233 pounds as of Tuesday's weigh-in. If his size is any concern, then it's only to fans and commentators. continue


---
29.04.05 - Philadelphia, PA – Golden Boy Promotions and Ex Management on behalf of undisputed middleweight champion Bernard Hopkins has signed a multi-fight deal with HBO Sports that will extend throughout the remainder of his professional boxing career. Although most of Hopkins' recent fights have taken place on either HBO World Championship Boxing or HBO Pay Per View, Hopkins has never had a long-term deal with the network until this week. "I feel like I have been an HBO champion de facto for some time now but this deal makes me feel like I am finally home and truly part of the real HBO family," said Hopkins. "The security and assurance they are providing me and my family for the remainder of my career alleviates all the unnecessary worries a fighter thinks about when there is no long-term deal in place."

The 40-year old, self-managed Hopkins—who has publicly stated that he will retire upon his 41st birthday—plans to put sleep on hold for the remainder of the year. His goal is to fight three more times and still remain middleweight champion of the world before the January 2006 deadline. continue


---
29.04.05 - By William Peden: It's pretty fair to say that every era of boxing is considered to be interesting by everyone except those who live during it.In thirty years time, boxing fans of today will be envied by their children and grandchildren for living in such an exciting era (or at least an era that was better than their own "dull" era.) The May edition of Ring Magazine 1938 had Joe Louis and Jack Dempsey facing each other, with the headline "Louis Dempsey - Who would have won?." continue


---
29.04.05 - By Jim Amato: I was so sure that James Toney was going to defeat John Ruiz when this bout was signed. I was SHOCKED to see that Toney weighed in a whopping 233 pounds. Holy S___ !!! To me, movement was part of the key in Toney's plan to outbox Ruiz. However, now that he is OVER 70 pounds from his initial championship weight, what will Toney really bring to the table? It may be an extremely boring fight. continue


---
29.04.05 - By Don Caputo: Great champions are born, not made. Example: James 'Lights Out' Toney (68-4-2 43 KOs). The former middleweight, supper-middleweight, and cruiserweight champion came into this world thirty-six years ago with boxing just as much a part of him as the fingers on his once small, but now heavy and destructive hands. continue


---
29.04.05 - DIEGO CORRALES: "Castillo is a tough guy. I am a tough guy. If there is any potential for a fight to go 12 rounds and be a war where we beat each other to death, this is it. If it goes the way it should go, it is going to be a battle. But if anybody is going to go down early, it is him. This fight will start as a smart fight and then it will turn into a shootout. It will be a war of attrition. At some point it will turn into an inside fight. continue


---
29.04.05 - By Darrell La Montre: We are one day away from the WBA Heavyweight championship fight between Ann Arbor, Michigan native James "Lights Out" Toney (68-4-2 43 ko's) and Chelsea, Massachusetts native John "The Quiet Man" Ruiz (41-5-1 28 ko's). Ruiz is the first man of Puerto Rican decent to hold a version of the heavyweight title. continue


---
28.04.05 - photo: Wray Edwards/ESB - Undefeated and reigning NABF and USBA heavyweight champion Samuel Peter highlights the main event on a nationally televised card presented by Duva Boxing Friday, April 29, at the Plaza Hotel & Casino in Las Vegas, Nev. The world-ranked Peter faces rugged Gilbert Martinez in the 10-round bout.

The 10-round semi-main event matches highly regarded welterweight prospect Oscar Diaz against Jessie Feliciano. An added attraction features 6-foot-5-inch, 260-pound heavyweight Josh Cobb of Las Vegas, son of former heavyweight championship challenger Randall "Tex" Cobb, in a four-round bout. Four other bouts, featuring two Las Vegans plus a pair of outstanding prospects from the Duva Boxing stable, complete the card.

The card April 29 starts at 6 p.m. with doors to the Triple Crown Ballroom, located on the third floor of the Plaza Hotel & Casino, opening at 5:30. The card is televised by ESPN2. continue


---
28.04.05 - By Ali Mohammed: On April 30, two of the biggest names in the current boxing business will square off to fight for the WBA heavyweight championship. Two different schools will be involved in this blockbuster; the first school will be presented by Norman Stone and John "the quiet man" Ruiz and the second school will be presented by Freddie Roach and James "lights out" Toney. continue


---
28.04.05 - By Octavius Chatman: On 4/18/05, Joe Mesi was informed that he could not continue his boxing career based on the findings and advise of medical experts from the Nevada athletic Medical advisory Board. If Mesi was allowed to continue his boxing career, could he have possibly went on to become the heavyweight champion of the world? This is a question that I'm sure many fans and boxing insiders will debate for years to come. Let's take a look back at his last two fights and opponents. continue


---
28.04.05 - By Shane Cullum: Let's assume for a minute that Don King is serious about this whole heavyweight unification idea. If that's the case, then I hate to say it, but I just might be rooting for John Ruiz to beat james Toney this Saturday. Not because I like him as a boxer, but because I'm looking out for the best interests of the heavyweight division. Let's assume that the winner of Toney-Ruiz will fight Chris Byrd sometime in September or October. continue


---
28.04.05 - A memorial service for longtime boxing writer Jack Welsh will be held Tuesday, May 3, at 2:30 p.m., in the Islander Ballroom at Mandalay Bay. Welsh, 80, died in his sleep after returning home after covering a boxing card Saturday at Caesars Palace. A Las Vegas resident for more than 20 years, Welsh's writing career spanned more than five decades and garnered numerous awards. Richard Steele, the Hall of Fame boxing referee and an ordained minister, will officiate.


---
28.04.05 - By Scoop Malinowski: Usually Asian boxers do not have a very striking physical appearance. But Yodsanan 3K-Battery of Thailand is one of the most impressive looking fighters I've ever seen, right up there with Duran, Hopkins, Tyson, Dempsey, etc. He has an appearance that you don't forget...tremendous physical condition and burning, intense eyes. And the heavy-hitting southpaw is an excellent and dangerous fighter. continue


---
28.04.05 - By Gail Carelli: If you're reading this article, then you probably already know that the Nevada State Boxing Commission revoked Joe Mesi's license after his fight with Vassily Jirov. Mesi won the fight, but at a high cost: he suffered from at least two subdural hematomas. Defined in simple terms, a subdural hematoma is bleeding in the brain caused by severe blunt force trauma to the head. It is quite often fatal, and is the leading cause of ring fatalities. [see the Journal of Combat Sport, online at http://ejmas.com/jcs ].

What is confounding is that even though it was reported that a month after the fight, one of the bleeds reopened and increased in size when Mesi was moving furniture, doctors who support Mesi still say there's no proof that he's more likely than any other fighter to suffer the same injuries if he gets back into the ring. So what we're left with is that neither side of the debate can prove that he is or isn't at a higher risk. continue


---
28.04.05 - Former #1 ranked super middleweight boxer in the world, Syd "The Jewel" Vanderpool plans to make a career announcement Sunday, May 1st, 3:00pm at Philthy McNasty's 50 Westmount Road North in Waterloo. Following the announcement, the community is invited to celebrate and offer up congratulations. continue


---
CANASTOTA, NY – APRIL 28, 2005 - The International Boxing Hall of Fame announced today popular former junior welterweight star "Irish" Micky Ward will attend festivities planned for the 16th Annual Hall of Fame Induction Weekend set for June 9-12th. Fighting out of Lowell, MA, Ward retired from the ring in June 2003 following a hard-fought loss to rival Arturo Gatti in the third bout of their epic trilogy. continue


---
NEW YORK, NY (April 27, 2005), -- Former two-time world champion MANNY PACQUIAO announced today that he has filed suit against his promoters M&M Sports, Inc. and Murad Muhammad, in United States District Court for the Southern District of New York. continue


---
27.04.05 - Cestus Management's junior welterweight sensation "Mighty" Mike Arnaoutis is set to make his return to the ring on Friday, May 20th, 2005. The undefeated "Pride of Greece" will make a record fifth consecutive appearance on the Showtime Network's ShoBox: The New Generation series. continue


---
LOS ANGELES, April 27th – Five minutes. That's all it took for every ticket to the May 24 live finale of NBC's realty-tv series "The Contender" to be sold out at Caesars Palace in Las Vegas, making a huge statement that declares 'boxing is back'. "Our fans love the show and are excited to see the final fight of the tournament," said executive producer Mark Burnett. "The finale promises to be an incredible night of boxing and entertainment. I can't wait to see who wins the million!" continue


---
27.04.05 - By Ted Luzzi: Wednesday night April 20th the USA network carried the movie "Ring of fire. The Emile Griffith story" Since the success of Clint Eastwoods "Million dollar Baby" boxing movies are back in vogue. The story of Emile Griffith is a very interesting one. Emile Griffith was a fighter that achieved the highest honors in his weight class winning the welterweight championship three times. Griffith then became one of that rare class of fighter that has skill enough to win the title at a higher weight. He won the middleweight title twice. He fought a total of 24 world title fights, and at one time had a 15-1 record in title fights. Emile Griffith fought at a time when there was only one world champion and competition was tough. His 339 rounds in world title fights are more than any other fighter in history. He also knew tragedy.. He mortally wounded World Champion Benny Paret while winning the world welter title from him. Griffith was never the same after Parets death. Griffiths friend Keith Stechman arranged a phone interview with Griffith for me on Monday. I talked to Emile and found he was the friendly very likeable man everyone says he is. continue


---
BOSTON (April 27, 2005) – First-year boxing promoter NER Promotions has strengthened its growing stable of fighters by signing four veteran South American boxers – WBO No. 5 rated welterweight Newton Villareal (23-3, 19 KOs), super flyweight Ilido Julio (32-6-1, 29 KOs), Ecuadorian Olympian junior middleweight Luis Hernandez (12-2, 6 KOs) and lightweight Jefferson Rodriguez (19-6, 18 KOs). continue


---
27.04.05 - By Geoff Mckay: This Saturday, James Toney and John Ruiz will face each other for the WBA championship belt. It will be interesting to see if Toney can follow in Roy Jones' shoes, and outbox the larger man, however, the fight I am really interested in is on the under card, which has Derrick "D-Train" Jefferson battling DaVarryl "Touch of Sleep" Williamson. continue


---
27.04.05 – New Zealand champion Shane "The Mountain Warrior" Cameron is in top shape for his IBF Australasian heavyweight title fight against his Australian counterpart Colin Wilson in Auckland tomorrow night. The 27-year-old Cameron came in at 107.70kg at today's weigh-in at the Cullen Sports boxing gym in Penrose today. His rival was a fraction more than 6kg heavier at 113.8kg. continue


---
27.04.05- It is fight week in the Big Apple, kicked off by DiBella Entertainment when Broadway Boxing Presented by Mohegan Sun is on the big stage this Thursday night, April 28. And talk about a local flavor - from Union, NJ to Bridgeport, CT, to Fort Apache in the Bronx, here come the fighters on a spectacular eight-bout show! continue


---
LOS ANGELES, April 27 – Golden Boy Enterprises, led by Oscar De La Hoya, and Highridge Partners, an international real estate developer and investor headed by John Long, today announced the formation of a new company, Golden Boy Partners, to revitalize and redevelop urban Latino communities. continue


---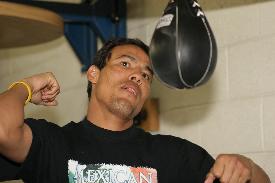 27.04.05 - Photo: Tom Casino/Showtime - In a highly anticipated match-up, the two best 135-pound boxers in the world will square off when WBC Lightweight Champion Jose Luis Castillo takes on WBO Champion Diego "Chico" Corrales in a world title unification bout Saturday, May 7, 2005, on SHOWTIME at 9 p.m. ET/PT (delayed on the West Coast).

In the excellent SHOWTIME CHAMPIONSHIP BOXING co-feature, IBF/WBA Featherweight Champion Juan Manuel Marquez will defend his titles against WBA No. 5 contender, Victor Polo. The world championship doubleheader at Mandalay Bay Resort & Casino in Las Vegas will be co-promoted by Gary Shaw Productions, LLC, Top Rank, Inc., and Banner Promotions. continue


---
27.04.05 - 2000 Olympic gold medallist Audley "A-Force" Harrison (17-0, 12 KOs) will return to the ring on June 9 against Billy Zumbrun (17-6-1, 9 KOs) on FSN's Best Damn Sports Show Period. "The wait is over for me and my fans," said Harrison. "On June 9 people will realise I am ready to begin the next phase of my career that will end up with the heavyweight championship of the world." continue


---
27.04.05 - One month prior to his WBO heavyweight title eliminator against Lance Whitaker European champion Luan Krasniqi, 27-1-1 (14), has to pass the first sequence of athletic tests set by his trainer. "It's about power, running and stamina", coach Torsten Schmitz explained. Krasniqi and Schmitz currently work out at Universum Box-Promotion's gym subsidiary in Berlin. continue


---
27.04.05 - By Bernie McCoy: I finally found "A Ring of Their Own". It took me almost as long as it took the sport of Women's boxing to get it's own TV show. The problem of female boxers getting TV exposure has been well documented, but in my case the problem of finding "A Ring of Their Own" was directly related to the fact that it is being broadcast in near obscurity on the Metro Channel in New York. continue


---
27.04.05 - By Balazs Katai, www.profiboksz.hu: Zsolt Erdei (22-0, 13KO) began his professional carrier as an amateur world champion, 2x european champion and olympic bronze medallist in 2000. Four years later he became WBO lightheavy weight world champion after he had beaten Julio Gonzalez easily. Since then the 30 year old hungarian fighter has defended his title three times. continue


---
27.04.05 - By Mike Indri, Retired Boxers Foundation: This Saturday night's heavyweight championship fight between current and two-time World Boxing Association champion John Ruiz and future hall-of-famer James Toney, a three-time world champion, has been tabbed the "Turning Point" by promoter extraordinaire Don King - citing the ramifications this fight could have on the overall climate of today's muddled heavyweight division. continue


---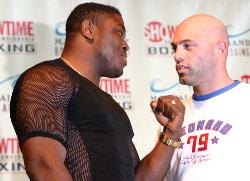 27.04.05 - Photo: Wray Edwards - Representatives for heavyweight terror Samuel "The Nigerian Nightmare" Peter want to ask boxing's sanctioning bodies, and television networks why they insist on recycling the same old names for high-profile fights instead of giving some worthy new contenders a chance to breathe some life back into the division.

With well-traveled veterans like Jameel McCline, DaVarryl Williamson, Derrick Jefferson, Wladimir Klitschko, Lance Whitaker and Monte Barrett being afforded opportunities to fight title eliminators, while all-too familiar names like Hasim Rahman and Andrew Golota get their second and third world-title tries and with former promising contenders like Dominick Guinn confirming their limited abilities lately, Team Peter say they're amazed to see the most dangerous young puncher in the world getting bypassed. continue


---
27.04.05 - There's a violent storm brewing in Britain, taking the form of an explosive all-action firefight that will take place in the hard backstreets of South London on Thursday night, May 12th. That's when British Champion Graham Earl and Commonwealth Champion Kevin Bennett will engage in the highly anticipated showdown that promises to shake up the hottest weight class in the sport today, the lightweights. continue


---
27.04.05 - By Jim Amato: We are being led to believe that on May 21st in Chicago there will be a contest for the heavyweight championship of the world. Jack, Joe and Rocky must be spinning in their graves! On that date Lamon Brewster will defend his bogus W.B.O. heavyweight title against long time challenger Andrew Golota. continue


---
26.04.05 - KO Chicago Radio and 8 Count Productions, home of THE BEST IN CHICAGO BOXING is proud to present Heavyweight Champion of the World John Ruiz tonight as he prepares for his showdown this Saturday night with James Toney at New York City's Madison Square Garden. continue


---
26.04.05 - World Boxing Organization junior middleweight champion Daniel "El Pillin" Santos signed an exclusive promotional agreement with Don King Productions today. "Daniel is another proud Puerto Rican world champion and I'm excited to have him with me," promoter Don King said. continue


---
26.04.05 - Denver, Colo. – On a night in which the WBA Heavyweight Title will be contested, it is the supporting bout that may have the most potential for fireworks. Bringing the kind of excitement that only heavyweights can bring to the ring, fans will be treated to a clash of true big hitters. continue


---
26.04.05 - By Dan Frost: With there being alot of talk and speculation in recent months regarding the eagerly awaited rematch between current undisputed middleweight champion and future hall of famer Bernard 'The Executioner' Hopkins and the popular Puerto Rican puncher Felix 'Tito' Trinidad, I was drawn into revisiting their first encounter which took place on Sept 29th 2001(the fight was actually rescheduled due to the 9/11 terrorist attacks). Both fighters were at the time looking to unify the WBC/WBA/IBF titles and to also become the first undisputed middleweight champion since the great Marvin Hagler in the 1980's.

What I find extremely remarkable to this very day regarding the build up to the fight was, despite Hopkins having a stellar and dominant career at middleweight, to which Trinidad had recently ascended, Hopkins had entered the fight a 3-1 underdog? continue


---
26.04.05 - During the past 11 months, undefeated and reigning North American Boxing Federation and United States Boxing Association heavyweight champion Samuel Peter of Las Vegas has made considerable headway in his assault on a world title. But, then, why not, since the highly regarded, 24-year-old slugger has vowed that winning a world championship is his life's work. continue


---
Las Vegas, NV ( April 25, 2005) - - Jack Welsh, an award-winning fight writer who has been at ringside at major Las Vegas boxing events since the early 1980s, has passed away. Welsh, believed to be in his early 80s, was found in his apartment here late Monday afternoon. Welsh covered boxing for many publications, including the Philadelphia Journal daily newspaper where he was the chief fight writer from 1978 to 1979. continue


---
25.04.05 - By Jim Amato: With the results in from last Saturday night's exciting ESPN-PPV card, we can now look forward with much anticipation to some possible future match ups. How about Antonio Margarito defending his WBO crown against the respected former champion Shane Mosley ? Margarito was surprisingly awesome against Kermit Cintron scoring a decisive fifth round kayo. Mosley looked fairly sharp in his return to the welterweight class as he outpointed the formidable David Estrada. continue


---
25.04.05 - By Matthew Hurley: With his fight against James Toney fast approaching WBA heavyweight champion John Ruiz is well aware of his egregious reputation among boxing fans, writers and broadcasters. But the "Quietman's" response to all the criticism leveled at him is little more than a wink and a nod. "They can say all they want, but I'm still here. I'm still winning and I plan on winning against Toney." Indeed the lack of respect Ruiz is forced to endure is a bit of a puzzle, at least on paper. continue


---
LOS ANGELES, April 25 – With a little over a month left until the much-anticipated finale of NBC's reality series "The Contender", the six remaining middleweights are preparing for their chance to shine in front of the nation for one five round bout that will determine boxing's next contender. continue


---
25.04.05 - By Chris Acosta: For any boxing fan, you had to love what this past weekend was all about. For once I actually didn't worry too much whether a PPV card was going to deliver or not. ESPN's 29.95 price tag was a hell of a lot more reasonable than the usual fifty dollars you get for one main event and obligatorily noxious undercard. And with what was originally supposed to be four feature attractions (before the Juan Diaz-Ebo Elder fight was cancelled), there could possibly be a new revolution in discount cost for those of us who subscribe faithfully to these events.

Oh sure, my girlfriend wasn't too pleased as I began the day by watching ESPN Classic fights like Holyfield -Dokes and the always mesmerizing Leonard - Hearns 1. I guess she thought that those were the bouts I had been talking about all week until I sheepishly explained otherwise. continue


---
25.04.05 - Vinton, LA— Promoter Dana Pitcher and Delta Downs Racetrack Casino & Hotel is announcing the line-up of bouts for their boxing show, "Showdown at the Downs," on April 30 at Delta Downs Event Center in Vinton, Louisiana. The ten-round main event will feature heavyweight sensation Cisse "CC" Salif 14-3 (13 KO's). continue


---
25.04.05 - Promoter Frank Warren is delighted to announce that Amir Khan will face Olympic Champion Mario Kindelan on Saturday 14 May at the Reebok Stadium in Bolton. Khan was scheduled to meet Kindelan on April 30 but the Cuban was unable to make the date due to commitments for other fights but maintained he would return to England to fight the youngster in a rematch of their Olympic final last year in Athens. continue


---
25.04.05 - English Light-Welterweight Champion Nigel Wright will still head for work at the Spennymoor Leisure Centre in County Durham on Friday 27 May but will not check-in as usual to do his shift as a lifeguard. Instead, the hard-hitting Hartlepool southpaw will headline Sports Network's Fight Skool show with the first defence of his title against Northampton's former English title-holder Alan Bosworth. continue


---
25.04.05 - Up and coming heavyweight contender Alexander Dimitrenko (22) will take on former cruiserweight champion Al "Ice" Cole at Volkswagenhalle in Braunschweig, Germany. Cole was holding the IBF cruiserweight title from 1992 to 1995 while making five successful defenses. Since 1996 Cole has exlusively fought in the heavyweight division. "I know Cole quite well," coach Fritz Sdunek said. "He is a top contender, even though he's over 40." continue


---
25.04.05 - By Scoop Malinowski / Boxinginsider.com - What a performance. With one hand he was totally dominating a world class contender. Wladimir Klitschko proved beyond any shadow of a doubt he is most certainly back. And back in a very big way. Sometimes the champion has to overcome the most extreme adversity to reach the mountain top. Some champions have to hit the rockbottom lowest of lowpoints before they can discover who they really are. continue


---
25.04.05 - By Dr. Zee: After failing to secure a fight with Byrd or Lyakhovich, Castillo was selected as the opponent. Castillo credentials were thus. He was a well schooled Cuban amatuer fighter. Best described as a slick boxer who has never been floored or knocked out, Castillo brought an undefeated professional record into the contest with a recent win over former Champion Michael Morrer.

Fans and critics alike were eager to see Wladmir Klitschko. Would he remind us of the enormously talented fighter that most critics stamped as the next great heavyweight, or would he snatch defeat form the jaws of victory by fighting foolishly and punching himself out, and leaving himself wide open? The answers to these questions came into focus last Saturday night. This was Wladmir's first professional fight without Vitlay in his corner. In the ring, a man must fight alone. Wladimir displayed both confidence and poise as he entered the ring. A ring that seemed to suit his opponent. Before the first bell sounded, it was learned that conditions were favorable for Castillo. A huge 24 x 24 ring would enable Castillo use more movement, and in theory expedite any stamina problems Wladimir might have. continue


---
BOSTON (April 25, 2005) - New England Ringside Radio Show has added an additional broadcast Saturday evenings to go along with its regular Thursday night show on WWZN 1510 The Zone in Boston. "Due to the tremendous response from the boxing public," NER president Rick Brutti explained, "we added a Saturday night show. Many of the biggest boxing fights are on Saturday night and our additional show enables us to go into more detail about them." continue


---
LAS VEGAS, NV (April 25, 2005) – Four months into 2005, and already another "Fight of the Year" candidate has emerged – at least on paper. Can two-time WBC lightweight champion JOSÉ LUIS CASTILLO solidify his claim as the top dog in his division or will he be stopped cold by the hardest hitting champion he has ever faced, three-time world champion and reigning WBO lightweight titlist DIEGO CORRALES? One thing is for sure, the winner of this mega fight will see his stock soar to the top of the mythical Pound-for-Pound list. continue


---
24.04.05 - By Chris Ambs: Last night, Sugar Shane Mosley made a come back of sorts in the 147 pound division. He was powerful, fast, dominant, and smart, although none of those things in the same way he used to be. Shane started fast scoring with combinations to the head and body in winning a unanimous 10 round decision over David Estrada (18-2, 9 KO's) on Saturday night at Caesars Palace in Las Vegas. Mosley did what was expected when Estrada got close; he held on and did a little bit of work where he could. continue


---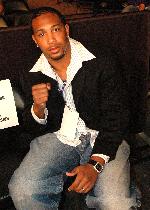 23.04.05 - By Frank Gonzalez Jr.: Friday night at Caesar's Palace in Las Vegas, Heavyweights Dominic "Southern Disaster" Guinn (25-2-1-18 KO's) and Friday "The 13th" Ahunayu (20-3-2-11 KO's) faced each other in what may have been one of the least entertaining fights I've seen on FNF-and I've seen a few. Neither fighter did enough to win a single round convincingly. In the end, after ten boring rounds, the Judges scored 97-93 and 95-95 twice, rendering it a Majority Draw.

After rubbing my eyes and several yawns, I tallied up my scorecard. Forget about the ten-point-must system in scoring, I had six of ten rounds even at 9-9, because I didn't think either guy won those rounds. Guinn won the second and third rounds and Ahunayu won the fourth and eighth rounds. I also had it a Draw, but by a score of 92-92. Dominic Guinn gave the impression that he would rather be doing something else for a living.

Guinn didn't throw many punches, forget about combinations, he was quick to clinch and he was falling forward after jabbing and never showed any sign of a killer instinct. THIS is the guy we were all so high on just two short years ago. continue


---
23.04.05 - By Izyaslav "Slava" Koza: After watching this fight with a bunch of casual boxing fans tonight, I gained a bit of perspective on Wladimir Klitschko. When he was knocking the crap out of Ray Mercer, Derrick Jefferson, and Chris Byrd, he was an exciting crowd pleasing fighter that everyone rooted for, ala the praise received by Mike Tyson in his prime. continue


---
23.04.05 - At the State Sports Centre Homebush in Sydney on a d-Rush promotion on Sunday night the promising Ahmed Elomar won the vacant Australian jnr lightweight title with a unanimous technical decision over Daniel Hoskins (scores 80-71 x 3). Hoskins cut. Billy Dib, who relinquished the Australian title he won in his fifth professinal bout pitched a twelve round shut out decision over Filipino Robert Oyan to claim the IBO Asia Pacific jnr lightweight belt. This was the inaugrial IBO Asia Pac title fight. By accounts Dib looked a million bucks. continue


---
22.04.05 - By Ali Mohammed: HE'S BACK- That was the most repeated sentence last night in Dortmund, Germany as the former WBO heavyweight champion Wladimir Klitschko destroyed Cuban Eliseo Castillo in the fourth round of their non title fight. Eliseo looked confident and relaxed when he came into the ring. Wladimir ring entrance was another story; It was so big, with a lot of lights and laser works accompanied by soft music. In my opinion, it was like a king coming back victorious to his throne after a terrible war. continue


---
22.04.05 - By Lee Hayes: Saturday, April 23rd, Wladimir Klitschko is set to fight someone by the name of Eliseo Castillo who, no disrespect to Eliseo, is barely a household name in his own household. The fight was originally being sold as some sort of a title fight eliminator, for the right to fight Chris Byrd for his IBF heavyweight title belt. If you aren't questioning what exactly it is that Wladimir Klistchko has accomplished over the past two and a half years to deserve a title shot, you should certainly be asking yourself what on this earth Eliseo Castillo has. The fight will no longer be hyped as a title eliminator, because, as it turns out, Wladimir Klitschko and his team have realized that although it has its moments, even boxing isn't that sleazy.

As you can probably gather, this article is not going to be a typical Klitschko cheerleading session. Instead, I am going to try something refreshing, an honest evaluation of the giant Ukrainian. continue


---
22.04.05 - Undefeated Paul Williams kept his perfect record intact by registering a 10-round unanimous decision over former Olympic bronze medalist Terrance Cauthen Friday on "ShoBox: The New Generation." In the action-packed co-feature from the Chumash Casino Resort in Santa Ynez, Calif., Rolando Reyes won the California State junior welterweight title with a ninth-round TKO over Jose Antonio Ojeda. continue


---
22.04.05 - By Harry Summers Jnr.: Chris John successfully defended his WBA World featherweight title tonight against American, Derrick "Smoke" Gainer by way of unanimous decision at the Britama Arena in Jakarta, Indonesia. Chris John was down early in the first stanza and received a standing 8 count. He proceeded to dominate the rest of the round and boxing to plan. continue


---
22.04.05 - By Tyrus Linston: On Saturday night ESPN will do what it has probably wanted to do all along: jump into the PPV pot alongside paying television's two largest entities, HBO and Showtime. The monies generated from such a move, especially when you factor in ESPN's deep pool of resources, could be substantial. This particular PPV will showcase four big fights, with all of them having title fight ramifications. continue


---
22.04.05 - By Tony Nobbs: WBU bantamweight champion Nathan Sting scored a cut eye TKO victory in round three of young Filipino trier Rey Martizano at Southport RSL on last night. In his first outing in nineteen months the workman like Sting was always going to win but substitute Martizano was giving a respectable account of himself and it was unfortunate the cut occurred denying the Gold Coaster from much needed rounds. continue


---
22.04.05 - By Darrell La Montre: When WBO Welterweight Champion Antonio Margarito (31-4 22 ko's) of Tijuana, Mexico faces Kermit 'The Killer" Cintron (24-0 22 ko's) of Carolinas, Puerto Rico this Saturday on ESPN PPV, fistic fireworks are a foregone conclusion. Given their exciting styles, how can this not be a fight of the year candidate? Sure, there have been plenty of fights that have not lived up to their expectations, but something tells me this won't be one of them. continue


---
22.04.05 - By Neil Goodman: 'Boxing is a hard sport', a statement of the obvious? Yes, of course it is. In all honesty it is hard to think a sport which is more mentally and physically challenging. At the end of the day, after you take into account the training, sparring, making the weight, nerves and of course the opponents punching; the margin between victory and defeat can be wafer thin.

I have seen it time and again; a good fighter who seems to do everything right and has all the natural ability in the world, but for some reason things just do not seem to workout. Time and again they enter the ring and wheels simply fall off. Either their timing is off or their punches lack snap and power. Then as their confidence fades the punches which would have once just missed start to land. There is no better illustration of this reversal of fortunes than the recent fall from grace of Roy Jones Jnr. continue


---
22.04.05 - By Tony Nobbs: Popular Australian heavyweight 'Big' Bob Mirovic was on the Gold Coast on Wednesday as the build up to his June 24 WBF title fight with Missouri's Rob Calloway begins. Eastside spoke to Mirovic while he was driving around town with promoter Jamie Myer. continue


---
22.04.05 - Four undefeated fighters will put their perfect records on the line when "ShoBox: The New Generation" returns to Connecticut on Friday, May, 6, 2005. The main event will feature "ShoBox" veteran Sechew Powell against Cornelius Bundrage in a 10-round middleweight showdown. In the co-feature from Foxwoods Resort Casino in Mashantucket, Conn., junior middleweights Yuri Foreman and Kevin Cagle will square off in an eight-rounder tussle. continue


---
22.4.2005: Newly created Timebomb Promotions made a successful debut, despite several last-minute changes, when they kicked off with a four-bout card on Saturday (April 23) afternoon at the Pal Pal Gymnasium in Nairobi, Kenya. A fair crowd had turned up even though the main event featuring former African heavyweight champion Joseph Akhasamba was called off when his opponent pulled out, and the action was good from start to finish. continue


---
22.04.05 - By Don Caputo: This Saturday night, 'Sugar' Shane Mosley makes his long over-due return to the Welterweight ranks, in a move that could be seen as a last ditch attempt to reverse his fleeting fortunes. A victor in just one of his last six outings, Mosley is looking to once again stake his claim in the revitalized and talent rich 147-pound division as he takes on promising young contender, David Estrada. continue


---
Waco, Texas April 22, 2005 - 7 Time World Champion Ann "Brown Sugar" Wolfe is scheduled to fight on the Antonio Tarver vs. Glen Johnson card on June 18, 2005. She currently does not have an opponent for this fight. Wolfe welcomes any woman fighting in the Super Middle Weight or Light Heavy Weight division. A press conference will be held on May 2, 2005. Location to be announced. continue


---
22.04.05 - Nottingham's British and Commonwealth super middleweight champion Carl Froch made a sensational US debut on Thursday night in the headline event of a live HBO Latino broadcast by stopping the highly respected Costa Rican Henry Porras in eight rounds at the Avalon venue in Hollywood.

Many had predicted a tough nights work for 'The Cobra'. Porras is a top line operator, as his WBC #11 rating underlines, with a track record of holding his own against the world's best including Danilo Haussler, Mikkel Kessler and most recently Otis Grant.

Froch, in just his 15th fight, outperformed them all to complete his progression from hottest prospect in world boxing to hottest property. continue


---
22.04.05 - By Jeff Steward: Famed trainer Emanuel Steward is fond of saying something to the effect that a good big man will beat a good little man every time. This Saturday night it will be a big man, Jameel "Big Time" McCline, versus Calvin Brock. Brock at 6'2" and typically weighing in around 222lbs can only be considered little by the new crop of heavyweights like McCline who stands at 6'6" and lately comes to the ring at 270 plus pounds. continue


---
22.04.05 - by Chris Ireland: ESPN has delivered sports worldwide, and calls itself the leader in such business. But the network, along with many other major mediums of its sort, has yet to be the worldwide leader in your sport -- boxing. ESPN's boxing program, Friday Night Fights, has regularly offered cards featuring talent a step or two below that of HBO's and Showtime's, and was gradually decreasing its budget for the pugilistic sport until this year. continue


---
22.04.05 - From WBC President Jose Sulaiman: "The World Boxing Council deeply regrets the passing away of Japanese boxer Seiji Tanaka after an accident during a fight on April 3 in Japan. We are very proud, however, of the exemplary efforts of the Japan Boxing Commission's medical committee in trying to save him - Tanaka reached the hospital in less than 15 minutes. continue


---
22.04.05 - By Jim Amato: I just had the absolute pleasure of viewing "Ring Of Fire"; A documentary on the great career of former world champion Emile Griffith. The main focus was the effect the death of opponent Benny "Kid" Paret in the final chapter of their exciting trilogy. In reality it was more then that. It showed what a great fighter and even greater man Emile Griffith was and is. continue


---
22.04.05 - With a little over one week to go before his destiny match for the World Boxing Association World Heavyweight Championship against WBA world champion John "The Quietman" Ruiz on April 30 at the Mecca of Boxing, Madison Square Garden in New York, James "Light's Out" Toney is declaring himself ready to "rock New York" when he breaks camp this Saturday and heads out to New York with trainers Freddie Roach and John Arthur. continue


---
22.04.05 - Undisputed Super Lightweight World Champion, Kostya Tszyu, (31 wins, 1 loss, 1 no contest – 25 knockouts), will open his training doors to the sports fans of Sydney tomorrow with a lunchtime blockbuster event in Martin Place amphitheatre.

Tszyu will demonstrate his gruelling training regimen in Sydney's busiest thoroughfare, in a purpose-built boxing ring and gym. The Russian-born pigtailed pugilist will warm up in First Fleet Park, Circular Quay, before making an historic run up Pitt St at 12 noon, accompanied by full police escort. "I'm very pleased to bring this show to my fans in Sydney," said Tszyu. "This is my chance to give something back to them. So often I'm fighting in my opponents' backyard, so this is a big honour for me."

Tszyu will enter the arena at approximately 12.10pm to what organisers expect will be a crowd of several thousand awaiting fans. Australia's most celebrated boxing champion will spar with leading middleweight contender, Sam "King" Soliman, before being put through his paces by legendary boxing trainer, Johnny Lewis. continue


---
22.04.05 - By Kent Appel: Three years ago in 2002 Wladimir Klitschko of Kiev, Ukraine was riding high, dominating almost all of those put in front of him on the way to becoming heavyweight champion of the world. But something happened to Klitschko's ride to the top, namely two devastating knockout losses to Corrie Sanders and Lamon Brewster, in 2003 and 2004 respectively and suddenly Klitschko, 3-2 since 2003, has become a big question mark, possibly another talented prospect who might not live up to his potential. continue


---
22.04.05 - By Harry Summers Jr.: Ahead of their WBA featherweight title clash tomorrow in Jakarta, Indonesia, defending champion Chris John, 34-0-1 (19), comfortably made weight today, weighing in at 125.60lbs, while challenger Derrick "Smoke" Gainer struggled. In fact, the ex-champ, who at 5'9" has a large frame for a featherweight, almost ran out of time! continue


---
21.04.05 - 5 years after his sensational gold medal at the 2000 Olympic Games in Sydney, Australia, Mohammad Abdullaev (Muhammadqodir Abdullaev) from Uzbekistan will challenge Miguel Cotto in a highly anticipated world championship fight on June 11 at Madison Square Garden of New York. "This will be a historical fight on an historical location", promoter Bob Arum said. "Thousands of fans from Puerto Rico will fill the arena to watch Cotto and to watch the parade of the Puero Ricans in New York the next day." continue


---
21.04.05 - The highlight of today's the press conference was when one of the Roman-clad Caesars models brought a tray of food to Cintron as Cintron spoke at the podium. Cintron said he is on weight so he is able to eat whatever he wants. The tray held a 12 oz steak, two cheeseburgers, and a plate of fries. While Margarito was talking at the dais, Cintron continued eating his steak and fries. continue


---
21.04.05 - In one of two world title fights on Saturday, May 7, on Showtime Championship boxing at 9 p.m. ET/PT (delayed on west coast), Juan Manuel Marquez will defend his IBF/WBA featherweight titles against Victor Polo, who is the WBA No. 5 featherweight contender. Two-time WBC Champion Jose Luis Castillo and WBO Champion Diego Corrales will collide in a world lightweight title unification bout in the May 7 main event on Showtime. continue


---
20.04.05 - By James Moore, Photographs by Paul Speak, taken Friday, 7th April: With the boxing world waiting on the edge of their seats for Ricky Hatton's long awaited world title challenge, "The Hitman" has been diligently preparing for his meeting with arguably the world's most feared fighter, Kostya Tszyu, during the early morning hours of June 5th in Manchester, England. Without further introductions, www.rickyhitmanhatton presents Ricky, the "Whirlwind of Bad Intent", from his training base of Billy Graham's Phoenix Camp gym...

"Hi everybody,

My preparation has been superb. I started training camp a month earlier than normal and I've been able to start my weight training earlier as well. My timing and fitness levels are razor sharp already. Also, because I started camp a month earlier, I'm a full 12lbs lighter than I would normally be at this stage of my training. I'm sure the photos show what good shape I'm in with a month and a half to go, hopefully silencing all the crap that has been going around regarding my condition and weight. continue


---
20.04.05 - Both Carl Froch and Henry Porras scaled inside the super middleweight Championship limit of 12 stone this afternoon, even though their top of the bill ten-round showdown on the HBO Latino promotion at the Avalon venue in Hollywood tomorrow night is a non title affair. Froch came in at 11 stone 13lbs, whilst Costa Rican Porras was three quarters of a pound heavier. continue


---
20.04.05 - Don King has added two more world title fights to his April 30 Madison Square Garden card that will already showcase the WBA heavyweight title main event featuring two-time and current champion John Ruiz vs. three-time world champion James Toney and two additional heavyweight title matches. IBF junior bantamweight champion Luis "El Demoledor" Perez will defend his title for the second time against mandatory No. 1 contender Luis Bolano. continue


---
20.04.05 - By Tony Fondacaro: Of all the things Eliseo Castillo thought he would be in his boxing career, I don't think he ever imagined himself being the litmus test of Wladimir Klitschko; the heavyweight who couldn't. He's an undefeated, relatively talented fighter whose biggest win is a unanimous decision over Michael Moorer last July. continue


---
20.04.05 - Vitali Klitschko underwent successful back surgery Tuesday in Los Angeles, and the World Boxing Council heavyweight champion should be able to fight again in September, according to Bernd Boente, Personal Manager, Klitschko Brothers. The 35-minute operation was performed by Dr. Hyun Bae, who removed a small spur from Klitschko's spine. continue


---
20.04.05 - Classic Entertainment & Sports, Inc. has signed Buffalo middleweight "Lightning" Les Ralston (14-1, 7 KOs) to a promotional contract, CES president Jimmy Burchfield officially announced today. "We're building our stable of fighters by signing some of the best prospects in boxing" Burchfield said. continue


---
20.04.05 - Making his first start in six-and-a-half months, Wladimir Klitschko will take on undefeated Eliseo Castillo in an important heavyweight bout Saturday, April 23, in Dortmund, Germany. The match will be shown on HBO After Dark at 9:45 PM ET/PT.

Question: Bernd, what is the latest on WBC Heavyweight Champion Vitali Klitschko?

Boente: The latest update is that Vitali will undergo surgery in exactly three hours (2 p.m. PT, Tuesday) in Los Angeles. It is really a minor surgery. He had problems in the back. There was a little spur at the spine that was pushing on a nerve and it was really hurting him. He tried to work it out the conventional way, trying to get injections for one week or so. That did not help and so the doctor said to have the surgery. He will have to have rehab for about six weeks or so and then he will be ready to go again. He will definitely be able to fight in September. continue


---
20.04.05 - By Paul Ruby - thepaulruby@hotmail.com - Wladimir Klitsckho is quite possibly the most physically gifted heavyweight on the planet today. Unfortunately for him, physical gifts alone do not get a fighter very far at the highest level of this sport. After a blazing start to his professional career, the 1996 Olympic Gold Medalist has sailed into some rough waters lately, losing 2 of his last five fights by knockout. continue


---
20.04.05 - By Patrick Corcoran: Among the more precipitous declines of highly touted fighters in recent years is that of Vladimir Klitschko. With a wide array of weapons, terrific hand-speed for a big man, and great size, just two and a half years ago, he seemed the heir apparent in the heavyweight division, if not Lennox Lewis' usurper. He had a lot of people convinced; no less than Jim Lampley said he was the future of the division. continue


---
20.04.05 - On the eve of his US debut against WBC #11 Henry Porras at the Avalon venue in Hollywood, British and Commonwealth super middleweight champion Carl Froch has once again undermined Joe Calzaghe's attempts to avoid fighting him. "I am starting to feel sorry for the Calzaghes," began Froch. continue


---
20.04.05 – Puerto Rican lightweight Juan "Golo" Gomez-Trinidad has signed a promotional contract with NER Promotions, NER president Rick Brutti announced today. The 30-year-old Trinidad is a cousin of the great Felix "Tito" Trinidad. "The Trinidad name is one of the most respected in boxing and we're very happy to add 'Golo' to our stable of fighters," Brutti said. continue


---
20.04.05 - Don King always packs his fight cards with tremendous bouts, and he's doing it again on April 30 at Madison Square Garden by adding two great heavyweight title matches to go with the intriguing World Boxing Association heavyweight championship featuring champion John "The Quietman" Ruiz against challenger and three-time world champion James "Lights Out" Toney. continue


---
20.04.05 – IBF mandatory challenger Cosme "Chino" Rivera (28-7-2, 20 KOs) plans on shocking the boxing world May 14 when he fights defending champion Zab "Super" Judah (33-2, 24 KOs) in the 12-round co-feature, headlined by Tito Trinidad-Winky Wright, for the undisputed (IBF, WBC & WBA) welterweight titles on HBO PPV from the MGM Grand in Las Vegas. continue


---
20.04.05 - Desert Diamond Casino and Oscar De La Hoya's Golden Boy Promotions are going to celebrate Cinco de Mayo in style as they present another elite boxing card live from the Diamond Center. The Thursday, May 5, 2005 "Boxeo de Oro" show will be shown to a worldwide audience on HBO Latino. continue


---
19.04.05 - On Monday afternoon, another nail was hammered into the once promising boxing career of Joe Mesi when four medical experts from the Nevada athletic Medical advisory Board voted not to lift a medical suspension and advised Mesi to stop boxing. "You're at significant risk of cranial injury and dying in the ring," said neurosurgeon Dr. Albert Capanna. continue


---
19.04.05 - By Tony Nobbs: Nathan Sting returns to action on Friday night at the Southport RSL on the Gold Coast for the first time since September 2003. In Sting's last outing he scored a tough twelve round points win over British champion Nicky Booth retaining the WBU title he captured by stopping veteran Johnny Armour the previous July. After the Booth fight Sting made the move to permanently base himself in England. continue


---
19.04.05 - Sports Network's forthcoming blockbuster shows already includes Ricky Hatton v Kostya Tszyu and Scott Harrison v Michael Brodie and promoter Frank Warren is delighted to add another super-fight to that list: Matt Skelton v Danny Williams for the British Heavyweight title. It's the biggest all-British heavyweight clash since Lennox Lewis v Frank Bruno over a decade ago and fight fans are in for a real treat as Britain's two best heavyweights go to war this summer. continue


---
19.04.05 - By Andrew Teece: With Anthony Mundine's May 11th title fight against Denmark's Mikkel Kessler fast approaching, one has to wonder about Mundine's focus when all the press in Australia surrounding Mundine at the moment relates to his potential return to Australia's National Rugby League competition. Mundine has been talking at length about this possible return to the NRL, then turns around in the next breath saying that he is only focused on the Kessler fight. Mundine has been known to play mind games in the past, and it remains to be seen whether Mundine is trying to arouse interest in the fight or whether he is preparing himself for defeat, which would basically lead to the end of his boxing career.

Mundine is clearly one of the elite athletes to come out of Australia, but his frequent outconfusing statements leave the Australian public questioning Mundine's ability to dedicate himself wholly and completely to the matter at hand. continue


---
19.04.05 - By Geoff McKay: October 14th, 2000. Chris Byrd is nearing the end of his bout with up and coming Olympic gold medallist Wladimir Klitschko. Byrd has a reputation of wearing larger men down and increasing his activity rate to take advantage in the later rounds, however, things have been getting steadily worse for him as the fight goes on. He was dropped by a beautiful combination in the 9th, and then dropped again in the 11th. continue


---
19.04.05 - LAS VEGAS—Undisputed world welterweight champion Zab "Super" Judah will meet his International Boxing Federation mandatory challenger Cosme Rivera in a world championship co-feature as part of the Felix "Tito" Trinidad vs. Winky Wright card set for May 14 at the MGM Grand Garden Arena live on HBO Pay-Per-View. continue


---
19.04.05 - British and Commonwealth super middleweight champion Carl Froch and Hennessy Sports trainer Robert McCracken came to blows last week. This, however, was not the result of a wind-up gone bad in the team gym or to settle a dispute over some archaic boxing fact, but rather in the interests of preparing Froch for his American debut this Thursday in Hollywood when he headlines an HBO Latino show in a ten rounder against WBC #11 Henry Porras. continue


---
19.04.05 - By Matt Phillips: Germany can expect to see the unexpected on Saturday. Wladmir Klitschko the ex WBO Heavyweight champion is going to fight Eliseo Castillo in there very own Westfalenhallen Complex in Dortmund. The self managed Ukrainian will probably enter the ring as only a short favourite with the bookies but yet the general atmosphere around the fight is that he'll knock Castillo out and easy fashion. continue


---
19.04.05 - By Matt Clark Australia's 'Big' Bob Mirovic faces the sternest test of his career when he meets the man dubbed the 'All American Prize Fighter', Rob Calloway on June 24. The Jamie Myer promoted bout, which takes place at Royal Pines Resort on the Gold Coast, will be contested for the vacant WBF World Heavyweight Championship. Should the experienced 39 year old Mirovic capture the title against the younger Calloway, 35, he is rumoured to be the next opponent for the legendary Mike Tyson. continue


---
19.05.04 – Evander "The Real Deal" Holyfield is this week's special guest on New England Ringside Radio Show, Thursday night (6-8 PM) on WWZN 1510 The Zone. The two-hour New England Ringside Boxing Radio Show airs every Thursday night between 6-8 pm (ET) on Boston's Boxing Station, The Zone (1510 AM), and also may be heard live on the Internet by going to www.newenglandringside.com. continue


---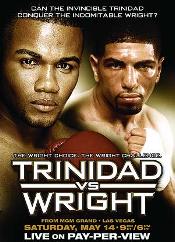 19.04.05 - What do you think about weighing in on same day as fight?

Papa Trinidad: I think it's not healthy for fighters to weigh in on the same day as their fight. A lot of fighters get dehydrated to make weight. So you need the 24 hours in order to be in better condition to fight. It's up to the fighter, and yes, he can jump up twenty pounds if he wants to. But it makes no difference. The most important thing is for the fighter to make weight on the day he has to. It's up to each person's body to see how much more weight they need or can gain. After the weigh-in it is not a matter of how much more you gain, but is up to your metabolism.

Winky's style, can you compare to previous fights?

Papa Trinidad: His stance is different than other fighter we have faced in the past and we cannot compare his style.

Can you explain thoughts going into fighting Winky?

Papa Trinidad: We didn't base it on his style. We just want to fight the best. Winky is at the top of the world's boxing elite. He had challenged Tito in the past. continue


---
19.04.05 - Media firm to represent Showtime analyst and ESPN Radio Las Vegas host for celebrity sponsorship and corporate speaking opportunities. Los Angeles' Al Bernstein, the legendary boxing analyst and radio host, has agreed to terms with SCORE! Media, the bleeding edge sports and entertainment media firm, on a representation deal. continue


---
19.04.05 - British Welterweight Champion David Barnes will now face Ali Nuumbembe at the Barnsley Metrodome this Friday (22 April). It was announced last week that Manchester hitter Barnes would challenge Commonwealth champion Joseph Okine but the Ghanaian encountered Visa difficulties and was unable to travel. continue


---
19.04.05 - By Jeff Steward: He is undefeated in his professional career. He has knocked out 77% of his opponents. He already has one win over a former heavyweight champion, and Saturday night he goes after another former champion as he clashes with Wladimir Klitschko. So, who is this promising up and comer? Well, his name is Eliseo Castillo, but promising is taking some liberties with words and his boxing record. First of all, Castillo's 18 wins are spread over 8 years with two glaring two year layoffs. continue


---
19.04.05 - By Eddy Manning: It spins around and around, you put a fighter inside with hopes of being the next world champion, pit opponent after opponent in the ring with him and keep spinning towards the undisputed crown. Then..one day it stops spinning, is it broken or was it never really working? had the people spinning it been decieved into a false sense of confidence or had they been trying to deieve us? continue


---
19.04.05 - Lafayette, LA—Dana Pitcher Productions, promoter of "Battle at the Blackham," announces the line-up of bouts for their dynamic show on Saturday, April 23 at Blackham Coliseum in Lafayette, Louisiana. Pitcher is returning to Lafayette in 2005 and with him he is returning the same hard hitting action that Lafayette boxing fans have come to enjoy. continue


---
18.04.05 - Winky: Everything is going great right now. We are training and doing a lot of boxing. We are working on a lot of different techniques and on May 14 we will be ready for it.

Do you think your power is underrated?

Winky: yes, I think it is definitely underrated. But I'm just going to go in and win the fight. I don't have to knock him out. I can just win in ten rounds. I can definitely punch but I don't go in looking for the knockout.

Do you think you're the strongest southpaw you've ever fought?

Winky: Most definitely. Like I said, Tito is a middleweight now but he used to be a 147-pounder. It' not like Tito has always been a middleweight. He happens to be tall and he put the weight on and he's a great puncher. I was at 154 and 60 is only one step up. I going to be a lot stronger and I'm going to feel a lot better. continue


---
18.04.05 - By James Allan: There used to be a time when a challenger got only shot at the Champion. If it was a close fight, then maybe he would get a rematch, if he lost that one too, then he was finished as a legitimate title contender. Those days, when title shots were awarded (mostly) on merit are long gone. You only have to see Andrew Golota being lined up for another title shot to see that for yourself. continue


---
18.04.05 - Washington state boxing promoter Brian Halquist has signed amateur boxing sensation Roger Cantrell to a promotional contract, BHP President, Brian Halquist announced today. "Cantrell finished fifth in the USA Boxing Nationals last month. Cantrell, from Puyallup, Washington, won the Tacoma Golden Gloves the past two years and was awarded the Golden Boy award with each of his titles. continue


---
18.04.05 - By Bradford Scott: There was a time when the name Wladimir Klitschko meant something to hardcore boxing fans. A time when other fighters shook in the fear they might have to face him in the ring one day, and his amazing offensive arsenal. Ladies and Gentlemen, that day has passed. Enter the April 23rd bout between once WBO Champion Wladimir Klitschko and Eliseo Castillo on HBO Boxing After Dark. continue


---
18.04.05 - Dominic Pesoli and 8 Count Productions, home of THE BEST IN CHICAGO BOXING is proud to announce details of the KO Chicago Boxing Radio Hour, Chicagoland's only radio show dedicated to The Sweet Science and it's loyal fans broadcast every Wednesday night at 6pm on WJJG 1530 AM. continue


---
18.04.05 - Reacting to Warriors' Boxing's recent announcement of a fight for the vacant IBF cruiser title between Dale Brown and O'Neil Bell, the camp for former titlist Kelvin "Concrete" Davis says they're upset with the overall situation and specifically with Bell. Davis was set to defend his title against Bell last February, but didn't because of a contractual disagreement with his co-promoter, Don King Productions (along with Duva Boxing). continue


---
18.04.05 - By Izyaslav "Slava" Koza, and Andrei "the Shark" Nikolaev: In 1978, Lemeshev, who was part of the armed forces, found himself in the German Democratic Republic. This honorary assignment as trainer of the military contingent was used as a way of painting over the current situation of the former number one in Amateur boxing. Still young at 28, Vycheslav the trainer, could not handle being outside the ring and from time to time put on a pair of boxing gloves.

Victor Ageev: "I was Lemeshev's second in a fight with some unknown class one fighter. When he went to enter the ring, he was so worried that his lips became blue. He didn't seem like himself; he was so entrapped, so wound up. He couldn't land his right. His speed was gone. His opponent was staring wide-eyed at the Olympic champ, and suddenly landed a right of his own and scored. Vycheslav didn't have a chance to block or even brace for the punch. It was a very vicious knockout." continue


---
18.04.05 - According to the latest news sources, WBC heavyweight champion Vitali Klitschko will be undergoing back surgery on Wednesday, April 20th, to further postpone his previously delayed mandatory defense against heavyweight challenger Hasim Rahman. Klitschko was originally scheduled to fight Rahman on April 30th. continue


---
18.04.05 - Heavyweight Joshua "Josh" Cobb, son of former heavyweight world championship challenger Randall "Tex" Cobb, makes his Las Vegas debut Friday, April 29, on the nationally televised card promoted by Duva Boxing at the Plaza Hotel & Casino. Cobb is in a four-round bout on the undercard of the event that features Samuel Peter against Gilbert Martinez in the 10-round main event. continue


---
18.04.05 - Junior Welterweight prospect Al "Speedy" Gonzales (16-2-1) is training with Winky Wright as Wright prepares for his May 14th showdown with Felix Trinidad. Gonzales, coming off a disappointing loss in February on Shobox against Oscar Diaz, is looking to get his career back on track. "I know I've got another great opportunity here," Gonzales said from Las Vegas. continue


---
18.04.05 - By Ike Enwereuzor: Former world champion Charles Brewer was stopped in round 10 by the WBA International Light heavyweight champion Lolenga "The Leopard" Mock, a Danish Based Congolese (now 23-9 with 8 KO's) who took a last minute call to face former champion (now 40-11) KO's for the vacant WBO intercontinential Super Middleweight Championship. continue


---
18.04.05 - Undefeated and reigning NABF and USBA heavyweight champion Samuel Peter highlights the main event on a nationally televised card presented by Duva Boxing Friday, April 29, at the Plaza Hotel & Casino in Las Vegas, Nev. The world-ranked Peter faces rugged Gilbert Martinez in the 10-round bout. The 10-round semi-main event matches highly regarded welterweight prospect Oscar Diaz of San Antonio, Texas, against Las Vegan Jessie Feliciano. continue


---
18.04.05 - By Mike Indri, Retired Boxers Foundation: Andrew Golota's journey through his boxing career-while commendable, has never been viewed as successful. Beginning to box at the age of 13 in Poland, Golota amassed 111 victories as a Polish amateur champion, culminating with his winning a bronze medal at the 1988 Olympics.

Emigrating from Warsaw in 1991, Golota has called the city of Chicago his home ever since. Turning professional in 1992 (Feb. 7th third round knockout victory over Roosevelt Schuler), Golota abandoned prior ambitions of becoming a truck driver and made the commitment to boxing. Plagued with the less than complimentary descriptions, such as: underachiever, "foul-pole", and quitter; mention of Golota in boxing circles is synonymous with a single thought - failure. continue


---
17.04.05 - Undefeated World Boxing Organization junior featherweight champion Joan "Little Tyson" Guzman of the Dominican Republic—acknowledged as the finest and most exciting 122-pound boxer in the sport today—defends his title in a 12-round bout against Fernando Beltran Jr. of Mexico on a nationally and internationally televised Sycuan Ringside Promotions card April 22 in Hidalgo, Texas. continue


---
17.04.05 - By Mike Indri, Retired Boxers Foundation: Jameel "Black Gold" Wilson entered the Philadelphia National Guard Armory ring Friday night, with his usual gold everlast boxing trunks, to the eardrum-shattering cheers of the capacity crowd. Wilson, a Philadelphia native who had recently fought battles against the likes of Antwun Echols and Tarvis Simms, was a crowd pleaser and the fan favorite for his main event bout against the talented yet untested Lajuan Simon. continue


---
16.04.05 - Undefeated bantamweight prospect Raul Martinez has been inserted into the opening television slot for the April 23 ESPN pay-per-view fight card from Caesars Palace, it was announced today by Main Events CEO Kathy Duva. Martinez, who will Larry Olvera in a six round bantamweight bout, was selected for the opening bout following the cancellation of the Diaz-Elder WBA world championship contest due to a cut suffered by Diaz in sparring. continue


---
16.04.05 - Former five-time world champion Johnny Tapia won a unanimous decision Friday night over Frankie Archuleta at the Tingley Coliseum in Albuquerque, New Mexico. All three judges scored the bout 96-94 in favor of Tapia. The 10-round featherweight bout was the second meeting between the two. Tapia lost to Archuleta in March 2004. continue


---
16.04.05 - By Frank Gonzalez Jr. In boxing, everything flows from the jab. Kingsley Ikeke (23-1-0-13 KO's) demonstrated that to perfection Friday night at the Northern Quest Casino in Washington State, where he took on former IBF Middleweight Champ, Antwun Echols (31-6-1-27 KO's) for the number two ranking in the IBF.

While Ikeke doesn't possess great power, he has a powerful weapon—his lead left jab. He nickel and dimed Echols all night with that punch, swelling his face to a pulp and closing his right eye with the constant tapping of his jab.

For the power punching Echols, his strategy was obvious, get in close and crash Ikeke up on the inside. At times, Echols got inside and landed his punches but—there was something missing.

Ikeke never faced a puncher like Echols before, and in a way, he still hasn't. Echols was a mere shadow of the cagey, strong puncher he once was. His stamina was also questionable as he breathed heavily after the first few rounds. He was also throwing a lot of big punches that were missing, and that in itself, can wear a guy out. continue


---
16.04.05 - Highly regarded prospect Osvaldo Juarez of Mexico City tries to extend his win streak when he faces veteran Eduardo Garcia of Mexico City in the 10-round super flyweight main event on the nationally and internationally televised "Guilty Fight Night" card presented by Guilty Boxing Friday, April 29, at El Foro in Tijuana, Mexico. continue


---
16.04.05 - By The Brown Bomber: In a pre-fight interview before what appears to be a simple warm-up match against Alberto Ontiveros, Diego Morales says that his time has come. With a record of 34 and 2, with 25 ko's, and the pedigree of being the younger brother to boxing phenom Erik Morales, former WBC Youth Bantamweight Champion Diego certainly looks the part. But is he prepared for the more experienced Veeraphol? continue


---
16.04.05 - In what figures to be one of the most dangerous fights in his career, World Boxing Association heavyweight champion John "The Quietman" Ruiz (41-51, 28 KOs) will put his title on the line against three-time world champion James "Lights Out" Toney (68-4-2, 43 KOs) at Madison Square Garden on April 30 in a match promoted by Don King Productions and Goossen Tutor Promotions in association with Madison Square Garden. continue


---
16.04.05 - Despite some premature scare mongering over the figure, the number of PPV sales on Setanta PPV1 for the broadcast featuring Howard Eastman's challenge to undisputed middleweight champion Bernard Hopkins and Junior Witter's sensational win over Lovemore N'Dou in February was far higher than expected. continue


---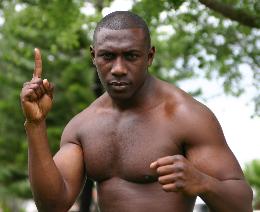 16.04.05 - By Wray Edwards: The first time yours truly met Eliseo Castillo it was on a mountain top of the Pacific Coast Range. Working on electrical equipment for a training camp, I sensed someone watching. Looking up I found, standing over me, a large and imposing man with inquisitive eyes and a faint smile. "Can I help you?" he asked. Under strict rules of the camp, boxers are not allowed to do manual labor except in the ring, so the answer was "No, thank you."

It was unknown to me at that time, what a truly amazing story would come from this guy's memory the next time we spoke at length. With two brothers and two friends on a raft, 17 year-old Eliseo cast himself adrift at sea seeking freedom and a better life away from his native Cuba. For five days in shark-infested waters they drifted, ending up in Panama.

Cuban refugees who are caught on the water are returned (for the most part) to Cuba. Those who can put their feet in the sands of the U.S. mainland are given asylum. Panama's political relations with the U.S. at that time, left the quintet on the raft to be returned to Cuba, but with one difference. continue


---
15.04.05 - By James Allan: Scott Harrison has recently been quoted as saying that jealousy will soon force him to move from Scotland to Spain in order that he can enjoy a normal life. While no one doubts that wherever you go, there are idiots who can't wait to have a go at successful people, there is perhaps a little bit more to Scott's decision than this. Scott sees himself as the next in line of a long and proud tradition of great Scottish fighters in the lower weight divisions. continue


---
15.04.05 - By Jim Amato: Many regard Tyson's scheduled opponent Kevin McBride as somewhat of a joke. As big as he is ( 6'6" - 250 lbs. ), The word is that he is EXTREMELY slow. If Tyson has retained two weapons in his arsenal, it is power and hand speed. Teddy Atlas who is a boxing analyst for ESPN and who worked with Tyson decades ago, called this a one round fight in Tyson's favor. Clearly, Teddy knows his stuff. continue


---
BOSTON (April 15, 2005) – NER Promotions has signed two-time Venezuelan Olympian Patriz (El Elegante) Lopez to a promotional contract, NER president Rick Brutti announced today. "Patriz Lopez is the first of many prospects we intend to sign this year," Brutti said. "He was considered the best and most complete amateur boxer in Latin America for the past three years. continue


---
15.04.05 - Lamon Brewster: "I wasn't going to say much but sometimes you have to say what's in your heart. I haven't had an easy road. I've had many obstacles to overcome to get to where I am today: emotionally, physically and spiritually. I love Chicago. Where I grew up there was only one building and it made me reach for more in life than to be a factory worker in Indiana. continue


---
15.04.05 - WBA heavyweight champion John Ruiz will put his title on the line against three-time world champion James Toney at Madison Square Garden on April 30 in a match promoted by Don King Productions and Goossen Tutor Promotions in association with MSG. Tickets priced at $350, $250, $175, $100 and $50 are on sale now at the Garden box office and all Ticketmaster locations or by calling Ticketmaster at (212) 307-7171, (201) 507-8900, (631) 888-9000, or (914) 454-3388. Ticketmaster purchases are subject to convenience charges.

Ruiz: It is going to be a great fight. He is coming to fight, but I still feel that I am the best in the world and I am just coming out to prove it.

Toney: I am excited and ready to go. I have been training for a long time and actually preparing for this fight for the last two and a half months. It is good to fight the best heavyweight out there which is John Ruiz. The reason why I am saying that is because he is the only one with the guts to step up to fight and it will be a great fight. It is actually a war. I love wars. Fighting is my game. I was born to fight. So I am ready to get it on. Whatever happens, I know I will be the champion that night and I am not discrediting John Ruiz in any way, but I cannot wait to get on with it. I am ready to make history. continue


---
15.04.05 - Boxing Hall of Famer Chuck Bodak will be honored April 30th, 2005 at historical Kezar Pavilion in San Francisco as Frisco Boxing together with West Coast media, give tribute to a man that has touched so many lives in the boxing world with his amazing charisma and charm. continue


---
15.04.05 - By Mike Indri, Retired Boxers Foundation: During yesterday's media conference call James Toney's words and actions reiterated the fact he had already established at a New York press conference earlier this month - James Toney's mouth is in fighting shape and ready to take on all comers! Arriving late for this 1PM (EST) scheduled media event Toney quickly set the tone. "I'm late, I apologize, yeah me James Toney. I was training, if you don't like it hang up!" rambled the 2003 fighter-of-the-year. continue


---
15.04.05 - Stepping out of the ring at Chicago's JABB Boxing Gym, Fast Fres Oquendo, 24-3 (15KO's), proclaimed himself a free agent and "more than ready" to get back into action against all the top heavies. "Don King and I parted ways recently and I'm just looking to get back at it. I haven't fought in a year and not much has changed. They're still talking about the Klitschko's, Ruiz, Byrd, I want to fight all of them. continue


---
Mexico City - April 15, 2005. The purse offer was held today in Mexico City for the mandatory title fight between featherweight world champion Injin Chi of Korea and No. 1 ranked contender Rocky Juarez of the United States. Murad Muhammad of M&M Sports won with a bid of $700,002. Carl Moretti of Main Events bid $402,515. continue


---
15.04.05 - British and Commonwealth champion Carl Froch landed in Los Angeles with promoter Mick Hennessy and trainer Robert McCracken on Tuesday, nine days ahead of his American debut on April 21st when he appears in the live co-feature of a HBO Latino bill at the Avalon venue in Hollywood.

The 27-year-old from Nottingham will contest a ten rounder against the highly respected WBC #11 Henry Porras from Costa Rica. "This is my big opportunity to show America exactly what I am all about," said 'The Cobra'.

"I am already feared by the fighters on my side of the pond – Calzaghe and Magee have both ignored challenges. Robin Reid has also ducked me. I see now that he has chosen to step in against IBF champion Jeff Lacy - but even then it appears he had to be dragged kicking and screaming to the table.

"Lacy won't have to come looking for me. I am already in his backyard and after I have done a job on Porras I will be in his face constantly." continue


---
15.04.05 - In a groundbreaking move Maloney Promotions announces for the first time ever, a British and Commonwealth double championship title clash will be televised during prime time hours in the UK and Ireland through Setanta Sports and webcasted live across the world on a pay per view basis through www.fightnight.com on participating websites. continue


---
14.04.05 - By JE: For more than 40 years there have been those in and around the boxing world who have called for the creation of a federal (U.S.) commission to oversee the sport. Boxing, being the only sport in the United States that is governed at any level by government bodies, by the account of some is not governed enough. continue


---
14.04.05 - Programming Leads Into April 23 ESPN Pay-Per-View Boxing event...Each night next week from 9 p.m. to 11 p.m. ET, ESPN Classic will air seldom-seen classic boxing matches as part of Classic Fight Nights, a week-long programming lead-in to the ESPN Pay-Per-View boxing event on Saturday, April 23. The Classic Fight Nights lineup includes: continue


---
LOS ANGELES, April 14 – As one of Hollywood's hottest night spots, The Avalon is the place to be seen for those wishing to experience a night to remember. But on Thursday, April 21, The Avalon is about to get even hotter as four rising stars look to give fight fans a night to remember when they battle it out against each other in the April edition of HBO Latino's hit series "Oscar De La Hoya Presents Boxeo De Oro". continue


---
ST. PETERSBURG, FL (April 14, 2005) -- After stalling out earlier today, the negotiations between IBF super middleweight champion Jeff Lacy and the IBF's top-rated contender Robin Reid reached a successful conclusion this afternoon. Lacy will make his first mandatory title defense, against Reid, Saturday, August 6. The world title bout -- which also marks the U.S. debut of Reid -- will be televised by SHOWTIME.

"I wouldn't classify this as a miracle, just that it was meant to be" said promoter Gary Shaw reflecting on the quick turnaround in concluding the fight negotiations. "We hope to announce the site shortly."

"I am thrilled to be facing Robin," said Lacy. "He is a great champion and a true competitor. The fans in both our countries will see one heck of a fight on August 6!"

"Robin and I are thrilled to finally make this fight," said Jess Harding, Reid's manager. "We look forward to working together with Gary Shaw in a landmark fight that will mark Robin's debut in the United States, and we could not be happier to have it televised on Showtime. This is what every fighter dreams of, fighting for a world title on the sport's biggest stage. We cannot wait to bring the belt back home." continue


---
LOS ANGELES, April 14 – It was a weekend to remember for Golden Boy Promotions, as not only did boxing superstar Marco Antonio Barrera defend his WBC super featherweight crown with a devastating second round knockout of number one contender Mzonke Fana, but two new world champions were crowned for the Golden Boy team. continue


---
14.04.05 - For seven years, O'Neil Bell has waited for one moment in his boxing career - a chance to shine on the world stage and fulfill a dream. For Dale Brown, the wait to put a world championship belt around his waist has been even longer – ten years. On Friday, May 20, from the Seminole Hard Rock Hotel and Casino in Hollywood, Florida, both top contenders will get their opportunity to put it all on the line for the IBF World Cruiserweight Championship. continue


---
14.04.05 - The Tropicana Casino Resort, in association with Dee Lee Promotions, Inc., Sal Musumeci's of Final Forum Inc., and Matchmaker Sampson Lewkowicz., presents 2000 Olympic Silver Medalist Sultan Ibragimov 15-0-13 KO's in the 3rd defense of his WBO Asian Pacific Title. The 30 year old former Russian Olympian has been fighting hard and is now ranked #8 by the WBO. continue


---
14.04.05 - Exciting junior welterweight prospect Oscar "El Torito" Diaz, promoter Dino Duva and legendary manager/trainer Lou Duva are now available for interviews regarding Diaz' upcoming battle with rugged Jessie Feliciano on April 29 at the Plaza Casino in Las Vegas and televised live on ESPN2's Friday Night Fights. continue


---
14.04.05 - By Darrell La Montre: On April 23rd Wladimir Klitschko (43-3 39 ko's) will step between the ropes and face an undefeated Cuban fighter named Eliseo Castillo (18-0-1 14 ko's). Klitschko is coming off an unimpressive 5th round technical knockout victory over Davarryl Williamson, who previously was annihilated in one round by Joe Mesi. Williamson dropped Wladimir in that fight with a counter right hand. Although Klitschko didn't appear very hurt by the punch, it left a bad taste in my mouth to see such a skilled fighter hit the deck once again.

Eliseo Castillo is a 6'2 relatively unknown undefeated Cuban boxer fighting out of Miami, Florida. He's coming off a decision victory over former two- time Heavyweight Champion Michael Moorer. Moorer is nowhere near the fighter he was when he snatched the title from a prime Evander Holyfield back in 1994. That name looks good on your resume, but please. Still, at least it provided Castillo with some valuable experience. continue


---
ST. PETERSBURG, FL (April 14, 2005) -- The negotiations between IBF super middleweight champion Jeff Lacy and IBF No. 3 contender Robin Reid have broken down. Lacy had hoped to defend his title against Reid, Saturday, August 6, in a Showtime-televised world title homecoming in Tampa, FL. continue


---
14.04.05 - Former 2000 Mexican Olympian and now super bantamweight World Contender, Daniel Ponce De Leon, will headline "Night of the Olympians," an exciting nationally televised fight card on Friday, April 29th, at the Laredo Entertainment Center. The seven bout card, which begins at 7:00 p.m., is being presented by Oscar De La Hoya's Golden Boy Promotions. continue


---
14.04.05 - If the fight between WBO World Featherweight Champion Scott Harrison and Michael Brodie on Friday 3 June at the M.E.N Arena is anything like the war of words between their managers Frank Maloney and Jack Trickett then it's set to be A REAL WAR. Following a heated head-to-head press conference on Monday between all parties, Maloney has hit back at Trickett after he again questioned Harrison's fight record by asking: "Who has Harrison fought in his career?" continue


---
13.04.05 - By Izyaslav "Slava" Koza and Andrei "The Shark" Nikolaev: Unfortunately, human memory cannot compete with a good photograph or video on which we record the most wonderful moments of our lives. That is why when we read about some obscure Olympic boxer or athlete, we open our mouth and say "Yeah, he was some guy……," and move on with our business and our lives. continue


---
13.04.05 - Gaze into the dark, deep-set eyes of James "Lights-Out" Toney and one gets the impression he's starting as a Great White Shark - pure in purpose, devoid of fear - perfectly suited to his environment.

But the environment Toney seeks to dominate is much larger than the ocean. It's the World Boxing Association's heavyweight division - currently occupied by two-time WBA champion John "The Quietman" Ruiz, who arrogantly - and mistakenly believes that James Toney is nothing more than a "steppingstone" opponent for their April 30th encounter at the famed Madison Square Garden in New York.

"Ruiz keeps talking about fighting the best," says Toney. Ruiz is fighting the best - me! I'm tired of his yackin' and ready to get it on! I'm a champion. Ruiz knows he had no choice in this fight. It was fight me or give up the title and run. He should have run, because I'm knocking him out - its one of the two things I promise the unfortunate people who agree to fight me - money and a severe beating!" continue


---
CANASTOTA, NY – APRIL 13, 2005 – The International Boxing Hall of Fame announced today Academy Award-nominated actor Ryan O'Neal has been named Grand Marshal of the 16th Annual Boxing Hall of Fame Parade of Champions scheduled for Sunday, June 12th at 1 p.m. continue


---
NEW YORK (April 13, 2005) – Undefeated welterweight Paul "The Punisher" Williams will face his toughest test to date when he takes on former Olympic bronze medalist and current International Boxing Federation (IBF) and World Boxing Association (WBA) No. 14 contender, Terrance Cauthen, Friday, April 22, 2005, on "ShoBox: The New Generation." continue


---
LOS ANGELES, April 13 - With its inaugural boxing pay-per-view telecast approaching on Saturday, April 23, ESPN is pleased to announce the addition of legendary former world champion "Sugar" Ray Leonard to its broadcast team for the show, which will be promoted by Main Events at Caesars Palace in Las Vegas. continue


---
13.04.05 - By The Brown Bomber: If you're a boxing fan maybe you should. Over the past 3 years San Jose California has hosted a raft of top, up-and-coming boxers, and some very prominent ringside guests to boot. Where else but the "Capitol of Silicon Valley" can you see WBO #1 ranked welter weight prospect Jose Celaya box one night, and have autographs signed by Oscar De La Hoya the next? continue


---
13.04.05 - WBO World Super-Middleweight Champion Joe Calzaghe could land a bumper £1millon payday if he beats Mario Veit on May 7 in Germany. The power-punching Welshman heads to Braunschweig to defend his title against Veit - who he flattened in a blistering 120 seconds four years ago - after German promoters Universum won the right to stage the rematch with a whopping £920,000 purse bid.

Calzaghe is set to receive a cool £736,000 for his nights work but he has also put a £10,000 bet on himself to knock Veit out again in the first round at odds of 25-1. Another first round blitz of Veit would land Calzaghe with winnings of £250,000 pushing his fight cash to a staggering £1m.

The 33-year-old star is still seething that his clash against Brian Magee last month was scrapped after German TV put a block on the fight and he is now even more determined to do a quicker job on Veit.

Not only does Calzaghe have the cash bonus as a motivator, a unification fight against IBF Champion Jeff Lacy is in the offing if he comes through against Veit. continue


---
13.04.05 - DiBella Entertainment in association with Foxwoods Resort Casino will present a main event and co-feature of all undefeated fighters on Friday, May 6, 2005 at Foxwoods Resort Casino in Mashantucket, CT. The event will be televised live by Showtime as part of their ShoBox series. In the main event, rising undefeated light middleweight Sechew "Iron Horse" Powell (15-0, 9 KO's) of will do battle against fellow unbeaten prospect Cornelius "K9" Bundrage (21-0, 13 KO's) in a ten round bout. continue


---
12.04.05 - The Bernard Hopkins-Jermain Taylor negotiations may have been drawn out, but Kassim Ouma took five seconds to accept the Hopkins fight when it was offered to him last week. "There was no hesitation," Ouma said. "I'm all about the challenge and proving who is best. Bernard Hopkins is the biggest test for any middleweight and I'm ready for him. He might be the best middleweight of all time and I want to prove my skills against that. How can you not want that if you are a champion? continue


---
12.04.05 - Former No. 1 heavyweight contender David Tua of Western Samoa, fresh off an impressive knockout in his first bout in more than two years, may fight again as soon as June in the United States, according to promoter Cedric Kushner. "David showed he's back in full force both physically and mentally with his knockout of Griffis," said Kushner, Tua's promoter. continue


---
12.04.05 - Tickets for Haitian Sensation Promotions' (HSP) debut boxing show at the Palm Beach Convention Center officially go on sale this Friday, April 15, 2005. Ticket prices are $22, $55 and $250 per VIP table and will be available at 9:00am. They can be purchased at the Palm Beach Convention Center box office, by calling (561) 366-3000, or by logging onto the event calendar at http://palmbeachfl.com/conventioncenter/. continue


---
12.04.05 - By Tony Fondacaro: Apparently the boxing gods have chosen Kevin McBride to be the next "warm-up" for Mike Tyson. This would be the Kevin McBride whose last three opponents have a collective record of 58-59-5, all unranked fighters, and one of them who hasn't won a match since December of 1995. McBride is ranked 148th in the world, which in boxing is the equivalent of not being ranked at all. Kevin McBride? Who the hell cares?

At this point we have more than one indicator that Tyson is fighting simply to get out of debt, but there are some, maybe including Tyson himself, who believe that it is still about more than money. Since convalescing from his shattering upset to Danny Williams, Tyson has done a lot of things to indicate both intentions. First; he's said on occasion that he's not sure why he's still in the game. That he's taken all he wants to take. That he wakes up and has those moments where he goes, "What's it all for now?" This kind of uncertainty is horrible news for anyone who still believes Tyson can win back a title, and has to sound like a death-knell to any potential trainer. He's also managed to amass an enormous debt. Any match in the future, with this outlook, would have to be for dollars only. continue


---
12.04.05 - After a hectic 48-hours Sports Network Matchmaker Dean Powell has managed to save two shows after the main event in both cases fell-out. First of all, British Welterweight Champion David Barnes had to be drafted in to headline the Fight Skool show at the Barnsley Metrodome on Friday 22 April replacing stablemate Michael Jennings after he withdrew because of an elbow injury. continue


---
12.04.05 - Boxing fans will be able to purchase a live ESPN.com Webcast of the April 23 ESPN Pay-Per-View boxing card that features up to 44 rounds of live boxing, including two championship bouts. ESPN.com will feature an identical live feed of the ESPN Pay-Per-View telecast of the four-fight card promoted by Main Events at Caesars Palace in Las Vegas starting at 9 p.m. ET. continue


---
12.04.05 - The Duluth Entertainment Convention Center stages it's first professional card in more than a decade at 7 p.m. Saturday, May 7, in the DECC Arena. "Truth in Duluth" will include five professional boxing matches, including the main event with Minnesota Light Heavyweight Champion "Jungle Boy" Zach Walters (10-1, 9 KOs) vs. "Iron Jaw" Jesse Sanders (11-2, 10 KOs) in an eight round bout. continue


---
12.04.05 - HombreTV, the cable television network for Hispanic men, in association with Cota Boxing, Team Estrada and All-Star Entertainment Productions, taped its first boxing event, "Duelo De Aztecas" for the HombreTV boxing library. The evening featured seven fights with the main event being the fight between former world champion Yori Boy Campas and Rigoberto Placencia for the WBC Mundo Hispano title. Campas defeated Placencia and now moves to 87-7 with 70 KO's. continue


---
By Matthew Hurley: It's almost hard to believe that it was twenty years ago when Marvelous Marvin Hagler and Thomas "Hit Man" Hearns stepped into the ring at Caesars Palace in Las Vegas and waged war on one another. Their epic battle redefined boxing for a new generation of fans. Boxing had survived the end of Muhammad Ali's career because a crop of brilliant young fighters burst onto the scene and forced the public to look down at the lighter weight ranks. Suddenly it was the lightweights and, particularly, the welterweights who dominated the sport. It was out of that welterweight division that Thomas Hearns emerged. A devastating puncher with a boxer's grace Hearns tore through opponents with a surgeon's precision. One loss, in his first super fight to Sugar Ray Leonard, only seemed to fuel his desire for fistic greatness. He moved up in weight with the ultimate goal being middleweight champion Marvin Hagler. Hagler seethed as his welterweight counterparts commanded the public's attention and the money. His anger would eventually be unleashed on April 15, 1985. continue


---
12.04.05 - By Tomas Chico: I disagree with many of the recent assessments regarding Fernando Vargas's fight with Raymond Joval on March 26, 2005. Admittedly, I admire Vargas' talent as a boxer, but I do not think the fight was close at all, which brings me to a topic I've been reflecting on, judging criteria. Joval was moving forward, but his punches (or whatever they were) were not landing. continue


---
12.04.05 - By Jim Amato: Promoter Bob Arum announced that Christy Martin and Lucia Rijker will finally meet on July 30th at the Mandalay Bay Resort and Casino in Las Vegas. Each boxer will be guaranteed $250,000. The winner will get an additional $750,000. This bout should have taken place years ago but I guess it's better late then never. continue


---
BOSTON (April 12, 2005) – Some down and dirty trash talking will be going over the airwaves Thursday night (6-8 PM ET) on the New England Ringside Radio Show because this week's guests are April 30th combatants, WBA heavyweight champion John "The Quietman" Ruiz and challenger James "Lights Out" Toney, along with Ruiz' always fiery manager Norman "Stoney" Stone, live on WWZN 1510 The Zone. continue


---
12.04.05 - By Scoop Malinowski / Boxinginsider.com: Former WBO Heavyweight champion Wladimir Klitschko is making his final preparations for April 23rd opponent Eliseo Castillo. Here are some recent photographs of Klitschko at his camp in Mallorca, Spain. The Klitschko vs. Castillo IBF Heavyweight Eliminator will be televised in America on HBO from Dortmund, Germany. continue


---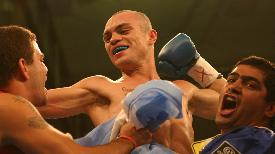 11.04.05 - By Wray Edwards: QUESTION: HOW WAS IT POSSIBLE THAT A WORLD-CLASS CHAMPION BOXER CAME TO THE SCALES FOUR AND ONE/HALF POUNDS OVER-WEIGHT TO DEFEND HIS WBO JR. LIGHTWEIGHT CHAMPIONSHIP?

You would think that a serious, professional prize fighter would watch his weight like a hawk prior to such an important event. You would think that his trainer, his conditioner and his manager would all keep vigilant watch over such an important factor. The seventh day of March was anything but lucky for 22 year-old Michael Anchondo. To his utter surprise he missed his assigned weight at weigh-in, and lost his belt as the bell rang for his bout with 28 year-old Jorge Barrios.

This trusting young man was thrust into a no win situation, losing thirty thousand dollars, and his belt, all because of seventy-two ounces of body weight. continue


---
11.04.05 - By Jim Amato: Arturo is probably my favorite boxer active today. What tremendous fights he has given boxing fans. The trilogy with Mickey Ward. His wars with Wilson Rodriguez and Gabe Ruelas. He is a warrior in every sense of the word. As much as I like Arturo I feel he has bitten off more then he can chew by taking on Floyd Mayweather Jr. continue


---
11.04.05 - By Jim Amato: Boxing fans...There are some great match ups in store in the weeks to come. Let's start with April 23rd on ESPN-PPV. Antonio Margarito and Puerto Rican sensation Kermit Cintron meet for the WBO 147 pound title. Mr. Margarito is one BAD dude. Just ask Mr. Lujan who's still waiting for his ear to completely re-attach itself to his head. This is a big step for Cintron but there is something special about this kid. continue


---
11.04.05 - By Cris Neill: Trash talk between boxers is usually one of the least interesting aspects of the fight game, the invective of Muhammad Ali excepted. It's part and parcel of what boxing's about, the whole process of probing and exploiting your opponent's psychological weaknesses. continue


---
11.04.05 - Kenny Ellis (33-6-2, 22ko's) had to dig deep to find out if he would continue his boxing career after losing to Troy Rowland in June of 2004. Ellis took the fight on short notice knowing that he would need to win by knockout because of the ridiculous judging in Michigan. continue


---
11.04.05 - By Kostya Tszyu: Sometimes I feel like the November Sharmba Mitchell rematch was just like yesterday. But at other times I think about what I have already done this year and it feels a long time ago. I had a great time with my family over Christmas and then did some touring around Australia. I met many more of the Tszyu Crew and this is always very inspirational for me. I took part in the celebrity race at the Australian Grand Prix in Melbourne and now I am back to business in the gym. I have just returned home from Canberra where I spent the last two weeks training at the Australian Institute of Sport (AIS).

I always think it is my last trip to the AIS, but there I was back again. I have completed my normal routine, training three times a day for two weeks. This is where I build my fitness foundation before I commence my sparring. continue


---
SANTIAGO, DOMINICAN REPUBLIC (April 11, 2005) -- Lightweight contender VICTORIANO SOSA recorded his 40th career victory last night at The Sports Palace in Santiago, Dominican Republic, knocking out Gawin Padrone, 11-4-3, in the third round. For Sosa, a two-time world title challenger, it was his third consecutive victory and fifth in his last six fights. continue


---
11.04.05 - Undefeated super bantamweight Adalberto Borquez of Tijuana, Mexico, puts his perfect record on the line against veteran and former Mexican champion Ruben Estanislao of Mexico City in the 10-round main event on the nationally and internationally televised "Guilty Fight Night" card promoted by Guilty Boxing Friday, April 22, at the Gold Coast Hotel & Casino in Las Vegas, Nev. continue


---
11.04.05 - It looks like WBA International Light heavyweight champion Lolenga "the Leopard" Mock (23-9) with 7KO's and IBF Intercontinental Light heavyweight champion Alexej Trofimov (23-1) 18KO's will both put their respective titles on the line on May 6, in Ukraine.Trofimov, is ranked No. 5 by World Boxing Organization (WBO). continue


---
11.04.05 - By Goran Dragosavac: Saturday night's match between Marco Antonio Barrera and Mzonke Fana has certainly lived up to expectancy of many boxing pundits as a match-up that should of never been made. And I deeply fail to understand in whose interest is to promote such mismatch. Was it in interest of champion himself and his promoter De la Hoya? I don't think so. continue


---
11.04.05 - By Eric Rineer: It has been more than three weeks since super featherweights Erik Morales and Manny Pacquiao squared before a sellout crowd of 14,623 at the MGM Grand Garden Arena in Las Vegas. These warriors displayed the heart and courage that makes boxing such a fantastic sport to watch. They battled for 12 grueling rounds but, in the end, the judges awarded the bout to Morales. All three judges were in agreement: 115-113. Morales improved to 48-2. Pacquiao dropped to 39-3-2.

The saddest part about the March 19 fight, however, is the controversy that has taken place over a pair of boxing gloves, and the potential lawsuit that Pacquiao will file against his promoter, Murad Muhammad. continue


---
11.04.05 - Spartacus retained his British Masters light heavyweight title on Sunday afternoon's highly successful promotion at the Brentwood Leisure Centre in Essex - staged by TBS Sports in association with the Knight Group - when challenger Sammy Price quit on his stool after six gruelling rounds. continue


---
11.04.05 - Undefeated Heavyweight and UNC graduate Calvin Brock recently had this to say from his training camp, "North Carolina's Sean May proved that he is the most dominant player in college ball when he led UNC to the National Championship last week. On April 23rd, North Carolina and fight fans everywhere will see me dominate in the ring the same way Sean May dominated on the court." continue


---
11.04.05 - By Harry Summers Jr.: When current WBA Featherweight champion Chris John, 34-0-1 (19), suffered a cut over his right eye almost two weeks ago in training, it appeared as though sparring would be absent from the final weeks the Indonesian's training camp ahead of his April 22 defense against ex-champ Derrick "Smoke" Gainer, 39-6-1 (24). continue


---
10.04.05 - By Jeff Bastasini: Marco Antonio Barrera annihilated an overmatched Mzonke Fana in the 2nd round, to defend his WBC Super Featherweight title on Saturday night. It took all of 5 minutes for the three time world champion, Barrera, to completely devastate his South African contender Mzonke Fana (22-3, 8 KO's), who never was able to slow Barrera down for an instant. continue


---
09.04.05 - By JE - Evander Holyfield is of late saying that he wants another crack at Mike Tyson. Tyson, to his credit, is saying that both he and Holyfield need to win a few fights before engaging each other again. But, will the bout ever happen? With only a few minor bumps in the road to overcome, my bet is that it will.

Holyfield, 42, of course has the immediate obstacle of a suspension leveled by the New York commission and enforceable nation-wide. I think it is clear that the suspension won't hold --- it's based merely on the gut reaction of commissioner Ron Stevens. Although it is hard to disagree with the sentiment that Holyfield should pack it in, objectively it will be hard to sustain a suspension in light of the fact that he just fought 10-rounds against a ranked fighter and was not knocked out or even staggered during the contest. That fact, coupled with the considerable monetary resources Holyfield can put into lawyers, will make this suspension short-lived. continue


---
09.04.05 - Dominic Pesoli's 8 Count Productions in association with Bob Arum's Top Rank Incorporated and Miller Lite present "Night of Honor" on Friday, April 22, 2005 at the Cicero Stadium, 1909 S. Laramie. This installment of THE BEST IN CHICAGO BOXING, will be televised internationally by Telefutura's SOLO BOXEO de Miller Friday night boxing series. continue


---
09.04.05 - (TEMECULA, CALIF.) – 2004 Olympic Gold Medalist Andre Ward (Oakland, Calif.) climbed through the ropes to the cheers of a raucous Pechanga Resort and Casino crowd and emerged to the same sound after a third round disqualification victory over Roy Ashworth (Lake Charles, La.) on April 7. continue


---
09.04.05 - By Jimmy Salamone: Mzonke Fana has traveled from South Africa to El Paso Texas in search of the WBC super featherweight title. He will get a look at the belt when it comes into the ring strapped around the waist of Marco Antonio Barrera. Fana, who has had only one fight outside South Africa in his career, will have to display an enormus amount of courage and execute a hell of a fight plan to leave El Paso with the title. continue


---
LOS ANGELES, April 9 – With a capacity crowd of his fellow Argentineans cheering him on at the Miccosukee Gaming Resort in Miami, Florida, Jorge Rodrigo Barrios became the newest world champion on the Golden Boy Promotions roster Friday night, stopping Mike Anchondo in four rounds to win the WBO super featherweight crown. continue


---
09.04.05 - By Barry Thompson: I submit, "Pretty Boy" Floyd Mayweather Jr. vs. Arturo "Thunder" Gatti, in this lifetime, who would have thought that it would ever happen? The average marquee fighter would have thought of someone else to fight besides "One of the best pound for pound fighters in existence", but Gatti is made of something different; He is a fighter, a warrior, "The Man", and a living, breathing "Rocky" style fighter, who has a lot of heart and that fans love to watch. This does not mean that he has a "snowballs chance in hell" of winning this fight; it simply means that he has garnered further respect and adoration of his millions of fans through his willingness to fight anyone. I will admit that he does have a punchers chance and that he believes that he knows what he is in for. continue


---
Atlantic City (April 9, 2005) -- The promoters, Bally's Atlantic City, Caesars Atlantic City and Boardwalk Hall knew it was a big event, but no one could imagine the tickets would sell as fast as they did. At 5:30 p.m. on Saturday, April 9, Ken Condon, president of Bally's Atlantic City announced there was not a single ticket available for sale. continue


---
08.04.05 - Undefeated Adrian Mora (12-0-1) will take on Ricardo Fuentes (17-4) in the co-main event of an Altitude Sports and Entertainment televised boxing event promoted by Aurelio Martinez at the Ikon Center in Cheyenne, Wyoming on April 24. Headlining will be Denver's own WBC World Youth Champion Donald Camarena against James Crayton in a 12 round contest for the WBC Continental Americas Championship. continue


---
08.04.05 - Only 200 tickets remain for the Gatti-Mayweather "Thunder & Lightning" June 25 showdown. The line began at midnight on a cold, rainy Atlantic City night. More Gatti fans showed up at 4:00 a.m. and by 7:00 a.m. "it was getting kind of crazy," said the fan that was third in line and spent the night sitting in a beach chair on the boardwalk wrapped in a blanket. continue


---
08.04.05 - By Harry Summers Jr.: Throughout 2004, the team of Tunisian-born, Australian-based junior welterweight Naoufel Ben Rabah, 23-1 (13), challenged Lovemore N'dou to various all-Australian showdowns, including a $40,000, winner-take-all battle. N'dou, 40-8-1 (26), declined fighting the flashy Rabah, citing that he had bigger fish to fry internationally and that a battle with him would be a near nothing fight, contribute little to his ambition to compete against the best in the talent-filled 140lb division. continue


---
08.04.05 - By Scoop Malinowski: When WBA Junior Welterweight champion Vivian Harris speaks, you might want to read. After all, this is the man Top Rank would not accept as WBO champ Miguel Cotto's next opponent in June in New York for just $50,000. This is the man Floyd Mayweather, Ricky Hatton and Cotto were all mandatory challengers for but withdrew from guaranteed title shots. Yes, there must be something to Vivian Harris. There must be some degree of formidability about Vivian Harris to keep causing such brave men to suddenly show such undeniable apprehension.

But eventually the truth will be known. The truth always comes out. And Vivian Harris will eventually get the superfight he so keenly hungers for. It's looking very likely Harris will be on the undercard of the Gatti-Mayweather pay-per-view extravaganza on June 25th in Atlantic City. continue


---
08.04.05 - Former heavyweight champion Riddick Bowe earned a split decision victory over Billy Zumbrun on Thursday night. Judge Ray Corona had Zumbrun winning 95-93, David Denkin and Lou Filippo favored Bowe by scores of 96-92. The 37-year-old Bowe weighed 280 pounds, by far the most of his career. continue


---
07.04.05 - Two big hitters, Javier Olvera of Mexico City and Antonio Cervantes of Ensenada, Mexico, clash in the 10-round lightweight main event on the nationally and internationally televised "Guilty Fight Night" card presented by Guilty Boxing Friday, April 15, at El Foro in Tijuana, Mexico. continue


---
LOS ANGELES, April 7 – Mike Anchondo became the former WBO super featherweight champion Thursday afternoon at the Miccosukee Gaming Resort in Miami, Florida, after weighing in 4 ½ pounds over the division limit of 130 pounds for his Friday night showdown with Argentina's Jorge Rodrigo Barrios. continue


---
07.04.05 - Heavyweight boxer Vitali Klitschko was given an enlightening introduction to the American boxing world when Don King attempted to sign the Ukraine native during the 1996 Olympics. The champion fighter told the May issue of Playboy (hitting newsstands on Friday, April 8) about his first meeting with the infamous promoter: "He brought my brother Wladimir and me to a Mike Tyson fight and gave us a proposal. He even sang to us once, at his house in Las Vegas. continue


---
07.04.05 - In a match-up that has the makings of a classic, Kostya Tszyu will meet the enormously popular Ricky Hatton in the most hostile of environments – the challenger's backyard before 18,000 fans at MEN Arena in Manchester, England. Tickets for the eagerly-awaited fight sold out in a mere two–and-one-half hours. SHOWTIME will televise the potential fight of the year candidate on Saturday, June 4, 2005, at 9 p.m. ET/PT (delayed on the west coast).The highly-anticipated event, which begins LIVE at 2 a.m. in England, will be co-promoted by Frank Warren's Sports Network and Millenium Events.

Universally recognized as boxing's premier 140-pounder and one of the world's top pound-for-pound boxers, Tszyu will face the most daunting assignment of his hall of fame career when he defends his International Boxing Federation (IBF) junior welterweight title against undefeated IBF No. 1 contender Hatton on SHOWTIME CHAMPIONSHIP BOXING.) continue


---
07.04.05-A good record can be a blessing, but it sure can be a curse too. For undefeated Egyptian light middleweight Ahmed "The Riot" Mustafa (10-0, 8 KOs) the latter is the case, as no one seems willing to take him on. Unlike most up-and-coming prospects, Mustafa is ready to risk his impressive statistics against anyone at anytime, and would be happy to travel to his opponent backyard to do so. continue


---
07.04.05 - Ipswich light heavyweight Spartacus, who defends his British Masters Title against Reading's Sammy Pryce on Sunday, believes he has returned to the kind of form that saw him sit near the top of the domestic light heavyweight rankings at the end of 2003. "The real me is back," the 27-year-old promised. "I'm feeling good again." continue


---
ATLANTIC CITY, NJ (April 7, 2005) – Tickets for "Thunder and Lightning", the highly-anticipated super lightweight world title showdown between champion Arturo Gatti (39-6, 30 KO's) and Floyd Mayweather, Jr. (33-0, 22 KOs), will go on sale to the public on Friday, April 8 at 11:00 am ET, it was announced today by Bally's President Ken Condon. continue


---
07.04.05 - Further to today's announcement from Cuban boxing coach Angel Iglesias Guerra that Mario Kindelan will not face Amir Khan on April 30, Promoter Frank Warren said that the fight would be re-scheduled for May. Warren, who found out of the Cuban's intentions via after a press conference held this morning, said, "I am just as disappointed as Amir is over Kindelan's withdrawal as he has been training hard for the fight," continue


---
06.04.05 - Will you test Cintron early? Margarito: If you have seen my fights, you know I don't back down from anyone and I will leave all my heart and everything that I have on the table. I am ready to give a great fight and the people at Caesars Palace will be the winners.

Cintron: It's going to be a great fight. Margarito is a great champion. He has good heart and he comes to fight. Come the 23rd of April, we are going to see a great fight.

What is next for you if you win, Kermit?

Cintron: I will still have to get through Margarito before I think of anything else. After that, Carl Moretti and Main Events will decide whatever is next. I'll just continue to win fights and everyone will get a chance to fight Kermit Cintron. continue


---
06.04.05 - By Tony Nobbs: With the biggest fight's of their lives coming up next month top rated contenders Paul Briggs and Anthony Mundine provided each other with intense sparring behind closed doors at a gym in a backstreet of Miami on the Gold Coast last week. Three sessions of five, seven and eight rounds left those in attendance impressed and giving applause as the pair went at it, both having their "on" days. continue


---
06.04.05 - Few world title fights in recent past were accompanied by so much ballyhoo in Europe like the WBO super middleweight championship between unbeaten champion Joe Calzaghe (Wales) and interim title holder Mario Veit (Hamburg), scheduled for May 7 in Braunschweig, Germany. "I am clearly angry. continue


---
06.04.05 - By Frank Maloney: In the summer of 1988, a British super heavyweight won a gold medal at the Seoul Olympic Games while wearing the vest of his adopted country of Canada. With many high profile promoters and managers chasing him, he stunned the boxing world by signing with little old me, a small-time promoter and manager from the back streets of London. continue


---
06.04.05 - Upon German sports channel DSF releasing the viewing figures for their broadcast of last Saturday's promotion from Velten, Germany – which featured Gotthard Hinteregger writing Austrian boxing history by unifying the IBF and WBO Intercontinental superwelterweight crowns – the Vienna man's German manager Olaf Schroeder reacted uncommonly emotional. "Pure and simple: Austrian television sucks and big time!", proclaimed the owner of Fight Production. continue


---
06.04.05 - By Tyrus Linston: During the mid to late 1980's the junior middleweight and middleweight divisions were graced by some of the sport's biggest names. Sugar Ray Leonard, Marvelous Marvin Hagler, Thomas "Hitman" Hearns, and "The Hands of Stone", Roberto Duran, were just a few of the excellent fighters that fought during this time frame. These guys, however, were considered to be the "crème de la crème" of that particular era. Even today at many sports bars, country clubs and living rooms, the debate still rages on as to which one of the four was the best. I guess it is just a matter of opinion, depending on whom you ask. There was another great champion that fought during the same era, but he, because of his tremendous boxing ability and lack of mainstream notoriety, always managed to find himself on the outside looking in. This great fighter's name is Mike McCallum.

McCallum, aka "The Bodysnatcher", was born in Kingston, Jamaica on December 7th, in the year of our lord, nineteen hundred and fifty six. McCallum had an excellent amateur career, compiling a 240-10 record and representing Jamaica during the 1976 Olympic games in Montreal, Quebec, Canada. continue


---
QUEENS, N.Y. (April 6, 2005) – Unbeaten Irish middleweight prospect John Duddy (9-0, 9 KOs) is on the fast track in the 160-pound division, especially after his electrifying, high-profile first-round knockout of previously undefeated Lenord Pierre (16-0, 11 KOs), rated No. 19 by the World Boxing Council, March 18 on ESPN2 Friday Night Fights. continue


---
06.04.05 - West Palm Beach, FL – The newly formed Haitian Sensation Promotions (HSP) contracted with the Palm Beach County Convention Center today marking the beginning of what Daniel Edouard, CEO President of HSP, hopes will be a uniquely prosperous future. continue


---
06.04.05 - Nottingham's Carl Froch will make his US debut against the highly respected Costa Rican Henry Porras on April 21st when he headlines an HBO Latino bill at the Avalon venue in Hollywood, Los Angeles in the first of a series of fights that will force WBO champion Joe Calzaghe to face him. continue


---
RESEDA, Calif. (April 6, 2005) – Making his first start in six-and-a-half months, Wladimir Klitschko will take on undefeated Eliseo Castillo in an important heavyweight bout Saturday, April 23, in Dortmund, Germany. The match will be shown on HBO After Dark at 9:45 ET/PT. "I am fighting a very dangerous opponent, but it is important for me to fight the best heavyweights that I can,'' said Klitschko.

Klitschko, a former World Boxing Organization heavyweight champion who won a fifth-round technical decision over DaVarryl Williamson in his last start on Oct. 4, 2002, in Las Vegas.

"The only way for me to re-establish myself in the division is to fight the toughest fighters. This is going to be a great fight, but I am already in excellent shape and am confident that I will win. continue


---
06.04.05 - (Washington, D.C.) – Lawmakers, labor unions and professional boxers will join together on Wednesday, April 6, on Capitol Hill to call on the Bush administration to issue a full pardon for former Heavyweight Champion Jack Johnson. As the first African American heavyweight champion of the world, Johnson earned the respect of fighters and fans alike for his courage and determination both inside and outside the ring. continue


---
06.04.05 - Jim Amato: Rumor has it that Ike Quartey's next comeback bout may be against Youngstown, Ohio's undefeated Kelly Pavlik. In his prime Ike was an excellent fighter. I'll always remember his memorable wars with Jose Luis Lopez and then prime time Oscar De La Hoya and Fernando Vargas. That was a long time ago. A bout with Pavlik at this stage of Ike's comeback could be a crucial mistake. continue


---
05.04.05 - Edinburgh hot-shot Gary Young believes that he will shortly join WBO World Featherweight Champion Scott Harrison and Alex Arthur at the top of Scottish boxing. The 21-year-old takes a step up in class when he tackles tough Russian Welterweight Champion Victor Baranov this Friday at the Meadowbank Stadium on the Alex Arthur-Craig Docherty continue


---
05.04.05 - By JE - On April 30th, WBA heavyweight titlest John Ruiz (41-5-1, 28 KOs) will defend his belt against the colorful multi-division champion James Toney (68-4-2, 43 KOs) in New York on HBO. Will this be Ali-Frazier redux? Hardly, but what it can be is the first step toward unification of the heavyweight belt. continue


---
05.04.05 - By Tony Fondacaro: It's been almost a month since "The Contender" first aired, and so far the boxing community seems to be divided amongst themselves between those who like it and think it's good for boxing, and those who dislike it but still think it's good for boxing. At least they can agree on something.

I would have to agree with the agree-ers; it is good for boxing. Anything that gets the sport into the mainstream audience and gives it exposure is good in my book, except if some fighter chomps another fighter's ear off. Unfortunately, that hasn't happened on the show yet, but I'm keeping my fingers crossed. I don't hold out much hope however. I'm tempted to write a letter: "There's no eye of the tiger here Sly, just a lot of school-yard weeping." continue


---
05.04.05 - By Harry Summers Jr.: It is now confirmed, Indonesian Chris John, 34-0-1 (19), the current WBA Featherweight champion, suffered a bad cut over his right eye during an intense sparring session with world-ranked junior welterweight and stablemate Naoufel Ben Rabah on March 27. continue


---
BOSTON (April 4, 2005) – World champion Ronald "Winky" Wright, along with award-winning author Thomas Hauser and former world welterweight champion Tony DeMarco, are this week's special guests on New England Ringside Radio Show, Thursday night (6-8 PM) on WWZN 1510 The Zone. continue


---
04.04.05 - 2004 Olympic Gold Medalist Andre Ward will kick off a busy week with his third professional fight at the Pechanga Resort and Casino in Temecula, Calif. Ward will battle Roy Ashworth (3-1) of Lake Charles, La., on April 7. continue


---
LOS ANGELES, April 4 - Citing personal reasons, lightweight contender Juan Lazcano has been forced to withdraw from this Saturday's "Viva Mexico" card in El Paso, Texas, where he was to face Hernan Galaviz in a ten round contest. continue


---
04.04.05 - By MATT CLARK: Frankie Demilo is a classy guy. Not just in the ring where he has compiled an 18-5, 7 KO record but outside the ropes where his impeccable dress sense and obvious intellect has the 'Average Joe' double take when they find out his chosen profession. Now promoted by Jamie Myer, this well travelled man was born in Rwanda on April 6 1974, began boxing in Sweden age 19, turned professional in England in 1999 and now calls Australia home.

On March 18 he claimed the Australian super bantamweight title when Gold Coast rival Matt Powell was disqualified in the sixth round. When in training the dedicated Demilo commutes daily, a two hour round trip to the Tweed Heads PCYC from his Surfers Paradise home where he works out with trainer Tony Nobbs. The softly spoken southpaw and his trainer took the time to answer the following questions in early April. continue


---
04.04.05 - Jean-Marc Mormeck: "Two years ago I came to America to sign with Don King and I thank him for the opportunity. I always told Don King I could do it and I am now the unified cruiserweight champion. Months and months I have been working to accomplish this and I know I can improve further." continue


---
04.04.05 - By Steve Mckenna: THE night before Ricky Hatton's challenge to Kostya Tszyu - June 3 - Michael Brodie attempts to kickstart his career by taking on teak-tough Scott Harrison at the Manchester MEN Arena. Brodie has been one of British boxing's nearly men over the past decade. He has been in some thrilling fights, but has fallen at the last hurdle on three occasions. continue


---
04.04.05 - WBO World Super-Middleweight Champion Joe Calzaghe will get a unification showdown against IBF holder Jeff Lacy if he beats Mario Veit in Germany next month said promoter Frank Warren. The unbeaten Welshman defends his title against mandatory challenger Veit on May 7 in Braunschweig and Warren has had talks with Showtime chief Jay Larkin and Lacy's promoter Gary Shaw for the unbeaten American to face Calzaghe in the UK this September. continue


---
04.04.05 - Promoter Art Pelullo/Banner Promotions has signed North American Boxing Federation super welterweight champion Rodney Jones to an exclusive promotional contract. A resident of Stockton, California, Rodney has a record of 35-3, with 22 knockouts, and is ranked No. 5 in the world by the WBO, No. 7 by the WBC and The Ring Magazine, No. 10 by the IBF, and No. 15 by the WBA. continue


---
04.04.05 - By Mike Indri, Retired Boxers Foundation - While most boxing fans were able to watch the recent Eric Morales - Manny Pacquiao epic battle on HBO Pay-Per-View (Morales UD12 - 3/19/05), the Showtime Network decided not to televise the Jose Antonio Rivera vs. Luis Collazo WBA welterweight championship fight at the DCU Center in Rivera's hometown of Worcester, Ma. Not only was this error in judgement a mistake for the network, it was also a big loss for all boxing fans.

Making the first defense of his hard earned title, Rivera (photo by: Ed Mulholland) was coming home - fighting in front of his hometown fans, as a world champion. Rivera's own hand injury, the Ricardo Mayorga ordeal, and his scheduled opponent's (Thomas Damgaard) health problems, all contributed to a ring layoff of over 18 months for the full-time Worcester Juvenile Court officer.

With Damgaard, the # 1ranked WBA contender unable to fight, Brooklyn's Luis Collazo (24-1 with 11 KO's) was given the opportunity to fight for the championship - and just two weeks of time to prepare. continue


---
04.04.05 - By Eric Rineer: Daniel "The Prophet" Attah, a former world-title challenger in the super featherweight division, said he has split with his promoter Murad Muhammad. "He didn't respect me," said Attah, who alleges that Muhammad "breached their contract, which called for four fights per year. "I'm not upset," Attah said. "I just don't want to deal with him anymore." continue


---
CANASTOTA, NY - APRIL 4, 2005 - Former undisputed middleweight champion and 1993 Hall of Fame Inductee Marvelous Marvin Hagler will attend festivities planned for the 16th Annual Hall of Fame Induction Weekend scheduled for June 9-12th in Canastota, NY. continue


---
04.04.05 - The former amateur boxing super star won his 6th straight victory as a pro, right here in San Jose on March 31, 2005 "KO In San JO" Thursday Night Fights - The Civic Auditorium, San Jose, CA. Amongst a fan frenzy of over 1,000 loyal Jose followers, He entered the ring to a roaring applause from his fans cheering him on to his KO victory over Maezono! continue


---
04.04.05 - Even though Alex Arthur and Craig Docherty battle it out for the British and Commonwealth Super-Featherweight titles in Edinburgh this Friday, they will be keeping an eye on a young man who is closing in on them...fast. continue


---
03.04.05 - By Wray Edwards: The road to fame and fortune in the Boxing game is rough and rowdy. Along the way there are bound to be some punishing stretches. Someone once said, "From victory one only learns arrogance, but from defeat one learns volumes." This writer has been told that, in one way or another, by more than one champion. Jean Marc Mormeck (photo: Tom Casino/Showtime) opened the doors to his one-room schoolhouse and invited Wayne Braithwaite to learn and be tested.

The WBC/WBA Cruiserweight unification match between the Frenchman and the American played to an enthusiastic though sparsely attended boxing match on Showtime from Massachusetts last night. Braithwaite (29) jumped over the ropes into the ring with an easy confidence and waited for Mormeck (32) to follow. Wayne had lost both coin-tosses regarding the brand of gloves and order of entry to the ring. Not good omens. continue


---
03.04.05 - By Frank Gonzalez Jr.: The Cruiserweight division got interesting Saturday night in Wooster Mass., where WBA Cruiserweight Champion Wayne Braithwaite (21-1-0-17 KO's) lost his title to Frenchmen, Jean Marc Mormeck (31-2-0-21 KO's). It was a battle that saw Braithwaite go down for the first time in his career and lose his first professional fight.

If you're a hardcore fight fan in the USA, you've heard about Mormeck, seen his name at the top of the rankings and yet never seen him fight. Mormeck is a stocky figure, 198-pounds at five-feet, eleven inches. He's got a chiseled physique and a blonde beard that finely lines his dark skinned jaw. He has a no nonsense demeanor and has won his last 28 fights. continue


---
03.04.05 - By Frank Gonzalez Jr.: Friday night at "The Palace" in Lemoore California, Gilroy California native, Roberto Guerrero displayed his wares in front of an adoring crowd as he defended his NABF Featherweight Title. Many times, when Prospects gets a lot of positive press, they don't usually live up to the hype. Robert "The Ghost" Guerrero, now 15-0-1-8 KO's absolutely lived up to his press by the time I finally got to see him fight. After hearing so much about this young, Featherweight Prospect (with the aggressive emailing publicity machine behind him) I was impressed with what I saw.

The bout was televised on ShoBox, Showtime's best quality boxing program, which features young fighters in good match ups (most times) and has a professional caliber announce team in Steve Farhood and Nick Charles.

"The Ghost" defended his Title against Adrian Valdez (16-3-3-8 KO's), who is not the typical, 'made to order chump' so commonly fed to Prospects, but a quality fighter at the crossroads of his young career. continue


---
LOS ANGELES – April 3, 2005 - HombreTV, the cable television network for Hispanic men, announced today that it will be taping for future broadcast on its network, the boxing event, "Duelo De Aztecas." The fight is being produced for future broadcast on HombreTV by All-Star Entertainment Productions. continue


---
WORCESTER, Mass. (April 3, 2005) – World Boxing Association (WBA) champion Jean-Marc Mormeck became the first boxer from France in any weight division to become a unified world champion when he scored a unanimous 12-round decision over previously unbeaten World Boxing Council (WBC) champion Wayne "Big Truck" Braithwaite in a cruiserweight world title unification bout Saturday on SHOWTIME. The fight, which aired at 11 p.m. ET/PT (delayed on West Coast) from the DCU Center, was promoted by Don King Productions. continue


---
02.04.05 - By Jim Amato: The professional career of Canton, Ohio's Ronnie Harris is often overlooked. A lot was expected of him and to many he failed to deliver. In retrospect, Ronnie may be one of the best middleweights the state of Ohio has ever produced. One of the first important wins in Ronnie's career came in May of 1972 when he outpointed Cleveland's Bobby Haymon. continue


---
02.04.05 - WBC heavyweight champion Vitali Klitschko poses with his new-born son Max. The third child of Vitali and Natalie Klitschko was born April 1 in Los Angeles and was named after the late Max Schmeling. The future heavyweight champion of the world weighed a little more than nine pounds and was about 22 inches tall. continue


---
02.04.05 - By Izyaslav "Slava" Koza, and Gennadi "Komar" Komarnitzky: Aleksander Miroshnichenko died tragically in Kustanai, Kazakhstan on may 19th 2003. According to officials his death was the result of serious skull and brain trauma, suffered as a result of a fall down the length of 9 flights of stairs, from the hallway area in front of his apartment. Early reports indicated that Miroshnichenko returned home from a friend's place, in a drunken state, and was lured by habit to have a smoke in the hallway of the 9th floor, where fate cruelly sent him to his death.

At the time, Aleksander was a witness in a case involving his long time acquaintance, and former boxer, Sapabek Mukashev. Mukashev was being charged with the murder of yet another boxer named Sevastyanov. The trial ended three days before Miroshnichenko's death. continue


---
02.04.05 - By JE - In my recent article calling for the reinstatement of the 15-round championship distance, I was alarmed by the weak-kneed responses by those opposed to the change. Yes, I expected some would be against it – virtually any idea calling for change is challenged. What surprised me was the fact that most of those opposed worried about the length of the championship distance being too much to ask of professional fighters. continue


---
DENVER Colorado (April 2, 2005) – Undefeated Adrian Mora (12-0-1) will continue on the path to stardom as he battles Ricardo Fuentes (17-4) of Azusa, California in the Co-Main event of an Altitude Sports and Entertainment televised boxing event promoted by Aurelio Martinez of Inside Boxing at the Ikon Center in Cheyenne, Wyoming on April 24. continue


---
01.04.05 - By JE - Tonight Wayne "Big Truck" Braithwaite (21-0, 17 KOs) of Guyana and Jean-Marc Mormeck (30-2, 21 KOs) of France square-off to unify the WBC and WBA cruiserweight titles. Much will be made of the division's weakness and some will question will the reason the cruiserweights exist at all. continue


---
01.04.05 - By James Allan: If any other fighter boxing today, had the win – loss record that John Ruiz currently boasts amongst what are or were considered to be amongst the top fighters in his weight category, he would be universally acclaimed as the number one in that division. Ruiz has fought and beaten Andrew Golota, Fres Oquendo, Hasim Rahman and Kirk Johnson. He has also beaten solid fighters such as Tony Tucker, Jimmy Thunder and Julius Francis. continue


---
01.04.05 - Interview by Wray Edwards: As the phone began to ring on the other end, this writer was filled with pleasant anticipation at the prospect of hearing the cheerful voice and Caribbean accent of the current WBC Cruiserweight Champion of the World Wayne "Big Truck" Braithwaite (photo: Tom Casino/Showtime) again. The twenty-nine year-old southpaw speaks with an easy confidence, and off-the-cuff humor, which belies his accomplishments in the ring. This interview was aimed at the practical boxing aspects rather than hype.

Having KO'd sixteen of his last seventeen opponents, this Georgetown, Guyana native who now lives in Brooklyn, New York is undefeated. His 21-0-0 (17) record has included many serious challenges. Though the Cruiserweight division is not as high-profile as other divisions, many of our most accomplished champions have paid some of their dues in this weight class. Wayne recently gave Eastside Boxing an exclusive interview on the eve of his unification match with thirty-two year-old Frenchman Jean Marc Mormeck 30-2-0 (21). Braithwaite-Mormeck will be shown on SHOWTIME CHAMPIONSHIP BOXING Saturday at 11 p.m. ET/PT (delayed on the West Coast) continue


---
01.04.05 - By Tony Nobbs: Team Fenech's Cameroon Sydney Olympic rep Sakio 'Scorpion' Bika scored an impressive and relatively one sided stoppage at the 2 min 35 mark of round six over gutsy Australian Super Middleweight champion Juarne 'Dynamite Kid' Dowling in a non title ten rounder on a Jeff Fenech Foxsport fight night at the Penrith Panthers Club on Friday. continue


---
LEMOORE, California (April 1, 2005) - In an intense offensive war, unbeaten Robert "The Ghost" Guerrero defended his North American Boxing Federation (NABF) featherweight title with a 12th round TKO over Adrian "Gallero" Valdez, Friday on SHOWTIME. In the "ShoBox: The New Generation'' co-feature, undefeated Malcolm "The Show Stopper" Tann scored an impressive second-round knockout over Leroy Childs. continue


---
01.04.05 - By Andy Meacock: One Saturday afternoon earlier this year I was walking home with a friend and he asked me why it was that I liked boxing, I paused for a moment, smiled and then told him one word, 'emotion'. I elaborated on that by telling him some of the reasons why boxing was so special to me. continue


---
01.04.05 - Photo: TOM CASINO/SHOWTIME: Jean-Marc Mormeck (left), promoter Don King and Wayne Braithwaite pose after Friday's weigh-in at Westborough, Mass. Mormeck, the WBA cruiserweight champion, weighed 198 pounds Friday while Braithwaite, the WBC cruiserweight champion, tipped the scales at 188 pounds. continue


---
01.04.05 - Mayweather: Arturo Gatti is duckin' and dodging me. I was here on the east coast and all the sudden this guy is sick. What is today, Wednesday? Wednesday he is sick but Thursday he has a press conference. He is scared. I've been chasing this guy for a year now and all his fans are saying, he's Thunder, he's this and he's that. All I want anybody to do is ask me, who has Arturo Gatti beat in a big fight. If you all can tell me that then I will give props where props are due. But to my knowledge he hasn't beaten anybody. This is Floyd and I am the best out there and I'm willing to fight the best any time or any place. This guys got six losses and I am going to show the world the 7th way to beat him. I feel good. The guy is scared of me the minute I signed the contract. The world knows I signed the contract. I pleaded a "no contest" to get the fight and the guy tried to back out. I was not guilty and the guy still tried to back out. I signed two different contracts. This guy got what he wanted and he didn't even show up. He got what he wanted. continue


---
01.04.05 - What is your reaction to what Floyd was saying?

Gatti: Number one, he's got no class and that's the way he is. I just can't wait to see him on the 25th when he sees me across the ring from him.

What do you think he brings to the table besides speed?

Gatti: That's the only thing he brings. What everybody forgets is that it runs in the family. They all have glass jaws - chins. That's why he moves so good, because he can't get hit. Roger, his father, everybody. And they all have big mouths. I don't like to say that but that's a fact. Like Buddy says, it runs in the family. They have glass jaws and that's the one thing you can't have against me. I'm a very hard puncher at 140.

Moretti said you didn't need this fight, so why did you want it?

Gatti: This is a fight for myself. I want to be the best and I want to be recognized as the best. continue


---
01.04.05 - By James Allan: At this exact moment of writing, I am personally aware of over twenty sanctioning bodies currently operating within the sport of boxing. I say at this exact moment of writing, as the chances are that by the time I have finished this article, another one will have sprung into existence, or else one of the current bodies will have folded.
These bodies have succeeded in doing three things: continue


---
01.04.05 - By Dan McDonald: "The Black Rhino" has fought all over the U.S., facing name fighters such as Mike Tyson, current WBO world heavyweight champion Lamon Brewster and former Olympian Lawrence Clay-Bey. He's fought in New Orleans, Baton Rouge, Kenner, Westwego and Marksville, not to mention Houston, Biloxi and Bay St. Louis. continue


---