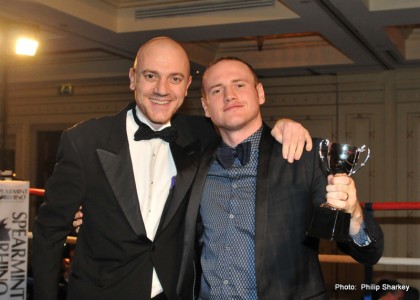 Groves was guest of honour at the Millennium Hotel for a dinner show – and was presented with the Mayfair Sporting Club Boxer of the Year award.
He was handed the award by Mayfair Sporting Club head Mickey Helliet and said: "We wanted to recognise George's performance against Carl Froch last November.
"For me and many other members of the club, the fight evoked memories of the classic battles in the 1990s between Nigel Benn, Chris Eubank, Michael Watson and Steve Collins.
"It was a gripping fight and George confirmed what many of us already knew; that he is a world-class fighter and Britain's next superstar. Continue reading →