Roy Jones Dominates Felix Trinidad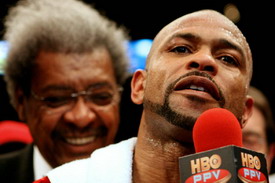 Photo by David Martin Warr - DKP - PENSACOLA, Fla.—An ebullient Roy Jones Jr., energized by his dominating, unanimous-decision win over Felix "Tito" Trinidad at Madison Square Garden on Saturday night, says he is ready to take on all comers in the light heavyweight or super middleweight divisions and beyond.

"I told you Roy Jones Jr. is back," Jones said after his triumph over Trinidad where he twice sent the Puerto Rican legend to the canvas. "I'll take the winner of either the re-match between Kelly Pavlik and Jermain Taylor or Joe Calzaghe vs. Bernard Hopkins. I'm even willing to go down to 156 pounds to face Oscar De La Hoy in May. Line them up and I'll knock them down.."

Jones (52-4, 38 KOs) surprised some longtime boxing scribes who didn't believe he could still muster the skills that made him one of the best and most feared boxers in the history of the sport. Jones showed flashes against Trinidad on Saturday of his rare combination of speed and power that put him atop the lists of pound-for-pound best fighter in the world for a decade.

"I always said that with the right motivation and focus I can still be Superman. I saw it in the gym leading up to the fight and Tito Trinidad and everybody else saw it on Saturday night at the Garden. Like I said, line 'em up and I'll knock them down."
---
Trinidad Well Compensated For Jones Bout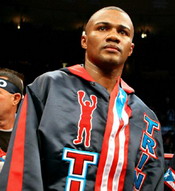 Matthew Hurley: Despite losing to Roy Jones Jr. by unanimous decision this past Saturday night Felix 'Tito' Trinidad (photo by David Martin Warr - DKP) was handsomely compensated for his losing effort. Trinidad, who suffered two knockdowns in the bout but in typical fashion kept pressing the action, is alleged to have pocketed nearly $14 million for his nights work. According to the El Vocero periodical Trinidad made nearly $7 million plus an added $2 million from pay-per-view sales. The latest numbers on the Jones – Trinidad fight has pay-per-view buys exceeding four hundred thousand. On top of that, promoter Don King sweetened Tito's deal with a second payment during the negotiation process.

Trinidad's attorney Nicolas Medina commented on Trinidad's earnings. "Tito was well protected during the negotiation process and right after the fight we picked up both of our checks in full," he said.. "Tito put on a great show and I think there were at least fifteen thousand people at Madison Square Garden. Furthermore, the people of Puerto Rico should be proud." (The official attendance has been reported as 12,161.)

Although the loss to Jones was his second straight, he dropped a wide unanimous decision to Winky Wright in 2005, Trinidad is hinting at the possibility of a return to the ring. Trinidad has only fought four times since his 2001 loss to Bernard Hopkins but his immense popularity in Puerto Rico seems to lead him back into the ring after intermittent spells of dormancy. The fighter acknowledged as much in an interview with the Primera Hora newspaper.

"There are a lot of fans that want me to continue fighting. They congratulate me on the fight. They stop and tell me I fought a great fight, one of the better fights I've given to boxing, and it was against a man who dominated the one hundred and seventy-five pound weight division a few years ago. I don't have a decision now. I'm a young, healthy person. I only have three losses. There are other boxers who were beaten more times, taken a lot more punishment and they continue."

The thirty-five year old fighter went on to add that his performance against Jones, who insisted that he would knock Tito out in four rounds, was not only in the vintage Trinidad style but worthy enough of praise from his harshest critic – himself.

"I was knocked down, but I got up and I didn't run, I fought. I've never been a fighter who runs. I connected with my jab. I connected to the body. It was one of my better performances."

HBO's Boxing After Dark will air a replay of the Jones – Trinidad fight on Saturday, January 26th at 10:00 pm Eastern Standard Time. The replay will be followed by the Alexander Povetkin – Eddie Chambers heavyweight elimination bout, live from Berlin, Germany.
---
Jones Looks To Calzaghe And The Future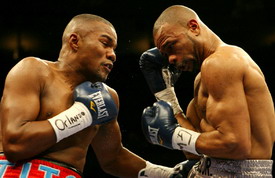 Matthew Hurley, photo by David Martin Warr - DKP: After Roy Jones Jr. defeated Felix Trinidad by unanimous decision in front of a less than capacity crowd at Madison Square Garden the fighter turned his attention to super middleweight champion Joe Calzaghe. Calzaghe is scheduled to take on Bernard Hopkins on April 12th at the Mandalay Bay Resort & Casino in Las Vegas, but the fight has been so long in the 'tentative' column that most fight fans are taking an I'll-believe-it-when-I-see-it attitude. Jones, who is suddenly bursting with fistic enthusiasm, has committed himself to doing something he's never done before – crossing the pond and fighting in Calzaghe's backyard. It's a course of action Jones wouldn't even consider when he was at the apex of his career.

"I'm definitely looking to make that fight and I'm going there (Wales) tomorrow," Jones said after defeating Trinidad. "I'll fight anybody, anywhere, any time and if Hopkins – Calzaghe finishes how I think it will, I'll even go to Wales and fight. I don't care.."

Jones espoused much the same rhetoric in the days leading up to the showdown with Trinidad. That, "I'll fight anyone, anywhere, any time" sound bite has become something of a mantra for the fighter, who has even gone back to referring to himself not only in the third person, but as 'Superman.'

"I'll fight Antonio Tarver, (Glen) Johnson, (Chad) Dawson, set 'em up and I'll knock 'em down."

The pre-fight bluster was typical Jones bravado but after disposing of Trinidad the fighter's ego seems to truly be pushing him into on last grasp at center stage. The Trinidad victory came against a fighter who not only has tremendous difficulty with speedy boxers but also after having sat out for two years. Still, Jones exhibited speed and athleticism that could still serve him well against future opponents. And nearly every fighter in the 168 to 175 pound range would love to have a victory over Roy Jones, whatever version this 2008 one may be, on their ledger. Look for Jones to be involved in at least one more big fight against a marquee name before the thirty-nine year old finally hangs up the gloves.

"All my fans around the world said I was done," Jones said with a smile at the post fight press conference. "You never know when you're going to be here, or when you're going to go. You never know when it's your time. I had a great training camp and great sparring partners and I'm pretty much Mr. Unstoppable."
---
Post Fight Quotes: Jones Jr, Trinidad, Goloto, Bunema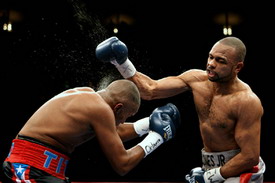 photo by David Martin Warr - DKP - ROY JONES JR.: "All my fans around the world said I was done. He took a lot of hard punches. Jones said to Trinidad, "I can't believe you stayed in there 12 rounds with me. We had a great fight and everyone said we were too old. "I tried to put him away a few times but he slipped a lot of my good punches. I had a wonderful camp and great sparring partners. It was a great fight. I can't believe he stayed in there for all of those rounds for me. He was slipping a lot of my good punches and I felt like I was missing knocking him out by inches. I jammed my knuckle sometime during the fight. He's got a pretty hard head.

FELIX "TITO" TRINIDAD

"I took off two years and eight months. I take nothing away from Roy but if I could have avoided the KOs, I think I would have won the fight. He was very fast and strong and threw great punches. I have no excuses..

"He demonstrated speed and took my body punches. I fight for my fans and the people of Puerto Rico.

"Roy Jones was very fast and he fought a good fight. I think he won the fight but not by such a wide margin.

"I will decide if I fight again or not. I will speak to my father but I will make the decision as to whether or not I will fight again."

ANDREW GOLOTA

"I hope nobody will ever call me a quitter again. I couldn't see anything after round 8. I had to box more by feel than what I could see. He was much faster than I thought he would and he hit me too many times. I wish I had landed more combinations."

LUIS COLLAZO

"It's my first fight back since fighting Shane Mosley and having surgery on my left hand. My hand actually feels better than it did before. I'm back and I want to re-establish myself as one of the best welterweights in the division."

DeMARCUS "Chop-Chop" CORLEY

"I felt good tonight but should have pushed him more. I wanted to pick it up around the 6th or 7th round but it didn't really happen.

"Nothing he did really surprised me because we knew he had fast hands and a nice left hand. But nothing really surprised me. I wish I had let my hands go more but it didn't happen.

"I got a couple more months with Don and then I am going to hang it up. I had a great career and love my family too."

DEVON ALEXANDER "The Great"

"It felt great to go 12 rounds with a former world champion.

"It was hard because it was my first 12 rounder. I was pressing hard for a knockout in the early rounds but my coach told me to settle down and just do what I do.

"I am ready to do more and I know I will do even better in the future. I want everyone in St. Louis to know that I am coming back with a win and a belt."

ROMAN "Made In Hell" KARMAZIN (As told my trainer Freddie Roach)

"He told me in between rounds that he had no power and felt really weak. He got caught and after that he never really recovered."


ALEX "The Technician" BUNEMA (after bursting into tears in his dressing room)

"I knew Karmazin was in very good shape from the opening bell. I also believed that he watched a lot of tape on my fights because he changed his style for me.

"He was trying to counter-punch more. The fight was close until I knocked him into the corner in the 10th round. I knew he was in trouble then. I thought it was over when I hit him with the big right but he stayed up.

"I followed him and landed the big hook that knocked him down. I was not surprised I did what I said I was going to do. Now I want a title shot against WBA champion Joachim Alcine."


MIKE MOLLO

"I couldn't believe the number of combinations he threw for an old man. I fought the best I could. I got nervous and flustered. I wish I had done better. I didn't fight my best fight but my hat is off to him."
---
Golota pounds Mollo; The "Old Roy Jones, Jr." beats up an old Tito Trinidad!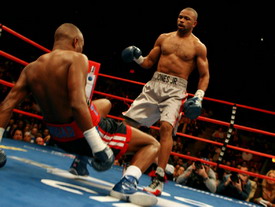 By Mike Indri, Retired Boxers Foundation, photo by David Martin Warr - DKP - Madison Square Garden was not nearly as filled as had been expected; quite possibly even the most ardent supporter of legendary five-time World Champion Felix "Tito" Trinidad knew the obvious. Their Puerto Rican boxing hero, who had not fought since getting thoroughly dominated nearly three years ago in his embarrassing 12 round unanimous decision defeat at the hands of Ronald "Winky" Wright, was bought out of retirement (for the not so embarrassing price of 9 million dollars) to face a bigger, stronger and faster fighter in Roy Jones, Jr.

While Trinidad tried as best he could, fighting at his heaviest weight ever only slowed him down. From the early rounds it was clear that Jones was able to handle Trinidad's biggest punches, while Tito was not able to take Roy's.

Jones methodically began controlling the action, besting Tito jab for jab, body shot for body shot - essentially beating Trinidad "mentally" before he began his physical beating of the former boxing superstar who defeated Oscar De La Hoya, and destroyed Fernando Vargas.

While the crowd was rooting for Tito, by round three or four the "Roy-Roy-Roy" chants were growing louder. By the time Jones dropped Trinidad with his first knockdown of the fight in round seven the "Tito - Tito" chants were silent and the bongo drums had stopped. It was all over.

Being the one-dimensional fighter as he is, Trinidad still came forward and was getting beaten like the smaller kid at the schoolyard.

Trinidad was getting hurt more often, and Jones was now enjoying his "coming back party". Tito reverted to backing up and throwing meaningless punches, which simply delayed the inevitable. A quick, snapping left jab, following by a grazing right dropped the wounded Puerto Rican fighter as Jones shuffled, danced and pranced like the untouchable former great champion we were all so used to seeing, especially as HBO's premier boxer.

Trinidad summoned all his heart and managed to survive the one-sided affair on his feet. The 12,162 fans that were crazily cheering for their hero did not even wait for the three judges' scorecards to be read. It was solely academic as Michael Buffer announced the 117-109 and two 116-110's for Roy Jones; there would be no rumble tonight. I saw it 118-108.

Jones can now be included with Bernard Hopkins, and the aforementioned Wright as the fighters to have beaten Trinidad, who also has 42 wins to his credit; 35 by knockout. With the career enhancing victory, Jones improves to 52-4 (38 KO's) and now is looking to fight "anyone - anytime". Let's just hope the next one is a fair fight!

In the night's co-feature bout heavyweight contender Andrew Golota made like Arturo Gatti and fought twelve rounds of no holds barred, old school, back in the alley-type fighting.

With his left eye bruised and grotesquely closed shut since the sixth round, Andrew Golota sucked it up and took control of a fight against a confident, up and coming Mike Mollo; twelve years his junior. Practically an even fight after eight rounds, Golota withstood a heavy-handed pounding from the twenty-eight year fighter nicknamed "Merciless" and hurt his fellow Chicago neighbor with several big right hands in round nine, which had Mollo holding on to survive. Continuing the assault in the tenth, Golota landed a left hook, and how Mollo was able to wobble back to his corner amazed the exhilarated crowd. How Mollo ever finished the bout on his feet is truly a testament to the heart and fortitude of this young hopeful, who definitely gained more than he lost in defeat tonight. Golota, unable to see out of his left eye, smartly turned southpaw at times late, so as to continue the battle - there surely was no quit in Mr. Golota tonight, and the boxing fans appreciated the effort from a fighter who always had the tools and talent to be a champion. At forty years old, Golota fought one of his best fights and will get another chance to prove his merit. With the spectacular win Golota improved to 41-6-1 (33 KO's), Mollo, who put up a valiant fight, now is 19-2 (12 KO's). Nothing but great things can be said about both these giant-hearted fighters, who both left it all in the Madison Square Garden ring tonight.

Afterwards a very bruised and swollen, yet extremely proud Andrew Golota beamed, "At lease now no one can ever can me a quitter!"

The HBO Pay-Per-View portion of the night began with a twelve round sleeper between former World Boxing Organization World Champion DeMarcus "Chop Chop" Corley and the undefeated Devon Alexander.
The twenty-year old Alexander used his used his advantage of youth, beating Corley to the punch and well as outworking the tough veteran. Even getting penalized a point by referee Gary Rosato, for low blows, in the final round did not hamper Alexander "The Great", cruising in the eyes of the judges who saw it 116-111 and 118-109 twice for the undefeated St. Louis resident. According to Compu-box numbers, Alexander doubled the production of his fellow southpaw, out-landing Corley 271-127 in total punches, a main reason for the decisive decision win which upped Alexander to 14-0 (9 KO's), while the once-mighty Corley, who has now lost his last four fights, falls to 31-8-1 (17 KO's).

Alexander picked up the vacant WBC Continental Americas super lightweight Championship title with the victory.

It took a little over eight rounds for a fight to break out between the dangerous, hard punching Roman "Made in Hell" Karmazin and Alex "The Technician" Bunema. Scheduled for 12 rounds and fighting for the WBA Intercontinental Super Welterweight title it was Karmazin who was controlling the bout, and the limited action going into the ninth round. Surprisingly it was the "Technician" who was now doing the damage, landing some big punches late in the round, which had Karmazin holding on. Starting round ten where he left off, Bunema landed often and caught his Russian foe with a crippling left hook, dropping the usually steady chinned Karmazin. To his credit Karmazin bounced up and wanted back in the fight, unfortunately - he got it!

Another hurtful left hook drove the still dazed Karmazin into his own corner where he absorbed a tremendous barrage of two-fisted punishment, finished by a big right hand which sent the heavily favored Karmazin crumpling to the canvas as Johnny Callas waved off the bout; a moot point as the former IBF jr. middleweight champion was out cold!

Bunema, a native of Zaire who now calls Atlanta, GA his home, woke up the Madison Square Garden crowd by putting Karmazin to sleep - the likable fighter also woke up the boxing world with his big time victory and deserves a bigger fight, and a bigger payday, in the very near future.

Bunema jumps to 29-5-2 with his impressive fifteenth career knockout win, while the highly regarded Karmazin, now 36-3-1 (23 KO's), suffers his first stoppage loss.

On the non-televised portion of the Don King promoted, HBO PPV card:

Former World Boxing Association Welterweight World Champion Luis Collazo out-boxed Edvan Dos Santos Barros, now 9-5-1 (7 KO's), over ten rounds to pick up a unanimous decision and get back on the winning track. While controlling the entire fight through eight uneventful rounds, Collazo hurt his opponent late in round nine and showed his fast hands and pinpoint precision the rest of the way, nailing Dos Santos Barros relentlessly until the end.

After losing to Shane Mosley nearly a year ago (02/10/07), the Brooklyn native was sidelined with tore tendons and a broken thumb on his left hand; which required extensive surgery. Now injury free and ready, Collazo, who dethroned WBA champion Jose Rivera of his title in 2005 and beat up on Ricky Hatton, only to lose a razor thin decision in 2006, looks to 2008 as his year to get back to the top of the welterweight division.

Emmanuel N'Wodo made short work of Ezra Sellers, stopping the Maryland southpaw late in round two of their scheduled eight round heavyweight bout. N'Wodo, a Baltimore, MD native by way of Nigeria, won the first round and hurt Sellers with a big two-handed combination towards the end of round two. Sellers was knocked to the canvas twice and counted out, face down, by referee Jim Santa with one second left in the round. N'Wodo saw his record improve to 22-4 (18 KO's), while Sellers, who began his pro career in the same fashion, suffering a second round knockout at the hands of former world champion Bruce Seldon over eighteen years ago, dropped to 29-8 (26 KO's).

Cuban lightweight Angelo Santana excited the sparse, early gathering crowd with his first round technical knockout win. It took the highly touted Santana a mere 33 seconds to finish off mismatched Kenny Keaton, from Indianapolis, Indiana. Keaton, now 0-2, never had a chance as the Cuban defector jumped on him from the opening bell, forcing Keaton to turn his back before getting blistered to the canvas with a nasty barrage. Referee Jim Santa did not even bother to start a count, waving off the one-sided match.

Heavyweight Gabe Brown opened the show in a very "big" way, as the 340lb. Pensacola, Florida native battled to an eight round majority draw against forty year-old Paul Marinaccio, from Buffalo, NY. Marinaccio, now 23-3-2 (10 KO's) overcame a one hundred pound weight disadvantage (actually 104!), winning the last round on all three judge's scorecards to salvage the draw. Brown, originally from Newark, NJ saw his record move to 18-7-4 (12 KO's).

A big night on boxing, compliments of promoter extraordinaire Don King, in the most sacred and hallowed venue in all of boxing -the mystical, magical world of Madison Square Garden!