Mayweather Jr. vs. Pacquiao on May 2: Bob Arum says that's Canelo's date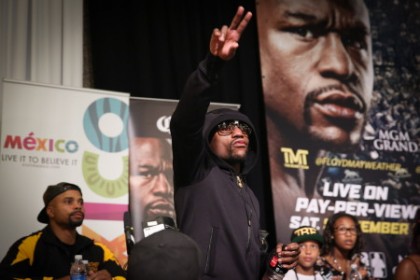 Share the post "Mayweather Jr. vs. Pacquiao on May 2: Bob Arum says that's Canelo's date"
In a recent interview with Showtime's Steve Farhood, Floyd Mayweather Jr. made it absolutely clear that he is ready to cross the ropes and face Manny Pacquiao on May 2 of next year:
"I'd love to fight Manny Pacquiao";"Bob Arum is stopping the fight. We have been trying to make this fight happen behind the scenes for years now, but the fans and the people have been fooled because they have been listening to people on just one side. Now it's time for us to talk. We want to fight. We're ready. Let's make it happen May 2nd, Mayweather vs. Manny Pacquiao. Let's do it!", "Let's make this fight happen for the people and for the fans, Mayweather vs. Manny Pacquiao, May 2nd, 'Cinco de Mayweather," were some of the things that Money May stated during the interview.
We have all heard Mayweather Jr. talk about the possibility of this long awaited matchup before, but not like this. Both camps have discussed the possibilities, the probabilities, and the problems that were encountered in their previous negotiations. Still, never before has a date been mentioned, and this is the very first time that Floyd Mayweather Jr. made it abundantly obvious, that he wants to fight Manny Pacquiao, and when he wants this fight to take place.
After hearing this, Manny Pacquiao had his own statement to make, and in a recent interview with AFP, he announced that it is Mayweather Jr. who has run out of options, and that Pacquiao will make all the necessary steps to make this fight come to fruition:
"He (Mayweather) has reached a dead end. He has nowhere to run but to fight me. I will try my best to (make) this a thrilling and entertaining fight. But I doubt if he's going to engage me in a slugfest. You all know his fighting style. Most of his previous fights, if not all, induced us to sleep. Mayweather can get the amount he wants," stated the Filipino champion.
There is very little doubt that Manny's and Floyd's styles are on opposite ends of the spectrum.
Pacquiao is a freight train, with unbelievable stamina and quickness. Some would say that his style is reckless, but that is not something that can be proven until exposed. The constant volume of power punches and the unrelenting offensive pressure makes it unbelievably difficult for anyone to stick to their well rehearsed plans when facing Pacquiao.
Floyd Mayweather Jr. on the other hand, takes his time when striker hits bell. He focuses on adjusting and tuning himself to his opponent's weaknesses. Floyd only throws when he expects it will connect. He will not waste a punch, and that is what chiseled him into a sniper in the ring.
If styles make fights, then their match-up might not turn out to be a good one. But if we are talking purism, than their fight is what molds the definition of boxing, and the art form that it is meant to represent.
A raw fighter with unparalleled physical abilities, versus a technical virtuoso: fans rarely get this type of a fight from such high caliber fighters.
All this is great, but it appears that Bob Arum might not be willing to dedicate Cinco de Mayo to the fight that the boxing community has been looking forward to for over a decade. As a matter of fact Arum put it simply: "it is not going to happen."
"Let me tell you something, and this, I really feel very, very strongly about. That weekend celebrates Cinco De Mayo, which is a Mexican Holiday, which commemorates the outstanding, courageous stand of a lot of Mexican civilians who turned back the French Imperial army, and it's a significant holiday in Mexico and among Mexican Americans who live in the United States. That being said, neither Mr. Mayweather, nor Mr. Pacquiao, nor Mr. Cotto, who is Hispanic, but not Mexican. The only Mexican in the group is Canelo Alvarez, who is a big attraction among the Mexican people," stated Top Rank's Bob Arum in a recent interview with RingTV.
This hiccup might not turn out to be a huge problem, possibly postponing the fight until late May, or even June. But that would be the best case scenario. The worst case would be the fight being moved to November of 2015, with both fighters having to fight someone else in the meantime. This matchup is extremely sensitive to any internal and external influences, thus it would be best to let the negotiations come to a natural agreement, as the importance of Mayweather Jr. vs. Pacquiao, despite being a few years too late, still greatly outweighs any other fight in the sport.
www.facebook.com/VitaliFightPress